College Endowments Got Hammered Last Year
The New York Times reports that the average college endowment lost 18.7% last fiscal year which is the worst showing since the Great Depression.
The study, by the National Association of College and University Business Officers and Commonfund, a nonprofit organization that manages university investments, also found that in the last year, many endowment managers increased the move from traditional fixed-income instruments and stocks into alternative investments like private equity, hedge funds, venture capital and private-equity real estate — all of which performed badly in fiscal 2009.
Unusually, the universities with endowments over $1 billion had the greatest decline, an average of 20.5 percent. Harvard, Yale and Stanford, the wealthiest universities, all lost more than 26 percent of their endowment values.
At the same time, the study found, debt rose, especially at the largest universities, and gifts declined.
The 2009 losses in endowment income come on top of an average loss of 3 percent in fiscal 2008. The three-year average return, which most universities use to determine how much of their assets to spend, was negative 2.5 percent, compared with the five-year average of 2.7 percent, and the 10-year average of 4 percent.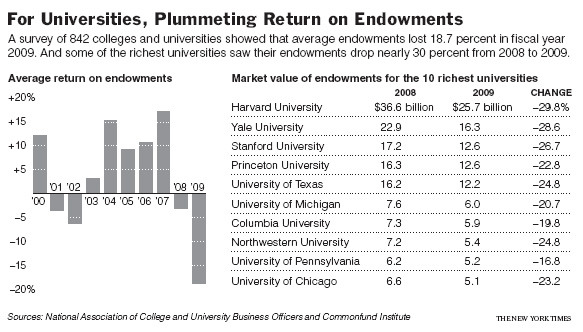 If there were only some place these school could receive free market-beating investing advice.
Posted by Eddy Elfenbein on January 28th, 2010 at 12:11 pm
The information in this blog post represents my own opinions and does not contain a recommendation for any particular security or investment. I or my affiliates may hold positions or other interests in securities mentioned in the Blog, please see my Disclaimer page for my full disclaimer.
Archives