CWS Market Review – June 29, 2012
The stock market got a surprise on Thursday when the Supreme Court ruled that President Obama's healthcare reform was constitutional. I'm neither a legal scholar nor a political pundit, so I'll skip any discussion of the wisdom of SCOTUS' action.
I will, however, briefly discuss what this decision means for investors. The short answer is that it doesn't mean terribly much. Shortly after the decision became public, the Dow got an 80-point haircut. Of course, traders are by nature fear-based mammals, so nearly anything unexpected can cause a sell-off. At one point, the Dow was off by 176 points. Late in the day, however, the market regrouped and rallied to close down by just 24 points. So even the market doesn't seem have strong convictions about this news.
What the Healthcare Decision Means for Investors
It's a tricky game trying to measure the long-term market impact of any legislation, particularly highly complicated legislation like the Patient Protection and Affordable Care Act which runs 906 pages long. Bear in mind that ever since the Senate passed the bill on Christmas Eve 2009 (the upper chamber was considered the tougher battle), the Dow has gained 2,000 points. Of course, I'm not saying that healthcare reform caused the rally, but it didn't prove to kill it either. Also, most of the mandates don't start until 2014, and there's still a lot of politics to play between now and then, particularly an election which is just four months away. There are just too many variables in play to make a definitive statement.
Going into Thursday, investors had clearly been a bit nervous about healthcare stocks. As a result, there are a lot of good values in this sector, particularly the four healthcare stocks on our Buy List: Johnson & Johnson ($JNJ), Medtronic ($MDT), Stryker ($SYK) and CR Bard ($BCR). I'm still amazed that JNJ yields more than 3.6%, which factors in the company's recent dividend increase (its 50th in a row). BCR has done so well that it just broke out to an 11-month high. I'm raising my buy price to $106 per share. I should add that one impact of the SCOTUS decision is that the 2.3% excise tax on domestic sales of medical device companies like Medtronic and Stryker will be in place for next year. Of course, Congress can always alter that provision.
I think it's interesting that many hospital stocks did very well on Thursday. In February, I tweeted that Community Health Systems ($CYH) looked "very attractive" at $20. After the decision came out on Thursday, CYH jumped more than 8% to close at $27.54 per share. That's a 38% gain in less than five months.
The bottom line about the healthcare ruling is this: Don't expect to see many companies drop coverage for their employees. Some will certainly rework their plans. The law will impact companies with employee counts near 50, since that's the line where the $2,000 per employee penalty kicks in. However, very few of those companies are publicly traded. The overwhelming driver of stocks isn't healthcare; it's earnings.
Breaking Down Second-Quarter Earnings Season
Since early May, the S&P 500 has spent much of its time between its 50-day moving average at the upper end and its 200-DMA at the lower end. This trend can't last much longer because these two lines are closing in on each other. I think it's a good sign that the index has so far been unable to convincingly break below its 200-DMA. The next major hurdle will be the second-quarter earnings season.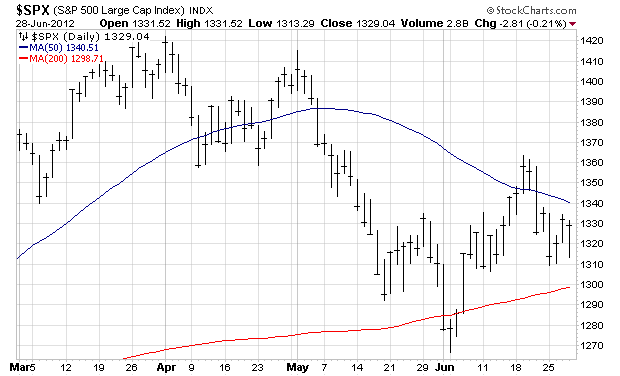 The numbers continue to be very much in favor of stocks right now. Consider that the U.S. Treasury just auctioned off seven-year notes at an all-time record low yield. The cash held at companies in the S&P 500 totals $1 trillion. Bloomberg notes that the S&P 500 is currently trading at 12.5 times earnings compared with its 50-year average of 15. If the S&P 500 were to trade at 15 times its earnings estimate for next year, the index would be at 1,772. That's a 33% jump from here.
Friday marks the last trading day of the first half of 2012. In a few days, second-quarter earnings season will start. Over the past few weeks, Wall Street has pared back its estimate for Q2 earnings. More than three times as many stocks have offered disappointing guidance as have offered guidance above expectations.
Only a few weeks ago, analysts were expecting a modest increase in earnings. Now the Street sees earnings for the S&P 500 falling by 1.1% for the second quarter. If analysts are right, this would be the first earnings decline since the third quarter of 2009. My take is that many firms are trying to lowball the public so they can impress investors later on with earnings surprises.
Certainly, Europe is to blame for much of this sluggishness. In fact, Ford ($F) just said that it expects to see a loss of $570 million from its overseas business. That's about triple the loss from Q1. What makes this interesting is that Ford says that it's still doing well in North America; plus Ford Credit, the auto financing business, is going strong. Incidentally, that's probably a good omen for Nicholas Financial ($NICK).
When looking at stocks, I'm not so concerned if a company isn't doing well due to macroeconomic issues such as Ford is having Europe. Those problems come and go. What's far more important is that the factors related to the firm's efficiency are doing well, and Ford's results in North America indicate that that remains to be the case.
A good example of the opposite is what happened to Procter & Gamble ($PG). The company lowered its earnings forecast for the second time. The first time P&G did it, they listed several reasons why. Analysts on the conference call were puzzled because those issues didn't seem to be affecting their competitors nearly as much. That's when it's time to be concerned about a stock.
JPMorgan Is a Good Buy Below $38
JPMorgan Chase ($JPM) will probably be our first Buy List stock to report Q2 earnings. This will be the first time we'll see the impact of the massive London trading losses. On the conference call in May, Jamie Dimon said that the losses totaled $2 billion and could be another $1 billion more.
This is a tricky situation for JPM because they need to make the issue public but not so public that they give incorrect information or tip their hand to traders who will work hard to crush the bank's efforts to unwind the trade. That's probably been going on for some time.
On Thursday, the New York Times reported that the losses could be as much as $9 billion. To quote the NYT, this info was "according to people who have been briefed on the situation." This may sound counter-intuitive but I think this news may help the stock in the near-term because now the loss has a floor. Anything that's less than $9 billion will look like good news. Interestingly, Wall Street's estimate for JPM's Q3 earnings has come down, but it is still at $1.05 per share which is a very good number.
I'm still astounded by the stupidity of this trading loss. Mark Williams, a BU finance professor, said, "Essentially, JPMorgan has been operating a hedge fund with federal insured deposits within a bank." As maddening as this episode has been I still think JPM is a good value, and even Goldman Sachs added the stock to their conviction list. I rate JPM a good buy anytime the stock is below $38 per share.
That's all for now. Next week is vacation time for me so there won't be an issue of CWS Market Review. I'm off to Newport for July 4th and some sailing. I hope everyone has a happy Fourth. Be sure to keep checking the blog for daily updates. I'll have more market analysis for you in the next issue of CWS Market Review!
– Eddy
Posted by Eddy Elfenbein on June 29th, 2012 at 6:52 am
The information in this blog post represents my own opinions and does not contain a recommendation for any particular security or investment. I or my affiliates may hold positions or other interests in securities mentioned in the Blog, please see my Disclaimer page for my full disclaimer.
Archives