Hubbell Inc. ($HUB-B)
Ever heard of Hubbell Inc. ($HUB-B)? Don't worry, you're not alone.
The reason I'm highlighting it — and let me make it clear that I'm not saying it's a buy — is that it's a pretty high-quality company. Despite Hubbell's strong performance the stock is almost completely ignored by Wall Street. It has a market value of $5 billion and there are no earnings estimates for it. Not a single one.
Here's a description from Hoovers:
The Hubble telescope and Hubbell Inc. both feature lots of modern electrical equipment — but you don't have to go into space to check out Hubbell's wares. The company's two operating segments — Electrical (which now includes Hubbell's former Industrial Technology segment) and Power — make electrical and electronic products for commercial, industrial, telecommunications, and utility applications. Hubbell's products include lighting fixtures, outlet boxes, enclosures and fittings, wire and cable, insulators and surge arresters, and test and measurement equipment. The company gets most of its sales in the US.
Now check out this long-term chart. I've added the trailing earnings-per-share at the bottom.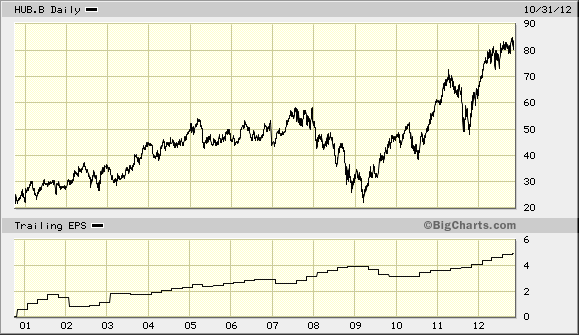 I'll let you in on a secret — you don't need an MBA or a CFA or anything else to analyze a company. You simply want to find a company with a nice track record of growing earnings, just like we see above with Hubbell. The earnings don't grow every quarter or every year, but there's a clear upward trend. That's exactly what we want to see.
The stock reacts in lots of short-term fits and starts, but over the long haul, it moves up with the earnings.
Hubbell is clearly a good company, yet it's almost never mentioned on CNBC. Hubbell rarely makes news that you can find in the Wall Street Journal. Every bump and wiggle from Apple is covered relentlessly. Yet Hubbell quietly goes about their business.
Since 1978, Hawkins ($HWKN) is up about 17,250% while the S&P 500 is up 1,386%. Yet the number of analysts who follow HWKN = 0.
As an investor, don't ever feel pinned in by the top names on Wall Street. There are thousands of companies out there. Many are bad, but there are a few gems.
Posted by Eddy Elfenbein on October 31st, 2012 at 3:09 pm
The information in this blog post represents my own opinions and does not contain a recommendation for any particular security or investment. I or my affiliates may hold positions or other interests in securities mentioned in the Blog, please see my Disclaimer page for my full disclaimer.
Archives