Sure, It's Down But Is Dell a Buy?
The stock of Dell ($DELL) has gotten clobbered over the past few years. It's now under $10, and it was over $18 earlier this year. Any smart investor has to be wondering if the stock is a good buy at this price.
I bring up the case of Dell because we often see similar scenarios in investing. A formerly great stock is way, way off its high. Many good stocks to be are ones that are down. But not all stocks that are down are good buys.
Dell is clearly a company in trouble. But we do have to remember that the company is still profitable. Going by my World's Simplest Stock Valuation method, Dell is currently going for half its fair value. Of course, that's just an estimate. But accept for now the premise that Dell is going for less than most reasonable valuation models. Well…that still doesn't mean that it's a good buy.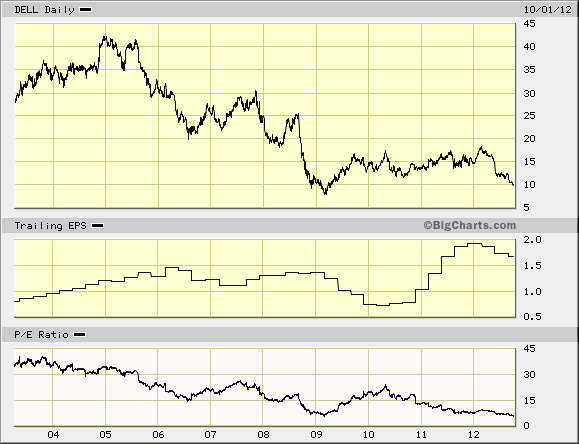 Stocks aren't like professional athletes who have hot or cold streaks. If there are big problems at a company, they usually aren't so easy to fix. Starbucks ($SBUX) did an impressive turnaround and so has Ford ($F), but those are the exceptions. Big problems like to hang around and drain a company.
I'm a cautious investor so I don't even try to time the exact bottom for a stock. A trend always runs much further than you think it could. But Dell has done one thing that I like very much: it initiated a quarterly dividend of eight cents per share. The company shouldn't have much trouble covering that payout. As an investor, that guarantees us at least some money back.
My strategy would be to choose an interest rate where I'd be comfortable owning Dell. For now, I'd say 4% is enough comfort. That translates to a price of $8 per share. If Dell wasn't paying a dividend, then I wouldn't even consider it.
Posted by Eddy Elfenbein on October 2nd, 2012 at 12:36 pm
The information in this blog post represents my own opinions and does not contain a recommendation for any particular security or investment. I or my affiliates may hold positions or other interests in securities mentioned in the Blog, please see my Disclaimer page for my full disclaimer.
Tickers: DELL
Archives