JPMorgan Chase Earns $1.39 Per Share
Before the bell, JPMorgan Chase ($JPM) reported very strong fourth-quarter earnings of $1.39 per share, which easily topped Wall Street's forecast. CEO Jamie Dimon said, "The firm's results reflected strong underlying performance across virtually all our businesses for the fourth quarter and the full year, with strong lending and deposit growth." This was a very good report.
Overall revenue rose 10% to $23.7 billion. I was particularly impressed with JPM's mortgage business. Revenue in that sector jumped to $2 billion from $723 million in Q4 of 2011. Clearly, the housing rebound is also spilling over to financial services.
Trading results, which were hurt in the third quarter as the price of bank debt rose, were similarly affected in the last three months of 2012. The bank booked a $567 million pretax loss from a so-called debt-valuation adjustment in the fourth quarter as the price of the bank's debt rose, compared with a $211 million loss in the third quarter.

Fixed-income and equity-markets revenue climbed to $4.07 billion from $3.43 billion a year earlier and declined from $4.77 billion in the third quarter, the company said. Investment-banking and trading revenue is estimated to have jumped 44 percent across the industry from the same quarter in 2011, according to Betsy Graseck, a Morgan Stanley analyst in New York.

(…)

The investment bank's fixed-income trading book, which contains the remaining credit derivatives position, generated $3.18 billion in revenue compared with $2.63 billion in the fourth quarter of 2011.

Fewer consumers fell behind on their credit-card payments in the fourth quarter compared with the same period in 2011. Loans at least 30 days overdue, a signal of future write- offs, fell to 2.1 percent from 2.81 percent in the fourth quarter of 2011. Write-offs dropped to 3.5 percent from 4.29 percent the prior year and 3.57 percent in the previous quarter.

Consumer banking, which includes home loans and checking accounts, earned $2.01 billion in the fourth quarter, up 28 percent from $1.57 billion a year earlier. Net interest margin, which measures the profit margin on lending, narrowed to 2.4 percent from 2.7 percent a year earlier.
A lot of the headlines around today's earnings are focusing on the big trading loss from the London Whale. The government is rightly taking the company to task for this. The bank also took a charge of $700 million as part of a settlement for mortgage abuse allegations. In response to the London Whale debacle, JPM's board slashed Jamie Dimon's pay in half from $23 million to $11.5 million. On a per-share basis, that's miniscule. It works out to 0.6 cents per share being cut to 0.3 cents per share.
As I've said before, Jamie Dimon gets a great deal of attention but that blurs the fact of how large JPM really is. For the year, the bank earned $21 billion on revenue of $97 billion. The London Whale loss amounted to $6 billion. Yes, it was awful, but hardly life-threatening. In just a few weeks last year, the stock plunged from $43 to $31.
The stock initially dropped this morning after the earnings came out, which is an odd reaction. Since then, however, JPM has steadily rallied and it's at a new 21-month high.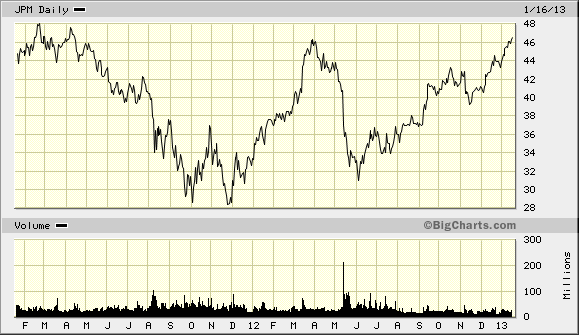 Posted by Eddy Elfenbein on January 16th, 2013 at 11:31 am
The information in this blog post represents my own opinions and does not contain a recommendation for any particular security or investment. I or my affiliates may hold positions or other interests in securities mentioned in the Blog, please see my Disclaimer page for my full disclaimer.
Tickers: JPM
Archives