CWS Market Review – February 8, 2013
That money talks I'll not deny,
I heard it once: It said, "Goodbye."
-Richard Armour
Last Friday, the Dow pierced 14,000 for the first time in five years. But as I suspected, investors got a case of the jitters, and the Dow hasn't been able to hold 14,000. We even had a small uptick in volatility as the S&P 500 had three straight moves of greater than 1%. One money manager said, "We've moved so far so fast that the market's just looking for any kind of sign to take something off the table." I think that's exactly right.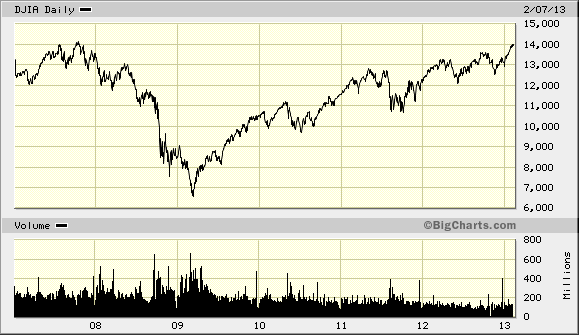 Wall Street is still focused on earnings. While fourth-quarter earnings season has been good (not great), I'm starting to have concerns that Wall Street's earnings outlook is too optimistic. According to the Street, earnings growth will accelerate, meaning the pace of growth itself will increase, throughout 2013. That's certainly possible, but I see that as a best-case scenario. More likely, earnings growth will flat-line or grow rather modestly.
That's not necessarily awful news. Corporate America has been raking it in lately. The companies in the S&P 500 will probably net a cool $1 trillion this year. But we have to face the fact that the easy money in this bull market has already been made. Stocks have more than doubled in less than four years. The next four years won't be so fortunate.
That's why I urge all investors to focus on high-quality stocks for the long term like the stocks on our Buy List. We had more good news this week, including a 21% dividend increase from Ross Stores ($ROST), and JPMorgan ($JPM) reached yet another 52-week high. Now let's look at some of our earnings reports this week.
AFLAC Is a Buy up to $54 per Share
After the close on Tuesday, AFLAC ($AFL) reported fourth-quarter earnings of $1.48 per share. Make no mistake: this was a solid quarter for the duck stock, and it was squarely in line with what they told us to expect. Three months ago, AFLAC said Q4 EPS should range between $1.46 and $1.51.
But here's the issue for us: Since most of AFLAC's business comes from Japan, their bottom line can be adversely impacted (or helped) by fluctuations in the yen/dollar exchange rate. Lately, the government in Japan has aggressively stated its intention of pursuing a pro-inflation policy. That's caused the yen to tank against the dollar. In response, the Nikkei Index has soared.
As I said, AFLAC as a business is fine and dandy and as strong as it's ever been. I want to make it clear that I'm not overly worried about the exchange rate, but I have to say that it's an issue for investors. AFLAC said the falling yen cost dinged their Q4 by four cents per share. Not fun, but not a disaster either. Bear in mind that AFLAC's full-year earnings for 2012 were actually helped by one penny per share, thanks to the exchange rate. So it works in both directions.
For all of 2012, AFLAC made $6.60 per share in operating earnings. The company said it sees operating earnings growth of 4% to 7% for this year. On a currency-neutral basis, that means operating earnings of $6.86 to $7.06 per share.
Now here's the tricky part (warning: math ahead). Each move in the exchange rate of one yen from 78.5 will cost AFLAC 4.3 cents per share for the year. So if the exchange rate averages 90 for the entire year, that will cost AFLAC 49.45 cents per share (11.5 times 4.3). That stings, but it's roughly 50 cents per share out of $7 of earnings. It's not enough for me to change my opinion that AFLAC is a very solid stock to own. And of course, I have no idea what the exchange rate will do this year. However, I suspect that most of the damage to the yen has already been done.
Shares of AFL pulled back after the earnings report, but the stock is basically where it was three months ago. AFLAC remains an excellent company. Due to the recent pullback, I'm going to lower my Buy Below to $54 per share.
Good News from FISV and CTSH, Bad News from WXS
Also on Tuesday, Fiserv ($FISV) reported Q4 earnings of $1.39 per share, which exactly matched Wall Street's forecast. The company already told us that this was going to be a good quarter. Remarkably, this is Fiserv's 27th-straight year of double-digit earnings growth. There aren't many companies that can boost a record like that.
For 2012, Fiserv earned $5.13 per share, which is a very nice increase over the $4.58 per share they made in 2011. Fiserv said that they expect growth of 15% to 18% for this year, and they specified an earnings range of $5.88 to $6.07 per share. If that's correct, FISV is going for less than 14 times this year's earnings. This is a solid stock. Fiserv is a buy up to $88 per share.
We had a great earnings report from Cognizant Technology Solutions ($CTSH) on Thursday. The company reported Q4 earnings of 99 cents per share, which is up from 84 cents for Q4 of 2011. That's eight cents more than the Street had been expecting. Quarterly revenue rose 17.1% to $1.95 billion. For all of 2012, revenue rose 20% to $7.35 billion, and earnings-per-share increased from $3.07 in 2011 to $3.70 for 2012. This is clearly a rapidly-growing outfit.
Cognizant also offered very impressive guidance for Q1 and all of 2013. The company sees Q1 revenue rising by 20% to "at least" $2 billion and expects earnings-per-share to hit $1.01. Wall Street had been expecting 93 cents per share. For the whole year, CTSH sees revenue climbing to "at least" $8.6 billion. That's an increase of 17%. Cognizant also sees earnings-per-share of at least $4.31. That's a big increase over Wall Street's expectation of $4.00 per share. CTSH is an excellent buy anytime you see it below $81.
Our dud this week came from WEX Inc. ($WXS). The company reported fourth-quarter earnings of $1.07 per share, which was a penny below consensus. Quarterly revenue rose 20.9% to $169 million.
But the earnings weren't the bad part; it was the guidance. For Q1, WXS expects earnings to range between 89 cents and 96 cents per share. The Street had been expecting $1.08 per share. For all of 2013, WXS sees earnings between $4.30 and $4.50 per share. The Street was expecting $4.88 per share. For all of 2012, WXS made $4.06 per share which was a nice increase from $3.64 per share on 2011.
Frankly, this guidance is very disappointing news. I'm not ready to toss in the towel with WXS; the stock has been a huge winner for us over the last eight months. But for now, I'm going to lower the Buy Below price to $72.
Ross Stores Is a Buy up to $62
Ross Stores ($ROST) gave us great news this week. The retailer reported blowout sales for January, and thanks to the rush of business, Ross sees Q4 earnings coming in at $1.06 to $1.07 per share, and $3.52 to $3.53 per share for the entire year. (Note that like a lot of retailers, Ross ends their fiscal year at the end of January.) The earnings report should be out in mid-March.
But the best news is that Ross raised their quarterly dividend from 14 cents to 17 cents per share. That's a 21% hike. Ross pays out a very small amount of their profits as dividends to shareholders (about 20%). Based on Thursday's closing price, Ross yields 1.13%. That's obviously not a very high yield, but the dividend increase and strong sales news are a good omen for Ross Stores. ROST remains a very good buy up to $62.
Before I go, I want to highlight two Buy List stocks that look especially attractive. Again, Microsoft ($MSFT) looks very good here. The pullback in Harris ($HRS) seems about done. Shares of HRS got hit hard for a modest decrease in guidance.
That's all for now. Next week, we get important reports on retail sales and industrial production. Our final earnings report of this cycle will be from DirecTV ($DTV) on Wednesday, February 13th. Wall Street expects $1.13 per share. Be sure to keep checking the blog for daily updates. I'll have more market analysis for you in the next issue of CWS Market Review!
– Eddy
Posted by Eddy Elfenbein on February 8th, 2013 at 8:12 am
The information in this blog post represents my own opinions and does not contain a recommendation for any particular security or investment. I or my affiliates may hold positions or other interests in securities mentioned in the Blog, please see my Disclaimer page for my full disclaimer.
Archives