The Forgotten Bull Market 1949-1955
Probably the least well-known bull market for the U.S. stock market is the amazing run stocks had from June 13, 1949 to September 23, 1955. The Dow more than tripled in a little over seven years, rising from 161.60 to 487.45.
What's even more impressive is that this bull market began during the late stages of one recession and continued right through another.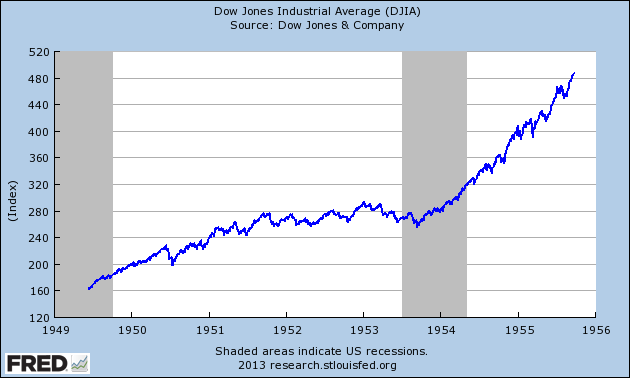 I'm calling this one bull market when you can easily divide into two major runs. The first part, from June 13, 1949 to September 13, 1951 (exactly 15 months), is when the Dow raced from 161.60 to 276.37. That's a 71% gain.
Three years and one day later, on September 14, 1953, the Dow stood at 255.49. From there, it raced 90.8% towards its peak on September 23, 1955. That run lasted one year and nine days.
The stock market was eventually spooked by President Eisenhower's heart attack. On Monday, September 26, 1955, the Dow dropped 6.54%. That was the worst day for the market since the fall of France 15 years before.
This was a golden age for the economy. Energy was cheap. The country was having a baby boom. The rich and the poor were moving closer together. Over the 75-month period from June 1949 to September 1955, the CPI rose by 12.25%, which is just 1.86% annualized.
Although I'm calling September 1955 the end of the bull market, the Dow continued to charge higher but at a reduced rate. The Dow reached a peak of 421.05 on April 6, 1956. That's a 6.9% gain in a little over six months from the peak I'm using. The Dow wouldn't set another new high for almost two-and-a-half years.
But here's the important question — why isn't this bull market better known? My guess is because it never came to a crashing end. There's no way anyone can moralize about greedy bubbles when it never popped. The 1950s stock market continued to climb for several more years. We really didn't experience a major crisis until the 1970s.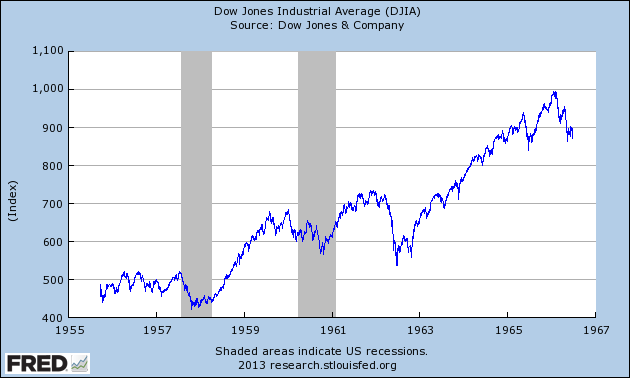 This is one case when stocks really did reach a permanently high plateau, and it really was different this time.
Posted by Eddy Elfenbein on February 6th, 2013 at 11:03 am
The information in this blog post represents my own opinions and does not contain a recommendation for any particular security or investment. I or my affiliates may hold positions or other interests in securities mentioned in the Blog, please see my Disclaimer page for my full disclaimer.
Archives