The Low-Volatility Low-Quality Rally
What's starting to concern me, though I don't think it's a problem yet, is the low-quality nature of this rally. Simply put: A lot of lousy stocks are doing well. This is what we typically see in the late stages of a bull market when stocks whose business operations consist of little more than a stock puppet surge higher each day.
The unusual aspect of the current market is that it's been low quality and low volatility which seem to be contradictory. In this case, I think the low volatility is the result of the market's satisfaction that the current environment of low interest rates will last for some time.
It's hard to see low quality but here's a chart showing the performance of the High Beta ETF ($SPHB) alongside the S&P 500. Over the last seven months, the High Betas have been ruling.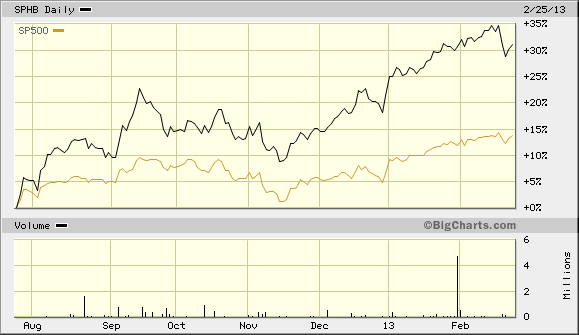 Obviously, a high-beta rally shouldn't be a surprise. This is what high beta is all about — they do well when the market does well. This also represents a slant towards small-cap stocks and cyclical stocks. Let me stress that I don't think this is the omen of a market top. At least, not yet. The time to worry is when the spread between the two ends of the market become a vast chasm. In 1999 and 2000, value stocks weren't merely trailing the bull market. Those stocks were falling.
Posted by Eddy Elfenbein on February 25th, 2013 at 9:52 am
The information in this blog post represents my own opinions and does not contain a recommendation for any particular security or investment. I or my affiliates may hold positions or other interests in securities mentioned in the Blog, please see my Disclaimer page for my full disclaimer.
Archives