Worst Day Since November
Ugh! Today was an ugly day for the stock market. The S&P 500 dropped 27.79 points or 1.83%. This was the worst drop since the day following President Obama's reelection. At one point early today, the index was actually up 0.68%.
But shortly after 10 am, the stock market started heading downhill and really started to plunge after 3 pm. Interestingly, the S&P 500 has fallen on every single Monday this year.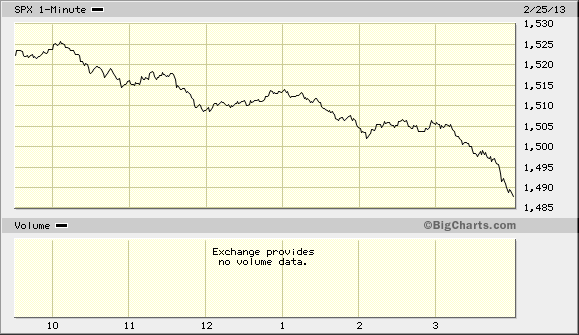 The talking heads are saying that political confusion in Italy is to blame. The early election results showed that Pier Luigi Bersani's left-of-center ticket was doing well very well in the lower house. However, as time went on, Silvio Berlusconi appeared to do well in the Senate. The fear is that Italy is in a political stalemate and new elections may have to be called soon.
The cyclicals felt the brunt of the damage. The Financial Sector lost 2.69%. Energy was down 2.51%, while the Materials stocks were off 2.24%. The big Wall Street banks dominated the bottom part of the S&P 100 today. Our own JPMorgan Chase ($JPM) only lost 2.51% which was much better than its peers. Wells Fargo ($WFC) lost 2.88%. Ford closed at $12.13 which gives the stock a yield of 3.3%.
Defensive sectors like Telecom, Utilities and Healthcare did the best, meaning they were down the least. The VIX soared 34% today. From last Tuesday's low to today's high, it jumped 60%.
Here's a short equation: for the last six months, the stock of any company that consumers had to borrow money for (cars, homes, travel) did very well, as did the big banks and credit card companies. The bigger the price tag, the better it probably did. The key was the intersection of the average consumer and finance. Today was a complete reversal of that dynamic.
Every stock on the Buy List closed lower today, but we didn't fall as much as the broader market which represents the conservatism of our portfolio. All told, our Buy List lost 1.61% which was 22 basis points better than the S&P 500.
Posted by Eddy Elfenbein on February 25th, 2013 at 7:06 pm
The information in this blog post represents my own opinions and does not contain a recommendation for any particular security or investment. I or my affiliates may hold positions or other interests in securities mentioned in the Blog, please see my Disclaimer page for my full disclaimer.
Archives