CWS Market Review – April 5, 2013
"There is only one side of the market, and it is not the bull
side or the bear side, but the right side." – Jesse Livermore
Let me give you the briefest summation of Wall Street over the last six months: Investors worry about something that's unlikely to happen, the financial media amplifies said worry, calming voices are ignored, the markets trends downward, the financial media then calls for civility and public-spiritedness to address the needless worry they just promoted, incredibly the world doesn't end, the worries fade away, volatility falls and the market quietly rallies.
We've repeated this dance so many times I'm beginning to lose count. There was the Fiscal Cliff, the debt ceiling (remember the $1-trillion coin), the elections in Italy, the fiasco in Cyprus and the Great Rotation out of bonds. The latest worry is war rumblings from North Korea. While the rhetoric is disturbing, the reality is that Pyongyang's bark is far worse than its bite.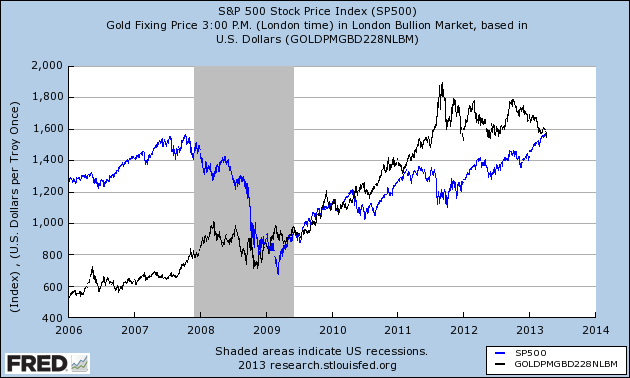 What's interesting is that the market has so far ignored the threats from North Korea. I suspect that we're going through Apocalypse Fatigue. Michael Gayed has suggested we're in a Honey Badger market: Whatever latest worry comes our way, stock market don't care. I suspect he's on to something.
There are, however, stealth movements occurring within the market that we need to pay attention to. Since the middle of March, the market has become more defensive. A lot more defensive. The more-conservative sectors have led the more-aggressive sectors. In a few cases, the divergence has been rather stunning. The Healthcare ETF ($XLV), for example, has beaten the S&P 500 for the last 12 days in a row. Both Utilities ($XLU) and Consumer Staples ($XLP) have been recent leaders as well.
The move towards defensive stocks is telling us something. Coupled with the recent drop in gold, this suggests that investors are finally shying away from risk. The price of gold actually fell below the S&P 500 for the first time since May 4, 2010 (see chart above). I won't go so far as to say this portends a bear market, but it may spell an end to the market's appetite for risk.

What to do now: Investors should remain calm and make sure they own high-quality stocks such as the ones on our Buy List. Dividends are especially important right now. A 3% yield might not seem like a lot, but traders will swim to those lifeboats if things get rough. Earnings season starts next week, and I expect that the gap between winners are losers will grow even wider. Patience and discipline are our keys.
Updates on Every Buy List Stock
This week, I want to do something a little different. Since there hasn't been much news lately, and since earnings season is about to begin, I thought I'd offer a brief update for every stock on the Buy List.
AFLAC ($AFL) broke above $53 earlier this week before pulling back. Later this month, we'll find out how much the weaker yen has been biting away at AFL's bottom line. After showing a little strength recently, the yen plunged again on Thursday. Yen or not, I still like AFLAC's market position. The shares are a buy up to $54.
Bed Bath & Beyond ($BBBY) will report fiscal Q4 earnings on April 10th. On the last earnings call, BBBY said to expect Q4 earnings to range between $1.60 and $1.67 per share. The Street had been expecting $1.75, so the stock got spanked. The good news was that the stock became a very good bargain, and I sounded the alarm in mid-February. The stock has rallied very nicely since then. I'm going to keep our Buy Below at $65. I suspect BBBY will earn about $1.70 per share, give or take, but I'm more interested in hearing their outlook for the rest of 2013. Stay tuned.
CA Technologies ($CA) got off to a great start this year but has pretty much stagnated ever since. In January, I predicted the company would beat earnings, and that's exactly what happened. On the surface, CA appears to be a dull company, but don't let that fool you. The stock currently yields just over 4%. CA is a good buy up to $27.
Cognizant Technology Solutions ($CTSH) has drifted lower in recent weeks. If you don't own CTSH, this is a good opportunity. The IT outsourcer soundly beat earnings in January and guided higher for Q1 and the entire year. CTSH said it sees full-year 2013 earnings of at least $4.31, which means the stock is going for 17.3 times earnings. Buy up to $82.
CR Bard ($BCR) has been rather sluggish this year. In January, the company warned that this year will be rough, but 2014 should be very good. The stock isn't in my doghouse just yet, but I want to hear better things from them before I'm willing to raise my Buy Below price. For now, Bard is a buy up to $102.
DirecTV ($DTV) has been one of our best performers of late. Last week, I raised DTV's Buy Below to $59 after it beat earnings by 42 cents per share. This is an excellent stock, but I think the shares may take a breather for a bit around $55 since it's run up so quickly.
FactSet Research Systems ($FDS) has found a base around $90 per share. If you recall, the stock took a beating after reporting decent earnings. At least, I thought they were decent. Traders, however, seemed to disagree. Don't let the sell-off scare you: FactSet is a very good company. FDS remains a buy below $95.
Fiserv ($FISV) made a new 52-week high on Monday. Fiserv is as solid as they come. Q1 earnings are due out on April 29th. Fiserv is a buy up to $88.
Ford Motor ($F) had a good sales report for March. Earnings should be out around the middle of the month. The Street currently expects 39 cents per share, which is flat from a year ago. Ford is doing well, but Europe may still be an anchor. Ford is a buy up to $15 per share.
Harris Corp. ($HRS) may be the single-best value on our Buy List right now. The stock took another hit after Oppenheimer said that Harris is running below its full-year revenue forecast. For now, I trust Harris's record more than Oppenheimer's. Earnings are due out at the end of the month. Harris is a buy up to $53 per share.
JPMorgan Chase ($JPM) will report Q1 earnings on Thursday, April 11th. Wall Street expects $1.38 per share. Hopefully, Jamie Dimon won't shoot his mouth off on the earnings call. JPM has pulled back over the past few weeks. Don't let that rattle you. JPM remains a solid buy up to $52.
Medtronic ($MDT) is another good example of a stock that fell after its earnings report but has since gained back everything it lost. Like Stryker, Medtronic has ridden the healthcare rally this year. Look for good earnings next month and another dividend increase in June. Buy below $48.
Microsoft ($MSFT) is due to report earnings on April 17th. Wall Street's consensus is for 77 cents per share. The last earnings report was pretty good. On Wednesday, the shares hit a five-month high. If volatility makes you nervous, this is an excellent low-vol stock. Microsoft is a buy up to $30.
Moog ($MOG-A) lowered the upper end of their full-year guidance by 10 cents per share in January. The CEO said they're off to a slow start this year. After a strong rally in December in January, the shares have pulled back recently. Moog is a buy up to $50.
Nicholas Financial ($NICK) still yields a rich 3.23% even after its recent price surge. I haven't heard any news about the buyout offer, but I wouldn't be surprised if others are interested in NICK. The fact is that with rates so low, big investors are looking at non-traditional places to get yield like used car loans. NICK is a good buy up to $16.
Oracle ($ORCL) got hit after a lousy earnings report. I have to apologize for this one. I thought Oracle would do much better. But never count Oracle out. I'm going to drop my Buy Below down to $35.
Ross Stores ($ROST) had a good earnings report two weeks ago and the shares have rallied. ROST is a solid buy up to $62.
Stryker ($SYK) is our second-best performer this year. But don't chase it. Earnings are due out on April 23rd. They didn't give a Q1 forecast, but said to expect $4.25 to $4.40 per share for all of 2013. That's probably too low. Buy SYK anytime you see it below $66.
Wells Fargo ($WFC) remains a solid buy up to $40. Look for a strong earnings report around the middle of the month.
WEX Inc. ($WXS) announced that on April 15th, they're changing their ticker symbol to WEX. Frankly, I like this move. I hate it when ticker symbols don't match the name. Let me add that I kept the Buy Below on WEX at $75 despite the market price being above $75. I did this because I don't want investors to chase this one. As disciplined investors, we wait for good stocks to come to us. Well, on Wednesday and Thursday, the stock fell below $75 during the day. WEX remains a buy up to $75 per share.
That's all for now. Earnings season kicks off next week. Remember: We'll see earnings reports next week from JPMorgan Chase and Bed Bath & Beyond. On Wednesday, the Fed will release the minutes from their March 29-30 meeting. This might actually be newsworthy, depending on how much they talked about ending their bond purchases. Be sure to keep checking the blog for daily updates. I'll have more market analysis for you in the next issue of CWS Market Review!
– Eddy
Posted by Eddy Elfenbein on April 5th, 2013 at 7:20 am
The information in this blog post represents my own opinions and does not contain a recommendation for any particular security or investment. I or my affiliates may hold positions or other interests in securities mentioned in the Blog, please see my Disclaimer page for my full disclaimer.
Archives