CWS Market Review – September 27, 2013
"Our job is to find a few intelligent things to do, not to keep
up with every damn thing in the world." – Charlie Munger
After rallying eleven out of the first twelve days of September, the S&P 500 then had a five-day losing streak which was finally snapped thanks to a small rally on Thursday. Despite the recent downturn, the index is still within shouting distance of its all-time high (1,729.86 on September 19th, to be precise). Importantly, we're still above the 50-day moving average.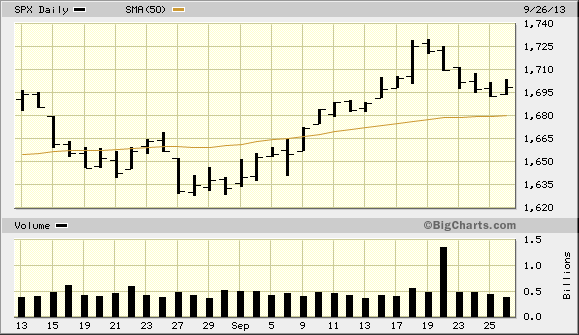 So what was the cause of the market's brief downturn? That's hard to say. In fact, it's probably impossible to say what impacts the market in the near-term. Some say it's worries over another Debt Ceiling showdown. (Groan.) Or it could be worries ahead of earnings season. No matter. That's not our concern around here (see Charlie's statement above). Our strategy is to be focused on good stocks for the long term, and it's been working very well for us this year.
Speaking of which, our favorite home furnishings stock, Bed Bath & Beyond ($BBBY), jumped more than 4.4% on Thursday after another solid earnings report. The shares broke out to a new all-time high. I'll review the earnings report in just a bit. I also want to discuss the latest botherations at JPMorgan Chase ($JPM). The bank is currently in talks with regulators to write a monster check to make their problems go away. But first, let's look at the good news from Bed Bath Beyond.
Bed Bath & Nearly Beyond $80 Per Share
On Wednesday, Bed Bath & Beyond ($BBBY) reported fiscal second-quarter earnings of $1.16 per share. That's an increase of 18.4% over last year. Sales rose 8.9% to $2.824 billion. This was a very good quarter for BBBY. Three months ago, they had given us a range of $1.11 to $1.16 per share, so they hit the top of their own range.
I was especially impressed by the comparable store sales number which was up 3.7%. That topped last year's figure of 3.5%. If you're new to investing, this metric is the gold standard for retailers.
For Q3, which ends in November, BBBY sees earnings ranging between $1.11 and $1.16 per share which is the exact same range they had for Q2. For Q4, which is the biggie for BBBY, they see earnings coming in between $1.70 and $1.77 per share. That covers the key months of December, January and February. For a retailer like Bed Bath & Beyond, that's the biggest quarter of the year by far.
Bed Bath & Beyond also reiterated their full-year forecast of $4.88 to $5.01 per share. By my numbers, that's a very conservative outlook and I don't think they'll have much trouble beating it. The low-end number in particular is way too low. For comparison, the company earned $4.56 per share last year. I think they should be able to clear $5 per share by year's end. Even $5.10 is possible.
I really like how well-run BBBY is. They have a solid balance sheet and nearly $1 billion in cash. They're also one of the few companies that use share buybacks to actually reduce their share count. Consider this: In the last three years, net income is up 37% but EPS is up 66%. Why? There are fewer shares. That's how real buybacks work. Not phony ones that mask executive compensation.
Let me also say that BBBY is a perfect example of our style of investing. You may recall that the stock got hammered a few times last year. BBBY crashed 17% in one day last June, and it dropped another 10% after the earnings report from last September. That earnings report missed Wall Street's consensus by four cents per share. OMG! Panic!
Yet here we are a year later, and the stock and earnings are at all-time highs. This didn't involve a Great Swami-like prediction on our part. It involved recognizing the simple fact that BBBY is a great company, and the stock will eventually reflect that. The stock is now a 38.7% winner on the year for us. Aren't you glad we stuck with them? I'm raising my Buy Below on Bed Bath & Beyond to $83 per share.
JPMorgan Is In Talks to Settle Mortgage Abuses
I'm getting tired of discussing the latest mishaps at JPMorgan Chase ($JPM). For the record, I think it's a very profitable bank and the stock is a good value. However, the seemingly endless parade of bad news is frustrating.
JPM has already paid huge fines this year. Over the last three years, their litigation costs have totaled a staggering $17 billion. Maybe their lawyers should IPO. Now the bank is in talks with federal and state regulators to secure a massive deal that would resolve all the outstanding mortgage issues they face. Specifically, the allegations deal with how JPM sold mortgage bonds before the crisis.
CEO Jamie Dimon recently met with Attorney General Eric Holder. According to news sources, JPM initially offered to pay $3 billion. The government was, shall we say, unimpressed. The current number we're hearing is $11 billion. That's $7 billion in cash plus $4 billion in relief for homeowners. That works out to about $3 per share. Understandably, JPM wants to get all this bad news behind them. Interestingly, the stock rebounded on Wednesday and Thursday on speculation of a possible deal. That's good to see.
JPM had done well for us this year until hitting some rough ground this summer. It's important to remember just how massive JPM is. They have more than 250,000 employees and close to $2 trillion in assets. I have to give JPM credit. The last few earnings reports have been outstanding. The next report is due in two weeks. Wall Street's consensus is for $1.32 per share. I'm keeping JPM as a conservative buy up to $56 per share. I'd be a lot happier if Jamie Dimon is shown the door.
Crossing Wall Street Buy List Updates
It's mostly been a quiet week for our stocks, but I wanted to touch on a few items. Perhaps the most impressive is that Larry Ellison led Oracle Team USA to a stunning America's Cup victory. Sure, I doubt it will help Oracle's ($ORCL) stock, but it's cool to see. As far as the stock goes, I was relieved by last week's good earnings, and the shares of ORCL have started to recover. Oracle remains a very good buy up to $35 per share.
Little Nicholas Financial ($NICK) popped as high as $16.79 this week. There was no news, but it's nice to see NICK get some love. NICK is an excellent buy up to $17 per share. Don't forget the dividend yield which is currently a hair below 3%.
If I had to guess which Buy List stock would be the top performer this year, I doubt I would have said Moog ($MOG-A), but indeed it is. It's always the quiet ones! Moog is up 42.3% this year, and this week it nearly poked through the $60 barrier. My take: Don't chase Moog. I'm keeping our Buy Below at $57 for now. Look for more good earnings news in a few weeks.
Cognizant Technology ($CTSH) continues to do very well for us. Barclay's just upgraded CTSH and raised their price target from $80 to $97 per share. Remember in April when it plunged 21% in two weeks? Nope, me neither. I'm keeping our Buy Below at $84 per share. CTSH is a solid buy.
On Wednesday, Stryker ($SYK) announced that it's buying MAKO Surgical ($MAKO) for $1.65 billion. MAKO is involved in robotic-assisted surgery which is a very hot sector. Stryker obviously sees big opportunities here—they're paying an 86% premium for MAKO.
Shares of SYK took a dip which usually happens to the acquirer, but I'm not worried. Wells Fargo just reaffirmed their Outperform rating, and both RBC Capital and Deutsche Bank recently raised their price targets for SYK. Stryker remains a very good buy up to $71 per share.
That's all for now. This Monday will be the final day of the third quarter. After that, we'll get the important turn-of-month economic reports. The ISM Index will be out on Tuesday. The last two reports were quite good. Then on Wednesday, ADP releases its jobs report. Initial claims will be out on Thursday. Finally, on Friday morning, the big September jobs report will be released. Be sure to keep checking the blog for daily updates. I'll have more market analysis for you in the next issue of CWS Market Review!
– Eddy
Posted by Eddy Elfenbein on September 27th, 2013 at 7:09 am
The information in this blog post represents my own opinions and does not contain a recommendation for any particular security or investment. I or my affiliates may hold positions or other interests in securities mentioned in the Blog, please see my Disclaimer page for my full disclaimer.
Archives