CWS Market Review – February 28, 2014
"A bull market is like sex. It feels best just before it ends." – Barton Biggs
The fourth time's a charm! For three days in a row, the S&P 500 rallied above 1,850 and was ready to make a new all-time record close, but each time, the bears arrived late in the day to pull us back down. On Thursday, it looked like it was going to happen for a fourth time, but this time, the bulls prevailed, and the S&P 500 closed at 1,854.29—a new record close.
We're coming up on the fifth anniversary of a generational low for stocks. The climate back then was dreadful. On Friday, March 6, 2009, the Labor Department reported that the unemployment rate had hit a 25-year high and the economy had lost a staggering 651,000 non-farm payroll jobs the previous month. That morning, the S&P 500 touched an evil-sounding intra-day low of 666.79, which was the index's lowest point in more than 12 years. The Dow was in even worse shape. Adjusted for inflation, the Dow was back to where it had been 43 years before.
The closing low came the following Monday, March 9, when the S&P 500 finished at 676.53. That was nine years to the day after the Nasdaq Composite first closed above 5,000. Now it was roughly one-quarter of that. The following day, Ben Bernanke told the Council on Foreign Relations that he thought we should review our mark-to-market accounting rules, and a few weeks later, the FASB agreed. That gave a huge boost to the rally. Five years on, the S&P 500 has gained 174%. Including dividends, it's up 205%. In plainer terms, investors have tripled their money in five years. This is one of the greatest rallies in Wall Street history.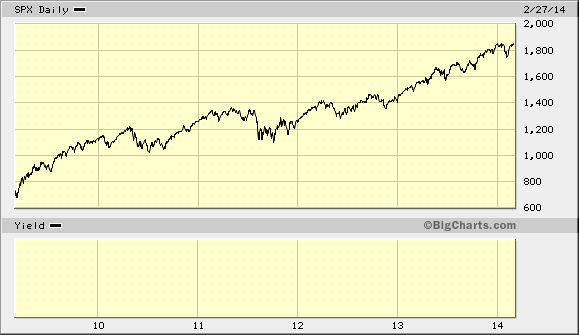 So where do we go from here? In this week's CWS Market Review, we'll take a look at the economy and how it could impact our portfolios. I'll also highlight some good news from our Buy List. An entertaining battle of billionaires is helping our position at eBay. The stock just touched an all-time high. Also, Ross Stores just announced that it's raising its dividend by 17%. This is the 20th year in a row that Ross has increased its payout. Not many stocks can make that claim. But before we get to that, let's look at some recent economic news and what it means for us.
Why the Housing Market Holds the Key
On Thursday, new Federal Reserve chair Janet Yellen told Congress that it's possible the Fed would hold off on its tapering plans if there were a "significant change" in the economic outlook. Frankly, that's not really news; the Fed has consistently held this line. But this time, investors are taking it more seriously since the economic news has been less favorable. Eric Rosengren, the president of the Boston Fed, who incidentally was the only FOMC member in favor of cutting rates in September 2008, said the Fed should be "very patient" in cutting stimulus. Lousy weather has been a convenient scapegoat for poor numbers, but it's pretty hard to separate out what's been caused by the weather and what hasn't.
On Thursday, the Commerce Department said that orders for durable goods fell 1% last month. But on closer inspection, there were bits of good news in this report. If you exclude transportation, which can be very volatile, durable-goods orders actually rose 1.1% last month. That was the biggest increase since May. Economists were expecting a decline of 0.3%.
On Wednesday, the Census Bureau said that new-home sales rose to a five-year high. The housing situation is critical in determining where the economy goes from here. Even though new-home sales are up, the current level is still near the low point of previous cycles. That tells you just how crazy the housing boom was. It created a massive, gigantic oversupply of homes. All those empty homes weren't incinerated. Instead, it's taken us this long to work off the inventory. Only now is housing inventory back to normal.
This is why I'm optimistic on housing. We've finally burned off that excessive inventory, and people are going to need more new homes. Normally, housing leads a recovery, and we didn't get that this time. As a result, we got a sluggish recovery—and for many folks, there was no recovery at all. In fact, I think we could have very easily dropped back into a recession in 2011-12 if not for the assistance of the Federal Reserve. Budget-cutting from the government was a major drag on the economy. (Please note I'm not saying whether I approve of this or not, just that government austerity was a big factor.)
It's true that mortgage rates have risen. The average rate for a 30-year fixed mortgage jumped from 3.35% last May to 4.33% now. While higher mortgage rates have crushed the refi market (Wells Fargo just announced more layoffs in their mortgage unit), they don't appear to be holding back new buyers. The simple fact is that we'll need more new homes. Despite the poor weather, the economy is slowly gaining steam. That's why I strongly doubt we'll see the Fed shelve its tapering plans this year.
Let me also touch on the consumer end of the economy. Retail stocks got off to a terrible start this year. That was reflected on our Buy List with bad performances from Ross Stores and Bed Bath & Beyond, but they weren't alone. Nearly everyone from Walmart on down had a lousy quarter. The retail sector came back to life this week; even troubled retailers like J.C. Penney and Target saw big gains this week.
I suspect that the bad times for retailers have passed. The facts are clear. Consumers have paid down their debts. The great enemy of consumer spending, the price at the pump, is below its average of the last three years. Lastly, the labor market has improved, though at a very leisurely rate.
The Perils of Complacency
One of the concerns I have is the unintended consequences of the Federal Reserve's policies. No matter how you feel about QE, and I do think it's been a plus for stocks, massive bond buying distorts the market's gauging of risk and reward. In short, the Fed has encouraged more risk-taking. That was understandable when everyone was terrified, but what about now?
I'll give you an example of some possible distortions we're seeing. Since February 3, the most-shorted stocks, meaning those with the most bets against them, have done the best. The hated stocks have doubled the return of the rest of the market. Tesla is a perfect example. Shorts make up an astounding 37% of their shares, yet the stock has skyrocketed. Shares of Tesla got to $265 this week; a year ago, they were at $35.
Another example is in the biotech sector. In the last ten weeks, the biotech index is up 25%, yet one-third of the companies don't turn a profit. Facebook broke $71 per share this week, which is more than 90 times last year's earnings. Some folks are claiming that the rash of big-ticket M&A deals is due to non-existent returns from sitting on cash. Also, everyone's favorite alternative asset, gold, is having a good year so far (after a very rough 2013). Or we can look at the bond market. The yield spread between junk debt and Treasuries narrowed to its lowest level in six years (see below).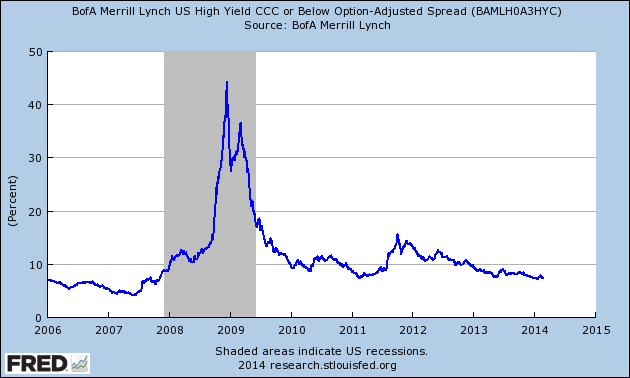 These are all signals that investors are willing to shoulder more risk. On one hand, that's a good thing. The danger comes when investors become complacent and feel they have little reason to worry. Consider that investors have become programmed to buy every dip. Since the bull market began five years ago, there have been 19 nervous breakdowns of 5% or more. Every single one was turned back.
The problem with risk is the things we don't know we don't know. Let's look at what's been happening in China's economy. The growth of their "shadow banking" system has been alarming. No one truly knows its size. What if there's a major default in China and that ignites a panic? What's interesting is that growth from China has helped ease our pain from the Great Recession.
I don't have a specific worry that I see looming on the horizon. Rather, it's that I see investors becoming sloppy. I'm not so concerned about a large-scale bubble; I worry about small things like poorly thought-out acquisitions. (Peter Lynch has referred to this as the "Bladder Theory" of corporate finance.) The key for investors is not to be tempted by easy gains or to feel the need to chase stocks for fear of being left behind. Frustrated investors are bad investors. Now let's look at a long-term strategy that works.
Our Buy List Is up for the Year
I'm happy to report that our Buy List is up slightly for the year, and we're leading the market. Of course, it's still very early, but through Thursday, our Buy List is up 0.45% this year, while the S&P 500 is up 0.32% (not including dividends). Bear in mind that only a few weeks ago, we were down nearly 6%. Our Buy List has beaten the S&P 500 for the last seven years in a row. Now let's look at some recent news from our Buy List stocks.
Just after I sent you last week's CWS Market Review, Express Scripts ($ESRX) had a rough day on the market. Shares of ESRX dropped 4% last Friday. This was despite reporting earnings that were in line with estimates, and they offered a good guidance for this year. I'm a little baffled by the market's sour reaction, as there was little in this report that anyone should find surprising. The company said it's aiming to return 50% of its cash flow to investors as dividends or buybacks. I still like Express Scripts and think it's a good buy up to $83 per share.
Shares of eBay ($EBAY) had a good week, and we have our friend Carl Icahn to thank. The multi-gazillionaire released three open letters this week. In them, he's reiterating his call for eBay to spin off their very lucrative PayPal business. The company has made it abundantly clear that they're not interested.
The battle between Icahn and eBay's board is getting ugly. Icahn doesn't like the fact that Scott Cook and Marc Andreessen are on the board. Cook founded Intuit which competes against PayPal, and Andreessen's company bought Skype from eBay and then sold it to Microsoft.
Pierre Omidyar, eBay's chairman and founder, shot back and said that Icahn's views are "false and misleading." I love it when billionaires fight, especially when it helps our stock. Thanks to the high-profile kerfuffle, shares of eBay rallied above $59 on Thursday and took out the all-time high from 2004. Now Icahn has challenged eBay to a public debate, which sounds a bit nutty. The irony is that ever since Icahn went on the warpath, Omidyar has made $450 million from the eBay rally. My take: I think it's clear that the board isn't going to budge. Meanwhile, I'm raising my Buy Below on eBay to $62 per share.
This is actually a lull period for Buy List earnings reports. Our only earnings report for the next several weeks will be Oracle ($ORCL), which should report sometime in mid-March. I'm expecting another good report from them. Oracle tested our patience last year, but I think it's starting to pay off. For Q3, Oracle sees earnings coming in between 68 and 72 cents per share. On Thursday, the shares broke above $39 for the first time since Bill Clinton was president. Oracle remains a very good buy up to $41 per share.
Ross Stores Announces Big Dividend Increase
After the closing bell on Thursday, Ross Stores ($ROST) reported Q4 earnings of $1.02 per share. This is for the crucial holiday shopping quarter. In November, the deep-discount retailer spooked Wall Street when it said that Q4 earnings would be below forecasts. The Street had been expecting $1.09 per share; Ross said to expect between 97 cents and $1.01 per share.
Overall, Ross is doing quite well. For the entire year, Ross earned $3.88 per share which was a nice increase over the $3.53 from 2012. The fiscal year for 2012 was 53 weeks which added 10 cents per share to that year's earnings.
Michael Balmuth, Ross's CEO, said, "Our fourth-quarter sales performed in line with our guidance, with earnings that were slightly better than expected, primarily due to above-plan merchandise gross margin. Despite a very promotional retail environment throughout the holiday season, customers responded favorably to the compelling bargains we offered on a wide assortment of fresh and exciting name-brand fashions and gifts."
Now for some guidance. For Q1, Ross sees earnings coming in between $1.11 and $1.15 per share. Wall Street had been expecting $1.20. For all of 2014, Ross sees a range of $4.05 to $4.21 per share. The Street was at $4.34 per share. That's a disappointing forecast, and the shares were weak in the after-hours market.
But there is good news. Ross announced a 17.6% dividend increase. The quarterly payout will rise from 17 cents to 20 cents per share. This is Ross's 20th year in a row of raising its dividend. At 80 cents per share for the full year, that works out to a yield of 1.1%. I'm raising my Buy Below on Ross to $76 per share.
That's all for now. Next week, we get several important economic reports. On Monday, the ISM report comes out. Last month's report was surprisingly weak, so it will be interesting to see if this was a temporary move or the start of a larger trend. The Fed's Beige Book comes out on Wednesday, followed by the productivity report on Thursday. Then on Friday is the big jobs report for February. The last two jobs reports were noticeably subdued, and it appears that the weather excuse has outlived its welcome. Be sure to keep checking the blog for daily updates. I'll have more market analysis for you in the next issue of CWS Market Review!
– Eddy
Posted by Eddy Elfenbein on February 28th, 2014 at 7:47 am
The information in this blog post represents my own opinions and does not contain a recommendation for any particular security or investment. I or my affiliates may hold positions or other interests in securities mentioned in the Blog, please see my Disclaimer page for my full disclaimer.
Archives