The Small-Cap Cycle Could Be Over
I want to expand on something I mentioned in Friday's newsletter. Since March 4, small-cap stocks have been lagging the overall market. This is notable because small-caps had been leading the S&P 500 for over 15 years. It's been an extremely impressive run.
Let's look at some numbers. The ratio of the Russell 2000 Index to the S&P 500 reached a low on April 8, 1999. Technical analysts will note that the trough ratio was just a hair below 0.3. Since then, small-caps have shined.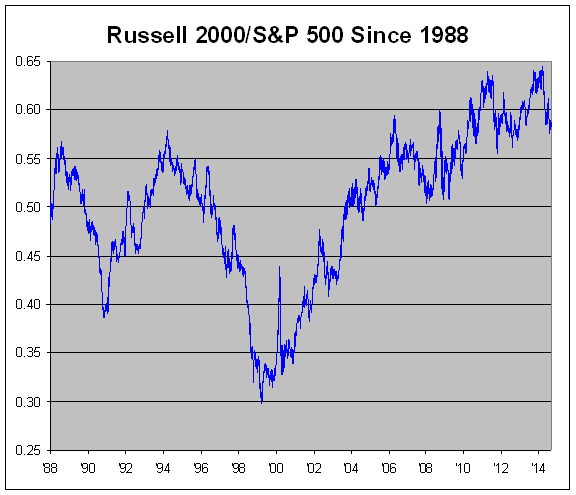 In fact, the impressive behavior of small-caps alters how we ought to look at the great stock bust-up of 2000 to 2009. While it's certainly true that the S&P 500 reached a peak in March 2000—adjusted for inflation, we still haven't topped it—but that's not the whole picture.
The furious rally of the late 1990s was largely driven by tech stocks and large-cap techies in particular. If we exclude a small number of very big stocks, the market's painful nine years wasn't quite so painful. When looking at broad market indexes we should always be mindful that a small group can distort the larger picture. Sectors like small-cap value sector have actually done quite well.
That's why I took notice when the Russell/S&P Ratio reached its last peak on March 4 of this year, almost 15 years to the day after the cycle low. In those 15 years, the Russell 2000 has gained 202% while the S&P 500 is up by just 39%. That's a five-to-one pounding. But since March 4, the S&P 500 is up 6% while the Russell 2000 is down by 4%. That was enough to bring the ratio down from 0.6450 to 0.5758.
So is the small-cap cycle over? Unfortunately, I can't say just yet. I thought the cycle had run its course a few times before. Shirley, small-caps couldn't still lead the market, but they did. Sadly, we may not know if the cycle is truly over for years. It took 30 months for the Russell/S&P Ratio to beat its peak from April 2011. All we can say for certain is that the last six months have witnessed a sharp turn toward big-caps. Historically, once a new cycle starts, it often lasts for many years.
Posted by Eddy Elfenbein on August 25th, 2014 at 10:05 am
The information in this blog post represents my own opinions and does not contain a recommendation for any particular security or investment. I or my affiliates may hold positions or other interests in securities mentioned in the Blog, please see my Disclaimer page for my full disclaimer.
Archives