CWS Market Review – October 3, 2014
"Every generation laughs at the old fashions, but
follows religiously the new." – Henry David Thoreau
The last two weeks have been rough for the stock market. Over the last ten sessions, the S&P 500 has lost 3.24%. The index recently fell below its 50-day moving average, which is a cautious sign, and the 200-DMA is closing in on us. The small-cap Russell 2000 has already lost more than 10% from its high, which is the traditional definition of a correction.
What's the reason for the slip? That's always hard to say. It's probably a mix of bad news: ISIS, Ebola, Hong Kong and some disappointing economic news. I recently predicted such a minor pullback, and I suspect we have a bit more to go. But the big story for investors is the surging U.S. dollar. The greenback is flattening every currency out there.
In this week's CWS Market Review, we'll take a look at how investors should go about investing in a strong-dollar world. I'll also discuss the lower guidance we got this week from Ford Motor. The shares took a nasty slide this week, but I'm not backing away. On the bright side of our Buy List, eBay wisely decided to spin off PayPal. The shares jumped 7.5% on the news. Later on, I'll take a look at an important but overlooked part of this rally, which is the tremendous growth of dividends. But first, let's look at how the strong dollar continues to impact our portfolios.
Investing in a Strong-Dollar World
There's been a recent rash of worse-than-expected economic data. This week's ISM report came in a bit light. Personal income missed expectations. Construction spending was unexpectedly negative, and the ADP employment report was below expectations.
I'm writing this to you early on Friday, ahead of the big September jobs report. The last jobs report was a bit weak, but nothing too terrible. I doubt that a larger trend has started, but we always want to focus on the facts, not what we hope.
Despite some troubling economic data, the investing climate is still dominated by the strong dollar. Actually, I understated that. Everybody and everything is massively fixated on the surging greenback. It's impacting nearly every market. Of course, it's not so much that the dollar is strong as it is that everything else is weak, so the dollar looks good by comparison.
Just look at Japan. The yen is getting steamrolled. This week, for the first time since 2008, the yen hit 110 to the dollar. The Japanese stock market just took its biggest plunge in seven months.
The same thing's happening in Europe. Stock markets there have been sliding downward. It's as if they're in a time machine and living through our experiences of three years ago. This week, there was a terrible report on German manufacturing which threw cold water in the face of a lot of traders. Now folks are realizing that the euro-economy is in worse shape than people thought. That's why the dollar's been rising and Mario Draghi, the head of the ECB, is going ahead with their bond-buying program. The yield on German 10-year bonds has slipped below 1%. That's just crazy.
The strong dollar is also squeezing the price of several commodities. I talked about gold recently. This week, the price of oil dropped below $90 per barrel for the first time in more than a year. Production is soaring, and we're not importing as much of the black gold as we used to. All that oil has to go somewhere, so the big producers have to cut prices. OPEC may try to cut back on production, but I can't say how much of an impact that will have. As a result, energy stocks have been badly lagging the market.
Investing in a strong dollar world is tricky. Most of the rise in the dollar has probably passed us. Investors should continue to focus on high-quality stocks like the ones you can find on our Buy List. I especially encourage investors to make sure they own stocks with strong and secure dividends. In particular, I like Ross Stores ($ROST), Microsoft ($MSFT), Wells Fargo ($WFC) and Qualcomm ($QCOM). Cognizant Technology Solutions ($CTSH) also looks very attractive here, although it doesn't pay a dividend. Now let's take a closer look at our problem child for this week, Ford Motor.
Ford Motor Drops on Lower Guidance
Shares of Ford Motor ($F) got slammed this week when the automaker lowered its profit guidance for this year. By the end of the day on Thursday, Ford closed at $14.56 per share. Only a few weeks ago, Ford was threatening to break through $18 per share.
Before, Ford had said that its pre-profit for this year would range between $7 billion and $8 billion. Now they're saying it will be $6 billion. There are a few culprits for the bad news. One is Europe—and Russia in particular. The sanctions there are starting to weigh heavily, and the European economy as a whole is still in rough shape. Ford said they expect to lose $1.2 billion in Europe this year. But that will improve to a loss of "only" $250 million next year.
On top of that, Ford said it had to recall 850,000 vehicles to fix an airbag problem. The total cost will be $500 million. Ford also said it projects to lose $1 billion in South America this year. One bright spot is Asia, where Ford projects a profit of $700 million.
In the U.S., Ford sees margins ranging between 8% and 9%, which is at the low end. The recalls are clearly taking a toll. To its credit, Ford remains optimistic for next year. It sees 2015 profits ranging between $8.5 billion to $9.5 billion. That's about $2.20 to $2.45 per share in pre-tax earnings.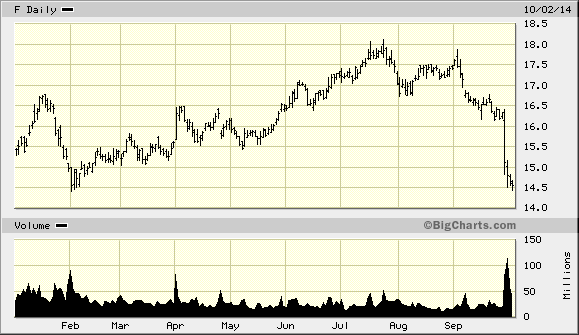 Here's my take: I'm disappointed by this lower guidance. Ford has been recovering well, but there are clearly more hurdles to overcome. I'm not so concerned about the geopolitical issues; Ford can't control those. I am, however, concerned by the recalls. They're not a good sign.
In the longer run, Ford's core business is still truck sales in North America. The big issue for the next 12 months is how well the new aluminum-bodied car will be received. The company has a lot at stake on this. I apologize for the rough ride in this stock, but I'm still a believer in Ford's long-term outlook. The stock currently yields 3.43%, which is a very good yield. If Ford's forecast for next year is right, then Ford is going for a very attractive price here. To reflect this week's sell-off, I'm lowering my Buy Below on Ford to $17 per share.
Icahn Wins! eBay Will Spinoff PayPal
Earlier this year, Carl Icahn got into a war of words with the board of eBay ($EBAY). Icahn is an "activist investor," which means he buys big blocks of shares in a company, then demands changes to boost the share price. Corporate boards hate him, and that's not because he's unsuccessful. When he takes a position, Carl's usually right.
Icahn's beef with eBay was that they should spin off their PayPal unit. The eBay board said no, and the public feud got nasty. Icahn eventually backed down, and the issue seemed to be settled, but then Apple ($AAPL) announced the introduction of Apple Pay. Well, that changed things. Three weeks ago, one shockingly underpriced newsletter wrote:
PayPal is a big money-maker for eBay, and there's been a lot of pressure on the company to sell the division. As I noted a few weeks ago, just a rumor of that news sent shares of eBay higher. Even though eBay has said they're not interested in selling PayPal, I think the market's evident interest will prevail. It usually does. I can't say whether Apple Pay will crush PayPal, but I think it will add more pressure on eBay to move. The board also has "cover" to make an about-face.
Sure enough, eBay announced this week that it will spin off PayPal sometime next year. Traders loved the news: shares of eBay jumped 7.5% on Tuesday. In 2002, eBay bought PayPal for $1.5 billion. I'm pretty sure the spin-off will be for more than that. A lot more.
By the way, spin-offs are often great investments. Research has shown that once the divisions are freed from the mother ship, they often do well. Perhaps it's the reverse dynamic at work, which has hampered so many mega-mergers. I wouldn't be surprised if PayPal were bought out not long after its spin-off.
Icahn wrote on his blog, "We are happy that eBay's board and management have acted responsibly concerning the separation—perhaps a little later than they should have, but earlier than we expected." I have to agree with Carl. This is good news. Look for another solid earnings report from eBay on Wednesday, October 15. eBay remains a buy up to $55 per share.
Dividends Continue to Rise
Now that three quarters of 2014 are under our belt, I wanted to look at the continuing trend of growing dividends. This has been one of the overlooked parts of the stock market's rally. The numbers are in, and last quarter was another strong quarter for dividends. For the first time ever, the S&P 500 paid out more than $10 per share in dividends. (That's the dividend-adjusted number; every $1 on the index is worth about $8.88 billion.)
Dividends for Q3 were $10.02 per share, which is an increase of 12.50% over last year's Q3. Note that over the same time, the index has increased its price by 17.29%. So in terms of dividend yield, the S&P 500 has a slightly higher valuation, but both dividends and stock prices are growing roughly in line with each other. That's why I think much of this "bubble" talk is very premature.
Dividends have grown by more than 10% for 14 of the last 15 quarters. The only exception was the fourth quarter of last year, and that's because the fourth quarter of 2012 had been unusually strong (+22.77%) so investors could take advantage of the new tax laws. Dividends for Q3 are up more than 77% from the third quarter of 2010, while the index is up by 73%. Yes, the dividend yield is slightly higher than what it was four years ago. Some bubble.
I'm a big fan of dividends. There are so many ways a company can play around with corporate earnings, but when you get a dividend, you know it's something real. Over the last four quarters, the S&P 500 has paid out $38.49 in dividends. Going by the index's close on Tuesday (1,972.29), that comes to a trailing dividend yield of 1.95%.
Here's a chart showing the S&P 500 (in blue, left scale) along with dividends (in black, right scale). The two lines are scaled at a ratio of 50-to-1, which means that whenever the lines cross, the trailing yield is exactly 2%. For the last three years, both lines have stuck by each other pretty closely. You can also see how cheap the market was in early 2009.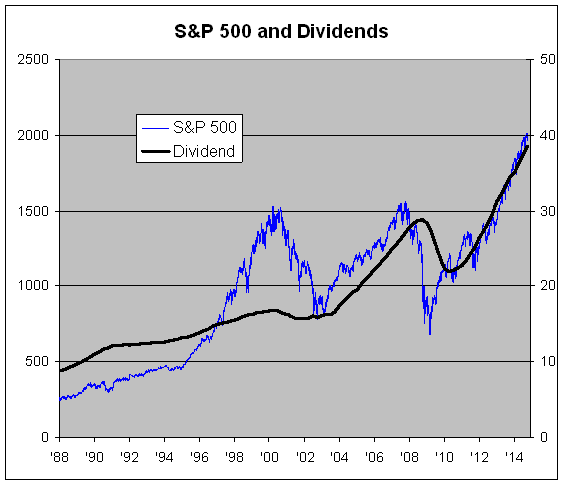 In addition to Ford, I'm also lowering my Buy Below prices on a few more Buy List stocks. None of these are sells; I'm merely adjusting our Buy Belows to reflect the current market. I'm lowering AFLAC's ($AFL) Buy Below to $63. The problem isn't the company; it's the lousy yen/dollar exchange rate. I'm dropping CA Technologies ($CA) to make it a buy up to $30 per share. The stock currently yields 3.68%. I wasn't thrilled with Oracle's ($ORCL) last earnings report. I'm lowering our Buy Below on Oracle to $42 per share. Lastly, I'm dropping Express Scripts ($ESRX) by $2 to $77 per share. The stock was our big winner last earnings season, but it's slid back over the last few days. I still like ESRX a lot.
Shares of DirecTV ($DTV) got a nice bump on Thursday after the satellite-TV company extended its Sunday Ticket package with the NFL. This is a ginormous money maker for both DTV and the NFL, so I knew they'd come together. The new deal is for eight years. It's such a big part of DTV's business that AT&T had the option of walking away from their merger deal if DTV lost the Sunday Ticket. This is another sign that the merger deal is progressing. DirecTV remains a buy up to $95 per share.
That's all for now. Third-quarter earnings season officially kicks off next week, but things won't start heating up until the following week. On Tuesday, October 14, Wells Fargo ($WFC) will be our first Buy List stock to report Q3 earnings; eBay ($EBAY) follows the next day. Be sure to keep checking the blog for daily updates. I'll have more market analysis for you in the next issue of CWS Market Review!
– Eddy
Posted by Eddy Elfenbein on October 3rd, 2014 at 7:09 am
The information in this blog post represents my own opinions and does not contain a recommendation for any particular security or investment. I or my affiliates may hold positions or other interests in securities mentioned in the Blog, please see my Disclaimer page for my full disclaimer.
Archives