Update: Wabtec Misses Earnings and Guides Lower
I neglected to update you on Wabtec (WAB) in Friday's newsletter. My apologies for the delay.
On Tuesday, the freight services company released a disappointing earnings report. For Q2, WAB earned 75 cents per share. That includes a charge of five cents per share due to "net effect of the restructuring and transaction expenses and the interest expense benefit." Wall Street had been expecting Q2 earnings of 94 cents per share. Not good.
Wabtec had quarterly revenue of $932.3 million, which was also below Wall Street's estimate of $1 billion. For all of 2017, Wabtec now expects sales of $3.85 billion and EPS between $3.55 and $3.70. That's a reduction from their April forecast of $3.95 to $4.15 per share.
This is the fourth time in the last five earnings reports where Wabtec has missed Wall Street's consensus. So what went wrong? Basically, the environment for their business is pretty bad right now. Wabtec said there was $250 million in sales, which they had expected during Q2, but it never showed. It's important for us to distinguish what's bad due to them from what's bad for everyone in the sector. This is more of a lousy environment story.
On the positive side, Wabtec said their backlog is up 10%. They also just completed the merger with Faiveley.
This is Raymond T. Betler, the CEO, on the earnings call:
The main reason for our shortfall in the second quarter and our reduction in full year guidance is that we've seen about $250 million of revenues, roughly 5% of our full year total pushed out due mainly to revised timing of sales and projects already in the backlog, and to the market conditions, which we've discussed previously rebounding slower than we anticipated.

These factors are more than offsetting the expected ramp up of synergies from the Faiveley integration during the year. Some of the revenue slippage occurred in the second quarter, including projects for signal, design and construction work, locomotive overhauls, which both have — did not materialize, so we removed them from our 2017 forecast.

Also, we are not yet seeing the expected recovery in the freight aftermarket spending, and the OEM freight markets remained sluggish. As a result, we revised our 2017 guidance as follows: Compared to the first 2 quarters of the year, we expect some modest improvement in our third quarter results due to seasonality, with the strong fourth quarter and an adjusted operating margin target in the fourth quarter of about 15%. With more of our revenues coming from Europe, the seasonality in the third quarter will be more of a factor than it's been in the past.
The shares dropped nearly 10% on Tuesday, plus another 6% on Wednesday. The stock eventually bottomed at an 11-month low on Thursday. The shares are now going for 20 to 21 times this year's guidance range. That's a rich valuation but it may be quite reasonable based on an expected pickup in 2018. We'll have to see.
I don't like these numbers but I'm willing to give WAB more time to show us some improvement. For now, I'm lowering my Buy Below price on WAB to $81 per share.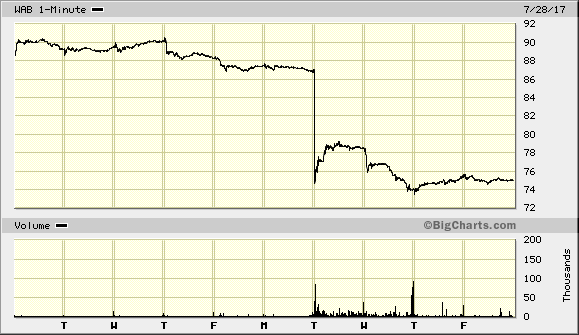 Posted by Eddy Elfenbein on July 29th, 2017 at 1:14 pm
The information in this blog post represents my own opinions and does not contain a recommendation for any particular security or investment. I or my affiliates may hold positions or other interests in securities mentioned in the Blog, please see my Disclaimer page for my full disclaimer.
Archives