CWS Market Review – August 4, 2017
"The stock market is a giant distraction to the business of investing."
– Jack Bogle
This is the final week of second-quarter earnings season for our Buy List. We had six more earnings reports come out this week, plus Cinemark is due out later today. Overall, this has been a disappointing earnings season for us. We've had several good reports, but we've also had a few big misses. Fortunately, the damage to our Buy List has been rather mild. That's because we're nothing if not well diversified. This is an important lesson. A diversified portfolio helps minimize the dings and bruises to our portfolios.
I should also point out that since we focus on holding high-quality stocks for the long term, the quarterly earnings game isn't as important for us. For example, in May, HEICO (HEI) came out with an earnings report that looked fine to me. Traders, however, held a different opinion and the shares fell. Then about five weeks later—seemingly out of nowhere—HEICO started to rally. I have no idea why. There was no new news. But the important point is that we were in place to profit from it.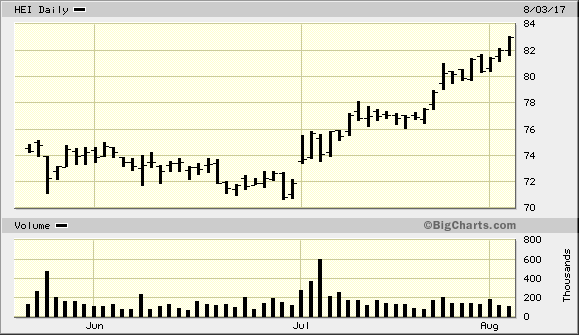 The overall earnings environment is pretty good. Right now, the S&P 500 is tracking 9.2% earnings growth for Q2. Wall Street now expects 11.2% growth for Q3. The S&P 500 is now going for 18 times next year's earnings. That's pricey. The average multiple usually runs around 14. Still, I wouldn't say that we're recklessly overvalued.
This week, we saw good earnings from Ingredion and Cognizant Technology Solutions. The latter raised guidance. We also had a rare miss from Fiserv and a lousy report from Axalta. I'll run down all the details. Let's start with the folks at Ingredion.
Earnings from Ingredion and Fiserv
Ingredion (INGR) led off this week's earnings parade on Tuesday when they reported Q2 earnings of $1.89 per share. Wall Street had been expecting $1.85 per share. For last year's Q2, the plant-food folks earned $1.73 per share.
Looking at the details. Ingredion noted that business in North America is quite good, but they've had some "headwinds" in South America. I was pleased to see the company reiterate its full-year guidance of $7.50 to $7.80 per share. They've already made $3.77 per share for the first half, so that guidance seems very doable.
Here's where things get dramatic. The shares dropped sharply at the open on Tuesday. (Traders!) But then they rallied back. In fact, by early Thursday, Ingredion's stock was higher than it was on Monday's close. In other words, our strategy of doing nothing worked just fine. This week, I'm raising my Buy Below on Ingredion to $128 per share.
Also on Tuesday, Fiserv (FISV) reported earnings of $1.19 per share. That was four cents below Wall Street's estimate. This caught me by surprise because Fiserv rarely misses earnings.
There's nothing to worry about. Fiserv didn't give guidance for Q2, but their full-year 2017 guidance is unchanged at $5.03 to $5.17 per share.
Let's look at some key facts. Earnings for the year are up 14% over last year. Free cash flow is up 26% to $555 million. Fiserv also increased its operating margin by 40 basis points to 32.3%. Based on its 2017 guidance range, Fiserv sees earnings rising by 14% to 17% this year.
Fiserv has already bought back nearly six million shares this year, and they have authorization to buy another 14.6 million shares. The stock dropped 4% during Tuesday's trading, but remember that it's still up 16.6% this year. I'm keeping my Buy Below price for Fiserv at $131 per share.
Four Earnings Reports on Thursday
We had four more earnings reports on Thursday. In the morning, Intercontinental Exchange (ICE) reported Q2 earnings of 75 cents per share. That's an increase of 9% over last year. Although this was one penny below estimates, it was ICE's 17th-straight quarter of revenue growth.
Shares of ICE lost 2.8% on Thursday. Again, I'm not at all worried. ICE should be able to earn about $3 per share this year. Intercontinental Exchange remains a buy up to $66 per share.
Cognizant Technology Solutions (CTSH) earned 93 cents per share for Q2. That was two cents above the Street's consensus. Previously, the company said to expect Q2 earnings of at least 89 cents per share. Quarterly revenue rose 8.9% to $3.67 billion. Cognizant had said to expect revenue between $3.63 and $3.68 billion.
Now for the good news. Cognizant raised its sales and earnings guidance for this year. The company expects Q3 earnings of at least 94 cents per share. They also upped their full-year guidance by three cents. They now see 2017 earnings of at least $3.67 per share.
CTSH expects Q3 revenue between $3.73 billion and $3.78 billion, and full-year revenue between $14.70 billion and $14.84 billion. The old range was $14.56 billion to $14.84 billion.
Interestingly, traders got nervous on Wednesday and CTSH took a dip. The solid earnings report apparently assuaged their fears. CTSH gained a little over 2% on Thursday. We're up nearly 25% in CTSH this year. I'm lifting my Buy Below on Cognizant to $74 per share.
Axalta Coating Systems (AXTA) became our latest earnings dud. For Q2, they reported adjusted earnings of 31 cents per share which was eight cents below the Street's consensus. Net sales rose 2.3% to $1.09 billion. Part of the reason for the miss was a drop in paint prices, but it was also due to the mess in Venezuela.
The deconsolidation of our Venezuelan operations came as a result of a lack of exchangeability between the Venezuelan bolivar and the U.S. dollar coupled with our financial outlook for the foreseeable future. This lack of exchangeability restricted our Venezuelan subsidiary's ability to pay dividends or settle intercompany obligations, which limited our ability to realize the benefits of our Venezuelan operations. In accordance with the applicable accounting guidance, we have deconsolidated our Venezuela operations and will account for our investment at cost going forward. Our cost investment is now valued at $0 at June 30, 2017 which has resulted in a pre-tax charge of $70.9 million for the three months ended June 30, 2017. We will no longer report the consolidated results of our Venezuelan operations.
Axalta also updated their guidance figures for 2017. They now see adjusted EBITDA between $940 million and $970 million. The previous range was $930 million to $980 million. Axalta's expected free cash remains the same at $440 million to $480 million.
AXTA got hammered for a 7.9% loss on Thursday. I'm lowering my Buy Below to $33 per share.
After the closing bell on Thursday, Continental Building Products (CBPX), the wallboard people, said they made 32 cents per share during Q2. That's a three-cent miss.
Net sales rose 3% to $120.6 million. Product costs have been rising, but Continental hasn't been able to pass that along to their customers. Last quarter's profit margin got squeezed a bit as a result. The good news is that CBPX benefited from lower interest costs.
I'm not a big fan of share buybacks, but CPBX has been gobbling up stock at a furious rate. During Q2, they bought back 2.3% of all their outstanding shares.
Update on Wabtec
I neglected to update you on Wabtec (WAB) in last week's newsletter. My apologies for the oversight.
Last Tuesday, the freight-services company released a disappointing earnings report. For Q2, WAB earned 75 cents per share, but that included a charge of five cents per share due to "net effect of the restructuring and transaction expenses and the interest expense benefit." Wall Street had been expecting Q2 earnings of 94 cents per share. Not good.
Wabtec had quarterly revenue of $932.3 million, which was also below Wall Street's estimate of $1 billion. For all of 2017, Wabtec now expects sales of $3.85 billion and EPS between $3.55 and $3.70. That's a reduction from their April forecast of $3.95 to $4.15 per share.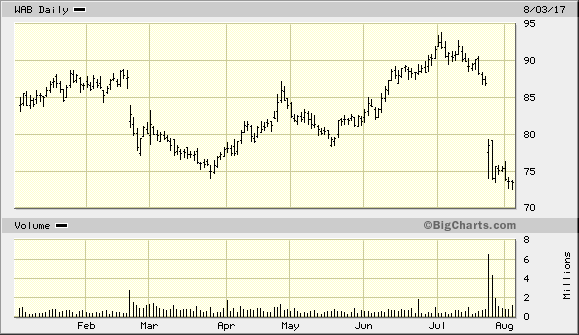 This is the fourth time in the last five earnings reports that Wabtec has missed Wall Street's consensus. So what went wrong? Basically, the environment for their business is pretty bad right now. Wabtec said there was $250 million in sales that they had expected during Q2 that never showed up. It's important for us to distinguish between what's bad due to them and what's bad for everyone in the sector. This is more of a lousy-environment story.
On the positive side, Wabtec said their backlog is up 10%. They also just completed their big merger with Faiveley.
This is Raymond T. Betler, the CEO, on the earnings call:
The main reason for our shortfall in the second quarter and our reduction in full year guidance is that we've seen about $250 million of revenues, roughly 5% of our full year total pushed out due mainly to revised timing of sales and projects already in the backlog, and to the market conditions, which we've discussed previously rebounding slower than we anticipated.

These factors are more than offsetting the expected ramp up of synergies from the Faiveley integration during the year. Some of the revenue slippage occurred in the second quarter, including projects for signal, design and construction work, locomotive overhauls, which both have — did not materialize, so we removed them from our 2017 forecast.

Also, we are not yet seeing the expected recovery in the freight aftermarket spending, and the OEM freight markets remained sluggish. As a result, we revised our 2017 guidance as follows: Compared to the first 2 quarters of the year, we expect some modest improvement in our third quarter results due to seasonality, with the strong fourth quarter and an adjusted operating margin target in the fourth quarter of about 15%. With more of our revenues coming from Europe, the seasonality in the third quarter will be more of a factor than it's been in the past.
The shares dropped nearly 10% last Tuesday plus another 6% the following Wednesday. The shares are now going for 20 to 21 times this year's guidance range. That's a rich valuation, but it may be quite reasonable based on an expected pickup in 2018.
I don't like these numbers, but I'm willing to give WAB more time to show us some improvement. For now, I'm lowering my Buy Below price on Wabtec to $81 per share.
That's all for now. Next week will be a fairly quiet week for economic news. We'll get the productivity and costs report on Wednesday. Real output is basically where it was 10 years ago. On Thursday, we'll get an update on the Treasury budget. Then on Friday, the latest inflation numbers come out. Janet Yellen has said the Fed expects inflation to gradually tick higher, but there's been no evidence for that yet. Be sure to keep checking the blog for daily updates. I'll have more market analysis for you in the next issue of CWS Market Review!
– Eddy
Posted by Eddy Elfenbein on August 4th, 2017 at 7:08 am
The information in this blog post represents my own opinions and does not contain a recommendation for any particular security or investment. I or my affiliates may hold positions or other interests in securities mentioned in the Blog, please see my Disclaimer page for my full disclaimer.
Archives