The Government Revises GDP Growth for the last 70 Years
Congratulations, we all just got wealthier today! Or I should say that according to the government, we got wealthier—not only today, but in the past as well.
The Commerce Department released its second-quarter GDP report this report and along with it, they revised ALL the GDP numbers going back to 1929.
Today, BEA is releasing revised statistics of gross domestic product (GDP) and other national income and product accounts (NIPAs) series from 1929 through the first quarter of 2009. Comprehensive revisions, which are carried out about every 5 years, are an important part of BEA's regular process for improving and modernizing its accounts to keep pace with the ever-changing U.S. economy.
Paging Mr. Orwell, to the yellow courtesy phone.
These weren't small changes either. Here's a look at the old and new quarterly series which begins in 1947 (in trillions of dollars chained at 2000 prices):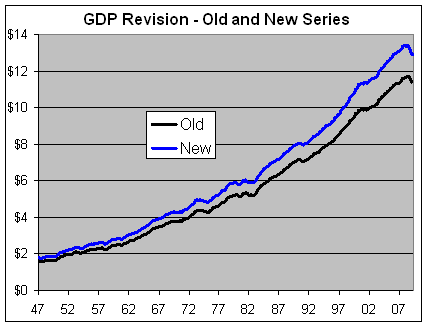 Be sure to tell your grandparents that things weren't as rough as we thought back in the day. Here's a look at the percentage difference between the old and new series: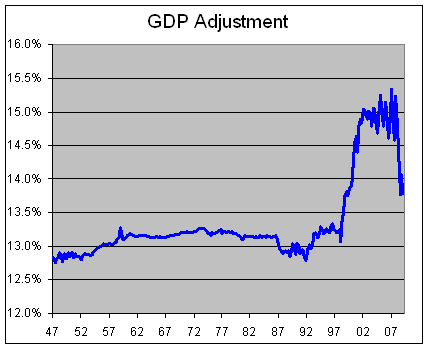 Here are the recent old and new quarterly growth numbers. There are some significant changes. For example, the fourth quarter of 2007 was -0.17%, now it's positive 2.12%. According to NBER, the recession began in December 2007.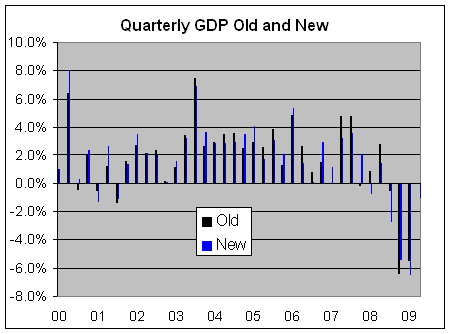 The first quarter of 2008 used to be positive 0.87%, now it's -0.73%. Growth for the second quarter of 2008 was nearly cut in half. The contraction for the third quarter of 2008 was more than five times worse than originally thought!
Going back a few years, the third quarter of 2000 was originally -0.46% but now it's positive 0.33% (that's a Clinton quarter not a Bush quarter for all you political folks). This is important because journalists often refer to a recession as back-to-back quarters of negative economic growth. It's technically not, although a NBER recession usually corresponds with back-to-back quarters of negative growth. Well, in 2000, it never happened. According to the old series, we had negative growth in three of five quarters. Now it was just two out of three quarters.
If anyone needs me, I'll be in East Germany updating some crop reports.
Posted by Eddy Elfenbein on July 31st, 2009 at 11:16 am
The information in this blog post represents my own opinions and does not contain a recommendation for any particular security or investment. I or my affiliates may hold positions or other interests in securities mentioned in the Blog, please see my Disclaimer page for my full disclaimer.
Archives