This Won't End Well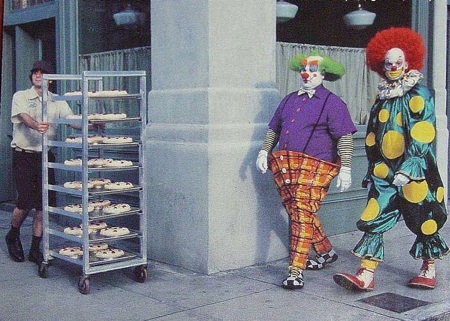 This is a HUGE mistake:
Hewlett-Packard Agrees to Buy Palm
Hewlett-Packard has agreed to acquire Palm for $1.4 billion in cash, uniting two companies that have failed to make much recent headway in the smartphone business.
H.P. announced its all-cash purchase of Palm just after the financial markets closed on Tuesday, saying it would pay $5.70 a share. Shares of Palm were down during regular trading on Wednesday, closing at $4.63, and rose in early after-hours trading by 27 percent to $5.90. The $1.4 billion price includes the Series B and Series C shares, most of which are owned by Elevation Partners.
During the last year, shares of Palm have traded as high as $18 a share and as low as $3.65.
Palm listed $400 million in debt at the end of its third quarter, which H.P. would retire using some of the $592 million in cash that Palm has on hand.
Let's look at some of Palm's (PALM) recent quarterly results:
Q1 2008: +0.09
Q2 2008: -0.07
Q3 2008: -0.16
Q4 2008: -0.22
Q1 2009: -0.12
Q2 2009: -0.73
Q3 2009: -0.86
Q4 2009: -0.40
Q1 2010: -0.10
Q2 2010: -0.37
Q3 2010: -0.61
That's not a good tend.
For those of you keeping score at home, Palm was spunoff from 3Com on March 2, 2000.
Living up to feverishly high expectations, 3Com's (COMS) Palm (PALM) division exploded onto the market today, tripling at the open and moving to a high of $165 — up 334% from its offering price of $38 a share. It slid back to around $95.06 by the closing bell, but still stood 150% higher.
The deal — which also included the private placement of shares to AOL (AOL), Motorola (MOT) and Nokia (NOK) — was co-managed by Goldman Sachs and Morgan Stanley Dean Witter. Palm offered 23 million shares, or a 4% stake in the company.
At one point, Palm was worth more than 3Com, the company that owned almost all of its shares. Chalk one up for EMH!
By the way, that $165 bolded above is really $1,650 in today's shares since the company had a 1-for-20 reverse split followed by a 2-for-1 split. HP is agreeing to buy Palm for $5.70.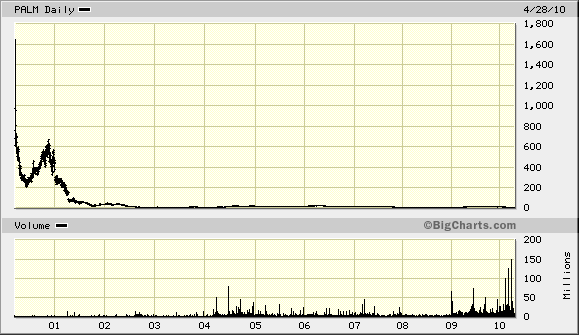 Posted by Eddy Elfenbein on April 28th, 2010 at 6:21 pm
The information in this blog post represents my own opinions and does not contain a recommendation for any particular security or investment. I or my affiliates may hold positions or other interests in securities mentioned in the Blog, please see my Disclaimer page for my full disclaimer.
Archives