The S&P 500 Has Officially Doubled!
Congratulations folks–we finally did it. On March 6, 2009, the S&P 500 hit an intra-day low of 666.79. That was the lowest reading in 12-1/2 years.
This morning, the index broke through 1,333.58 marking an official double. This is the market's fastest double in over 70 years.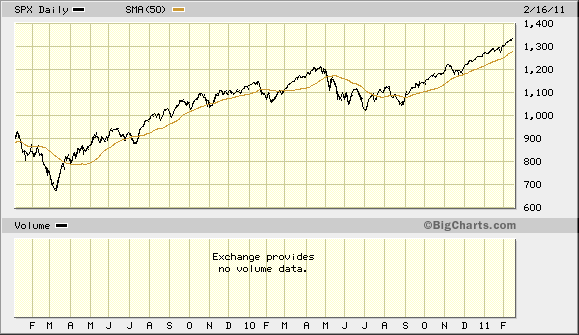 It took us 492 trading days (or just under two years) to double which works out to an average of 14 basis points per day.
The S&P 500 doubled from its low of January 23, 1995 to its high of July 7, 1997 in 620 trading days or 29.5 months.
I don't have the intra-day numbers for decades past but by going by the daily close, the S&P 500 doubled in just 510 trading days from September 14, 1953 to September 23, 1955. That's nine days over two years.
The S&P 500 had a monster run when it doubled between March 14, 1935 and September 21, 1936. That's just 385 trading days (I'm excluding Saturday trading which lasted until 1952) which is slightly more than 18 months.
The biggest of all rallies came from July 8, 1932 to May 10, 1933. In just ten months or 202 trading days, the S&P 500 doubled from 4.41 to 8.82.
Posted by Eddy Elfenbein on February 16th, 2011 at 10:21 am
The information in this blog post represents my own opinions and does not contain a recommendation for any particular security or investment. I or my affiliates may hold positions or other interests in securities mentioned in the Blog, please see my Disclaimer page for my full disclaimer.
Archives