The Economy Still Isn't Moving
The government updated its number for Q1 GDP growth today. Actually, there was nothing to change. The government said that the economy grew by 1.8% during the first three months of the year, which is what they said last month. Breaking out the fractions, real GDP growth was revised upward from 1.751% to 1.843%.
Here's a look at real GDP growth over the last few years. The numbers are trillions of dollars change to 2005 levels.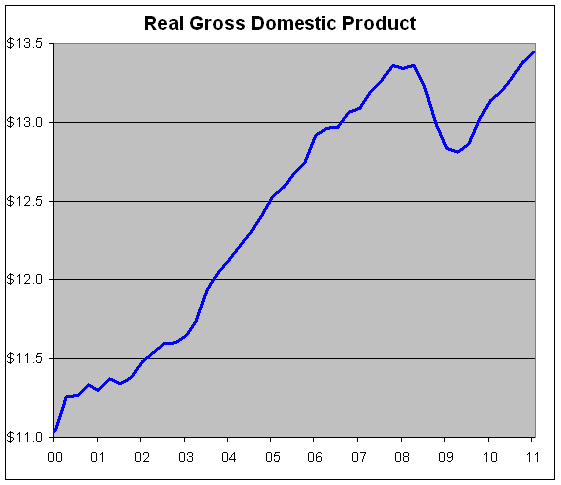 While the economy showed a little pep in the first two quarters off the bottom, the last four have been sluggish. In fact, real GDP growth for Q4 of 2009 and Q1 of 2011 was nearly as strong as it was for the last four quarters despite being half the time (2.16% to 2.31%).
Here's a look at the contribution corporate profits make up in the entire economy. For Q1, profits made up 11.33% of the economy which is the highest level in over four years.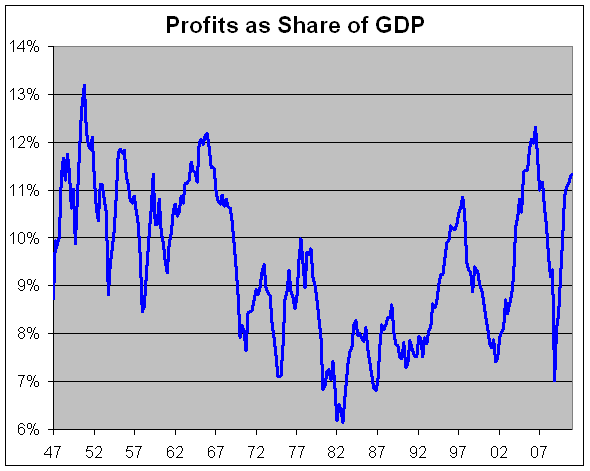 This is an important number to follow. Think of it as a profit margin for the entire economy. For the last several quarter, profit growth has outrun economic growth, but that can't last forever. Historically, profits hit around 11% to 12% near the top of the business cycle.
Thus far, profits have grown thanks to higher profit margins — that's come from lower wage costs (layoffs). But going forward, profit growth will have to be roughly in line with economic growth and that will require more jobs. The easy gains have already been made.
Posted by Eddy Elfenbein on May 26th, 2011 at 11:11 am
The information in this blog post represents my own opinions and does not contain a recommendation for any particular security or investment. I or my affiliates may hold positions or other interests in securities mentioned in the Blog, please see my Disclaimer page for my full disclaimer.
Archives