How Much Is Apple Worth?
Apple's ($AAPL) stock just hit another all-time high yesterday. The shares have been going up, up and up, yet they're still under-priced.
Today, let's take a cold look at Apple's valuation. For this, I'm just going to use a dispassionate analysis of the numbers. No fancy New Age metrics. First, I have to say that Apple is a ridiculously profitable company. The firm generates cash flow to a mind-boggling extent. Think about this: Apple earned more money last quarter than the company was worth eight years ago. They have nearly $100 billion sitting in their bank account (which is causing a chorus demanding a dividend).
In January, Apple reported earnings for its fiscal first quarter (October, November and December) of $13.87 per share. That demolished Wall Street's estimate of $10.16 per share.
The chart below shows Apple's stock along with its trailing four-quarter earnings-per-share. The future part of the line is Wall Street's consensus. As you can see, the consensus is very conservative compared with the recent earnings trend. Apple is notorious for low-balling its estimates.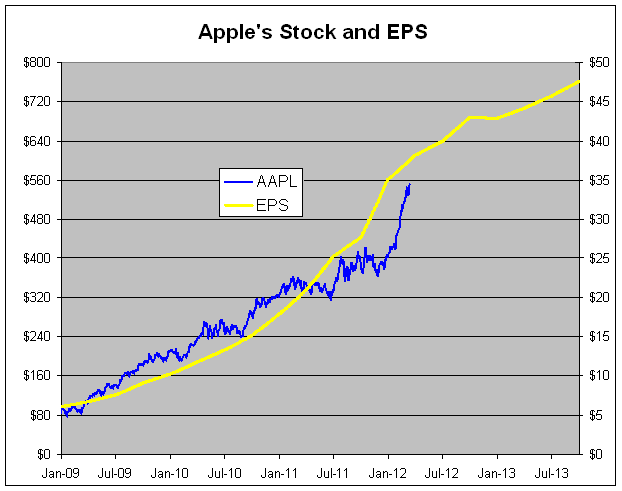 The company is now worth more than half-a-trillion dollars and there's talk that it could soon be worth $1,000 per share. (The board has so far shot down the idea of a stock split.)
Let's break down the numbers. Over the last two years, Apple's stock has traded at an average of 16 times earnings. Thanks to the great earnings report, the earnings multiple has actually gone down. If the stock were to trade at 16 times earnings today, Apple would be worth $600.36 per share. That's an 8.8% jump from here.
While the odds are that Apple will exceed Wall Street's conservative earnings estimates, it's best not to spend that much just yet. Instead, let's make Apple continue to prove its value.
I think the board will eventually concede to a stock split. It's true that splits by themselves don't add value but shareholders seem to like them. I doubt Apple could get away with trying to build a Berkshire-like share price. Warren Buffett can do that because he's Warren Buffett. Tim Cook can't. Plus, Apple has already split its stock three times before so they're not holding to some long-held tradition.
I also doubt a dividend will be coming soon despite the large cash position. Apple is playing the long game so its good to have that money there. The firm will also have tax issues if they repatriate much of their foreign-held money. For now, that money isn't doing any harm.
Posted by Eddy Elfenbein on March 13th, 2012 at 8:55 am
The information in this blog post represents my own opinions and does not contain a recommendation for any particular security or investment. I or my affiliates may hold positions or other interests in securities mentioned in the Blog, please see my Disclaimer page for my full disclaimer.
Tickers: aapl
Archives