The Hidden Bull Market for Consumer Discretionary Stocks
The 500 stocks of the S&P 500 are subdivided into 10 sectors. Investment analysts like to track these sectors to see what's driving the market. Most of the sectors are well-known like tech or finance. But today, I want to focus on one of the overlooked sectors which is Consumer Discretionary.
Consumer Discretionary companies make things that people buy even though they don't need to buy them. For example, Carnival ($CCL), the cruise operator, is a Consumer Discretionary company.
The reason I highlight this sector is because the Consumer Discretionary Index has been doing very well. It's almost like a hidden bull market. The index hit a new all-time high yesterday. Not only that, it also reached its highest relative strength mark in over 22 years (that's as far back as my records go). This means that if you bought the entire sector at any point in the last 22 years and held on until today, you would have beaten the overall market.
Here's a look at the ratio of the Consumer Discretionary index to the S&P 500: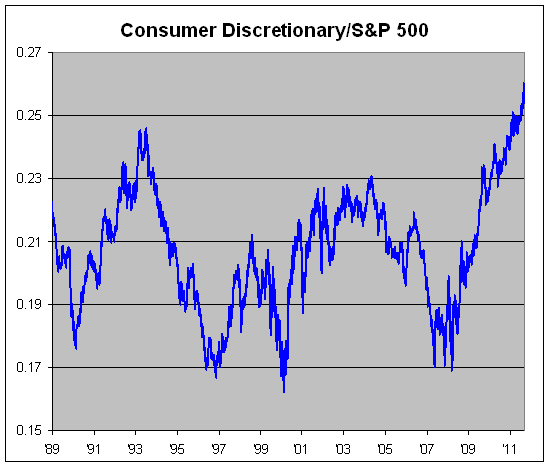 Of the ten sectors, Consumer Discretionary has been the top-performer for the last three and six months. It's also been the best performer since the bear market low in March 2009 and even since the bull market high in October 2007. It was the top performer yesterday as well. In terms of market value, Consumer Discretionary is now the fourth-largest sector and it's close to overtaking Healthcare for third place.
The main Consumer Discretionary ETF that's tied to the index is $XLY. The XLY doesn't get nearly the attention of trader favorites like the Financials ($XLF) or Energy ($XLE). On your average day, the XLF will have more than 12 times the volume as the XLY.
So why has Consumer Discretionary outperformed everyone else? It's hard to say, but my take is that's it's due to pent-up demand from the folks who have remained employed during the Great Recession. In 2008 and 2009, they held back on their big-ticket purchases and now they're opening up their wallets.
One of our favorites, Bed, Bath & Beyond ($BBBY) is probably a good example of this. The stock was unquestionably hurt by the downturn, but it was never in danger of going out of business. Consumers still want their duvets — and now they're getting them.
Posted by Eddy Elfenbein on May 3rd, 2012 at 8:51 am
The information in this blog post represents my own opinions and does not contain a recommendation for any particular security or investment. I or my affiliates may hold positions or other interests in securities mentioned in the Blog, please see my Disclaimer page for my full disclaimer.
Archives