CWS Market Review – October 12, 2012
"Go for a business that any idiot can run – because sooner or later, any idiot probably is going to run it." – Peter Lynch
Earnings season is finally here. This is when we find out who on Wall Street has been naughty and who's been nice. This earnings season could be the first one in eleven quarters that corporate profits come in below where they were the year before. The analyst community currently expects a 1.7% drop in earnings. That's not much, and I should add that that's well within the margin of error, so we may end up seeing a small earnings increase. Unlike last quarter, analysts have largely stopped slashing their earnings forecasts, so that may be a positive sign.
We continue to get evidence that the economy may have turned around. I'm not saying things are good, but the sluggish GDP numbers we've seen in 2012 may not last into next year. The biggest news came last week when the Labor Department reported a big drop in the unemployment rate. The jobless rate fell from 8.1% in August to 7.8% for September. We had more good news on Thursday with the lowest jobless claims report in four-and-a-half years.
Until the election passes, I continue to urge caution with the stock market. Investors must think defensively. Focus on high-quality names, solid dividends and companies with decent guidance. In this week's CWS Market Review, I'll highlight some names I like on our Buy List. I'll also discuss some of the upcoming earnings reports. But first, let's look at what's happening with the broader market.
The S&P 500 Just Put in a Double Top
After hitting a multi-year high on September 14, the S&P 500 pulled back, then put on another rally that petered out last week just shy of the highs from mid-September. Market technicians call that a "double top," and it's usually a bad sign. A triple top may follow. I'm careful not to place too much emphasis on these chart patterns, but I think it's telling us that the bulls didn't have enough confidence to keep the rally going. In fact, they were much more confident when the news was much worse.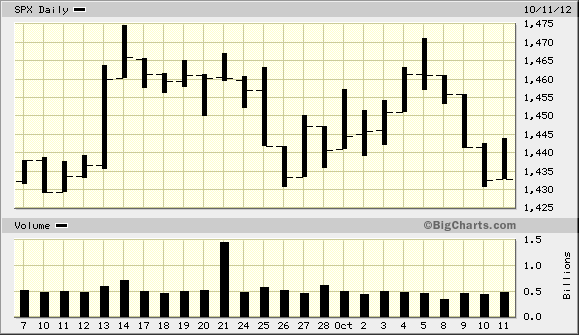 Another reason I think the economy may be doing better than a lot of folks suspect is that the cyclicals continue to lead the market. Since cyclical stocks tend to be choppy, their outperformance has been rather haphazard. Still, economically sensitive stocks have led the rest of the market since August 2. During that time, there were two counter moves, one in late August and another in late September, when investors rushed towards safer names.
The larger trend is that investors are now willing to take on more risk than they had been. It's hard to reason with a market where a 10-year Treasury goes for 1.7% (and that's actually 31 basis points above its summer low) while a stock like Johnson & Johnson ($JNJ) yields a hefty 3.59%.
We have two earnings reports due next week, plus JPMorgan Chase's ($JPM) is due out later today. (I incorrectly said in last week's newsletter that JPM was scheduled to report on Thursday.) I'm writing this on Friday morning, so you may already know JPM's earnings. I've been expecting a major earnings beat. Also, Wall Street carefully watches their earnings report because the company is the first of the major banks to report.
The stock had done well lately and on Thursday, JPM reached its highest close in five months. I currently rate JPM a buy up to $43 per share, and it's very close to that. But I don't want to make any changes to my Buy-Below price until I've had a chance to digest the earnings report. JPM is a very profitable bank. Yes, Jamie Dimon is a loudmouth, but that fact shouldn't affect the stock as much as it does. (By the way, Bethany McLean at Reuters dissects the case against JPMorgan and finds many problems with the government's case.) Stick by JPM.
Stay Tuned for Earnings from Stryker and J&J
On Monday, Johnson & Johnson ($JNJ), the mega healthcare conglomerate, is due to report their third-quarter earnings. This company is in the beginning stages of what could be an impressive turnaround. The new CEO, Alex Gorsky, has only been on the job for only a few months, but investors have been impressed so far. Before Gorsky, it seemed like JNJ made two things—lots of money and lots of bad press.
For Q3, Wall Street expects $1.21 per share. In July, JNJ lowered their full-year guidance to a range of $5 to $5.07 per share. I think that's a very reasonable target. One of the problems with JNJ is that it's been squeezed this year by the strong dollar. However, the currency market took back a lot of the dollar's gain this year. That could be good for JNJ's bottom line.
My take: Blue chips don't get much bluer than JNJ. I really like the dividend which gives JNJ a rich yield of 3.59%. Johnson & Johnson is a high-quality buy up to $70 per share.
Stryker ($SYK), the medical devices stock, will report earnings on Tuesday, October 16th. I like this company a lot. Three months ago, Stryker missed the Street's consensus by a penny per share, but that was largely due to weakness in Europe. For Q3, Wall Street expects 98 cents per share, which again could be slightly too high, but I'm not very worried about a stock like Stryker missing by a hair.
The important news is that in July, Stryker reiterated its forecast for double-digit earnings growth for this year. Not many companies are doing that in this environment, and that guidance translates to full-year earnings of $4.09 per share. Stryker should be able to hit that. The stock has been fairly disappointing this year; it's been locked in a trading range between $52 and $56. Prudent investors should take notice whenever a sluggish stock has superior earnings. Stryker is a top-notch company. Buy up to $57.
Top Values on Our Buy List
Each week, I like to highlight a few stocks on the Buy List that are exceptionally good values right now. I continue to think Moog ($MOG-A) is a very inexpensive stock. Don't overlook boring stocks. Moog is a solid buy any time you see the shares below $45.
I've noticed that CA Technologies ($CA) has slid down in recent weeks. Going by Thursday's closing price, the stock yields 4%. That's a good deal. CA Technologies is a good buy up to $30 per share.
Another stock that's been drifting lower has been Oracle ($ORCL). The last earnings report didn't impress Wall Street much. I think this is a good opportunity to pick up shares of Oracle below $31, which is just over 10 times next year's earnings estimate. (Here's a good interview with CEO Mark Hurd.) Oracle is a very good buy up to $35.
Hudson City ($HCBK) continues to march higher. On Thursday, the stock got as high as $8.24, which is a new 52-week high. The stock is up over 30% on the year for us. I'm raising my Buy-Below price to $9.
Before I go, many of you have asked me about a stock not on our Buy List, Apple ($AAPL). The stock has pulled back over the last three weeks. I can't predict if all the selling is done, but on a pure valuation basis, Apple is very reasonably priced. The stock is going for less than 12 times next year's earnings. On top of that, Apple's cash-and-investments position currently stands at $117 billion. That's a staggering figure. In my opinion, the stock is easily worth $800 per share.
That's all for now. Next week will be dominated by more earnings news. Several major companies are due to report. Be sure to keep checking the blog for daily updates. I'll have more market analysis for you in the next issue of CWS Market Review!
– Eddy
Posted by Eddy Elfenbein on October 12th, 2012 at 8:05 am
The information in this blog post represents my own opinions and does not contain a recommendation for any particular security or investment. I or my affiliates may hold positions or other interests in securities mentioned in the Blog, please see my Disclaimer page for my full disclaimer.
Archives