CWS Market Review – January 18, 2013
"Good investing is boring." – George Soros
Last week, I told you how fear was slowly melting away from this market. That trend continued into this week. Major stock indexes hit five-year highs. The small- and mid-cap indexes made all-time highs. Volatility dropped to a five-year low. So did initial unemployment claims. Poor home construction and industrial production; they only made four-and-a-half year highs.
Here's what investors need to understand: The denouement of the Fed's Quantitative Easing policy is the market's embracing of riskier assets. That's helped our Buy List tremendously, and it's precisely why I wrote in the CWS Market Review from five weeks ago, "(t)he risk right now is finding yourself getting left behind." Our Buy List is already up 5.1% on the year, and we're barely halfway through January.
Of course, as patient investors, we know that the stock market can quickly take back what's it's given us, so that's why we're focused on the long-term. I urge all investors to pay close attention to our Buy Below prices. Too often, a bull market makes investors lazy. Mr. Soros is right: "good investing is boring."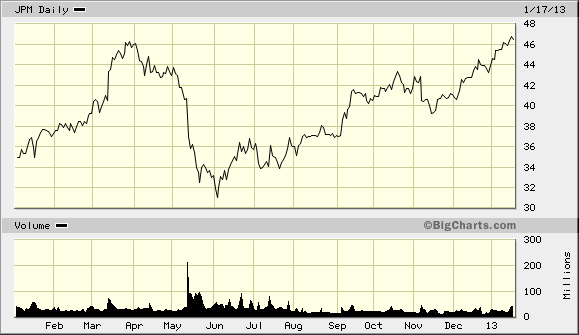 In this week's CWS Market Review, I want to focus on the strong earnings report from JPMorgan Chase ($JPM). Last week, I told you to expect an earnings beat, and that's exactly what happened. We also had record earnings from Wells Fargo ($WFC) last Friday. Next week, we have three earnings reports on tap: CA Technologies ($CA), Stryker ($SYK) and Microsoft ($MSFT). I'll get to those in a bit. But first, let's look at what's happening at the legendary House of Morgan.
Buy JPMorgan Chase up to $50
I wish I could take massive amounts of credit for predicting JPMorgan's ($JPM) earnings beat earlier this week, but honestly, it wasn't hard to see. Anyone paying attention could see how their business was improving.
For the fourth quarter, JPM earned $1.39 per share, which was up from 90 cents per share in the fourth quarter of 2011. It was also well above Wall Street's consensus of $1.20 per share. This was a strong quarter across the board. CEO Jamie Dimon said, "The firm's results reflected strong underlying performance across virtually all our businesses for the fourth quarter and the full year, with strong lending and deposit growth,"
Breaking down the numbers, quarterly revenue jumped 10% to $21.5 billion. For the year, JPM made a profit of $21.3 billion from revenue of $97 billion. This bank is absolutely enormous. It's more than 1,000 times larger than our beloved Nicholas Financial ($NICK). I'm showing you these numbers because much of the true story about JPMorgan gets lost in the headlines.
Let me explain. Earlier this year, the bank took a $6 billion bath thanks to bone-headed trading out of its London office from the infamous "London Whale." Yes, that was a terrible, terrible episode, and heads should roll. The point I tried to make last year is that even a gigantic loss like that is still manageable for a titan like JPM.
But when the London Whale news broke, investors panicked and rushed for the exits. In just five weeks, the shares plunged from $44 to $31 (see the chart above). Bear in mind that this was only a few weeks after the company quintupled its dividend. Fortunately, we held on and JPM has been a big winner for us. As well as it's done for us, I still think the stock is a bargain.
Digging deeper in the earnings report, I was particularly impressed by JPM's strength in the mortgage sector. Fees from their mortgage business climbed from $723 billion in Q4 of 2011 to just over $2 billion in Q4 of 2012. Bernanke and Co. are clearly making a difference. JPM set aside a smaller amount for mortgage loan losses than Wall Street had expected. This line in the income statement always seems to drive some folks batty, but making provisions for loan losses is what banks do. They can either do too much or too little. They're never going to be exactly right. I'm going to give a bank that didn't report a single quarterly loss during the financial crisis the benefit of the doubt.
I also noticed that in JPM's credit-card business, loans delinquent over 30 days fell from 2.81% a year ago to 2.1% now. That's a very good sign. On the negative side, the bank took a big $700 million charge in Q4 for the mortgage-abuse settlement that was announced recently.
Here's how I see JPMorgan. It's a solid bank. The stock is cheap. Business is doing well, and profits are growing. The problem is that the bank has a poor reputation, and not all of that is unfair. Jamie Dimon is a talented leader, but he's a loudmouth. He was a good leader during a crisis, but now I think Jamie should depart so JPM can work on rebuilding its image. He can still be on the board, but the bank needs a new public face. Preferably one that's a little boring.
On Thursday, shares of JPM got as high as $46.87, which is the highest level since April 13, 2011. Due to this strong earnings report, I'm raising my Buy Below on JPM to $50. This is an excellent stock. One more thing: Expect to see a dividend increase in a few weeks.
Fiserv Raises Full-Year Earnings Guidance
There was some rather bizarre news surrounding Fiserv ($FISV) this week. The company announced that it was buying Open Solutions for $850 million. That's not the odd part. The same day, Fiserv was downgraded by an analyst due to the Open Solutions deal, although an analyst at Oppenheimer upped his price target to $89.
In the very same press release announcing the Open Solutions deal, Fiserv guided higher for all of 2013. Specifically, the company sees 12% earnings growth for 2012, and another 15% to 18% growth for 2013. Since Fiserv earned $4.58 per share in 2011, their guidance translates to earnings of $5.13 per share for 2012, and $5.90 to $6.05 per share for 2013. The Street had been expecting $5.78 for 2013.
The 2012 forecast works out to $1.38 per share for Q4 (which is the only missing piece), and this is four cents below the Street. That, combined with the analyst downgrade, was enough to cause a 3% drop in Fiserv's stock on Tuesday. Yet the company raised guidance! That's just silly. Fiserv remains an excellent buy any time you see it below $88 per share.
Three Buy List Earnings Reports Next Week
Next week, three of our Buy List stocks are reporting earnings. The most important will be Microsoft ($MSFT), which Wall Street has turned against recently. MSFT's last earnings report was a complete dud, and the stock took another hit in November, when the head of Windows abruptly left.
For the upcoming earnings report, Wall Street expects 75 cents per share, which would be a decrease of three cents from one year ago. Unlike the situation with JPM, I can't so easily say that MSFT will beat earnings. The lower share value, however, has taken a lot of the risk out of owning the stock. Microsoft below $28 has the potential to be a big winner for us, but it's not in the bag just yet. Let's be conservative here and rate it a good buy up to $30 per share.
The other reports next week are from Stryker ($SYK) and CA Technologies ($CA). Interestingly, Stryker is our #1 performer for 2013, with a 10.6% gain. If you recall, the company recently raised the low end of its 2012 guidance by a penny per share, and reiterated its full-year forecast of $4.25 to $4.40 per share. I like this stock a lot. Stryker remains a good buy up to $62.
CA Technologies is our second-best performer for 2013, +10.2%. After a horrible slide late last year, CA has impressively recovered lost ground. Wall Street currently expects earnings of 57 cents per share. I think CA should be able to beat that. I'm raising my Buy Below on CA Technologies to $27.
In addition to raising JPM to $50 and CA to $27, I'm also bumping up Cognizant Technology (CTSH) to $81 and Medtronic ($MDT) to $48.
That's all for now. Remember that the stock market will be closed on Monday in honor of Dr. Martin Luther King's birthday. We'll also have a few more earnings reports next week. Be sure to keep checking the blog for daily updates. I'll have more market analysis for you in the next issue of CWS Market Review!
– Eddy
Posted by Eddy Elfenbein on January 18th, 2013 at 8:18 am
The information in this blog post represents my own opinions and does not contain a recommendation for any particular security or investment. I or my affiliates may hold positions or other interests in securities mentioned in the Blog, please see my Disclaimer page for my full disclaimer.
Archives