CWS Market Review – March 22, 2013
"There are two kinds of people who lose money: those who know
nothing and those who know everything." – Henry Kaufman
What a long, strange week it's been on Wall Street. Last Friday, the Dow's amazing 10-day winning streak came to an end. Since then, the financial world's attention has been focused on the little island nation of Cyprus, of all places. Despite all the attention, I doubt the problems in Cyprus will amount to a hill of beans for us.
From our perspective, the biggest news of the week came late Wednesday, when Buy List member Nicholas Financial ($NICK) reported that it had received an unsolicited buyout offer. The shares promptly vaulted 12.1% on Thursday on 12 times the normal trading volume. It's about time the big boys noticed NICK. This is great news for those of us who have been in NICK for the long haul (check out the chart below). In this week's CWS Market Review, I'll give you my thoughts on the offer.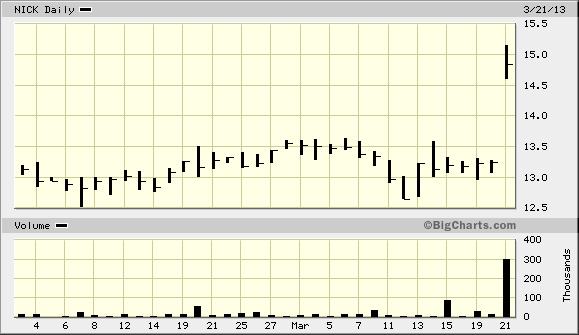 There was also news on the earnings front. Oracle ($ORCL) had an ugly report; the shares took a 9.7% hit on Thursday (I'll have more on that in a bit). Plus, FactSet ($FDS) and Ross Stores ($ROST) reported earnings. But first, let's look at what lies ahead for Nicholas Financial.
Nicholas Financial Gets Buyout Offer
After the closing bell on Wednesday, Nicholas Financial ($NICK) announced that it "received an unsolicited, non-binding indication of interest from a potential third-party acquirer." In English, this means probably someone wrote down a price on a napkin, slid it to the board and said, "How's this?" I have no idea who it is or how much they're offering, but it's serious enough for NICK to reveal that it happened. The firm has retained Janney Montgomery Scott to advise them in evaluating "strategic alternatives."
Some of you may remember that the same thing happened to NICK in early 2011. At the time, the stock was at $10 and it soared 18% following the news. In the end, NICK shot down that offer. Again, I don't know what the offer was, but I'm almost positive it was too low and NICK's board did the right thing in walking away. It's tough to turn down a buyout offer, but sometimes it's the right thing to do. NICK's stock is up about 50% since then, and that doesn't include the big dividend we got in December.
This time around, I'm far more open to NICK being sold. The senior management is close to retirement age, so they may be looking for an exit as well. The difference between now and two years ago is that NICK has proved to the world that it navigated the financial crisis. Their portfolio is solid, and according to the Fed, short-term interest rates are going to stay low for a while more. This is a very good environment for NICK's business. On Thursday, the stock got as high as $15.15. Obviously, I want as high a price as possible, but if I were a member of the board, I'd set $18 as a minimum.
Here's the reality: In a world of zero interest rates, there's a massive hunt going on for yield. This is one of the distortions that Bernanke and the Fed are worried about. Fund managers are looking anywhere and everywhere for higher rates without too much risk. Eventually, that led someone to NICK. Fortunately, we were there first.
Let me warn shareholders that these situations can become dramatic, and it's largely out of our hands. If the deal is shot down or withdrawn, the shares will take a hit. But on the plus side, it's possible that a bidding war will ensue, and the shares will be ratcheted higher. For now, I'm going to raise my Buy Below price to $16. Stay tuned for more news.
Oracle Plunges after Weak Earnings
While the news was good from NICK, the news from Oracle ($ORCL) wasn't so fortunate. Three months ago, Oracle told us to expect fiscal Q3 earnings to range between 64 and 68 cents per share. As it turned out, they earned 65 cents per share, which was one penny below Wall Street's consensus.
Frankly, this was a big disappointment. I thought Oracle was going to earn 70 cents per share or more, but the big miss wasn't on the bottom line. It was on the top line. Quarterly sales rose to $8.97 billion, which was $40 million below Wall Street's consensus. The problem isn't hard to spot—Oracle is facing more competition from Internet-based cloud systems.
Some of these numbers are pretty ugly. Wall Street had been expecting an increase in new software sales of 8%. Instead, it fell by 1.8%. Hardware revenue has been dropping, but Oracle told us that that division is close to turning around. Apparently not. Hardware sales dropped 23% last quarter. Oracle's stock took a big hit yesterday as it lost 9.7%. A bunch of previously bullish analysts piled on and cut their ratings.
For Q4, Oracle sees earnings ranging between 85 cents and 91 cents per share. Actually, that's not so bad. Oracle sees quarterly revenue coming in between $10.8 billion and $11.4 billion, which, in my opinion, is pretty light. The company also said that new software license revenue will grow between 1% and 11% this quarter, and hardware revenue will drop by 13% to 23%. That's not what I wanted to hear.
To be fair, Oracle was hurt last quarter by some of the mess in Europe. The CFO also said that some large contracts had been delayed last quarter, and those numbers will show up in this quarter's earnings report. Bloomberg quoted an analyst at UBS as saying, "I've followed this company for a decade, and historically when they have a miss, it's a great time to buy." Oracle's in my doghouse right now, but I'm not giving up on them. Oracle remains a good buy up to $37 per share.
Buy FactSet below $95 and Ross Stores below $62
On Tuesday, FactSet Research Systems ($FDS) reported second-quarter (ending February) adjusted earnings of $1.14 per share, which was three cents better than what Wall Street had been expecting. This is good news, and it was actually better than the forecast FactSet gave three months ago when they said earnings should range between $1.11 and $1.13 per share.
Interestingly, at the time of that guidance, Wall Street was disappointed because they had been expecting $1.13 per share. FactSet said they expected revenues to range between $212 and $215 million. On Tuesday, they reported that Q2 revenues rose 7% to $213.1 million.
The problem, if you can even call it that, is that banks have been working hard to cut costs. For Q3, FactSet sees revenues ranging between $213 and $216 million and earnings-per-share coming in between $1.14 and $1.16. Wall Street had been expecting revenues of $217 million and earnings of $1.13 per share.
Even though the numbers are pretty good, shares of FDS got hammered this past week. The stock broke below $90 per share on Thursday, but I'm not worried at all about FactSet. This company has increased its earnings every year for the last 16 years, and they're going to do it again. I'm going to lower my Buy List to $95 to reflect the recent sell-off, but FDS remains a very good buy.
On Thursday, Ross Stores ($ROST) reported fiscal Q4 earnings of $1.07 per share, which is up from 85 cents per share last year. This was hardly a surprise, since their previous guidance was a range between $1.06 and $1.07 per share. When the range is like that, you can be pretty sure it's not a guess. Q4 sales rose 15% to 2.761 billion. Comparable stores sales were up by 5%.
Business is going well for Ross, and they just wrapped up a very good year. For the fiscal year, Ross earned $3.53 per share, which was up from $2.86 per share last year. Sales rose 13% to $9.721 billion. Same-store sales were up by 6%. The stock rallied 3.4% on Thursday. ROST remains a very good buy up to $62 per share.
Don't Let Fears over Cyprus Scare You
Over the weekend, we learned of a dramatic bailout plan for Cyprus which involved a one-time tax of bank deposits. Let's just say that this idea didn't go over well on the island; the plan failed to get a single vote in the Cypriot parliament. This was the first time a legislature stood up to the ECB.
Then there was talk of Cyprus striking a cash-for-gas deal with Russia, but that doesn't seem to be going anywhere. Now the European Central Bank is running out of patience, and no one knows what will happen next. The ECB has set a Monday deadline for the island to agree to a deal. Paul Krugman wrote, "Cyprus has managed to combine in one place everything that has gone wrong elsewhere."
I know Cyprus has been getting a lot of attention, and it's a fascinating story from an economic perspective. But I don't want investors to be overly concerned about Cyprus's impacting our Buy List. Let's take a step back and remember that Cyprus makes up just 0.2% of the eurozone's economy.
The big fear is that once one country agrees to a tax on bank deposits, a new precedent will be set, and it could be done elsewhere. That fear would in turn lead to a run on banks in countries like Italy, Spain and Portugal. While I can't rule a scenario like that out, it's simply too far down the road for investors to worry about. Cyprus is such a small and unusual case that it may turn out to be a story that isn't repeated elsewhere. I feel for the Cypriots, especially those who have their life savings at risk. But what happens on that island really doesn't matter much to our Buy List stocks. I'm afraid that a tax on deposits may be the path of least resistance.
That's all for now. Next week is the final week of the first quarter. We'll get important reports on durable goods, new home sales and another look at Q4 GDP. Be sure to keep checking the blog for daily updates. I'll have more market analysis for you in the next issue of CWS Market Review!
– Eddy
Posted by Eddy Elfenbein on March 22nd, 2013 at 7:24 am
The information in this blog post represents my own opinions and does not contain a recommendation for any particular security or investment. I or my affiliates may hold positions or other interests in securities mentioned in the Blog, please see my Disclaimer page for my full disclaimer.
Archives