CWS Market Review – July 26, 2013
"The investor of today does not profit from yesterday's growth." – Warren Buffett
Second-quarter earnings season has been a big winner for us so far (although we had one major dud with Microsoft). In last week's CWS Market Review, I told you that Ford Motor would easily beat its earnings estimate, and sure enough, that's exactly what happened. Thanks to the great earnings report, Ford's stock gapped up to another 52-week high, and it's nearly doubled for us in the last year.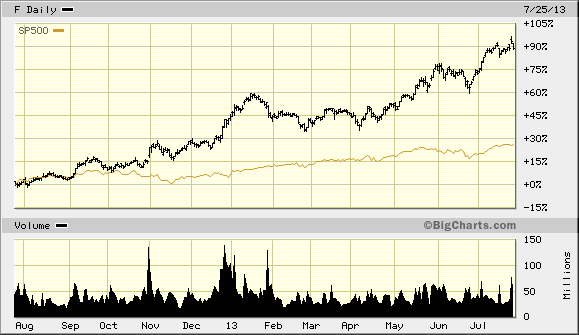 We also had strong earnings reports this week from CR Bard ($BCR) and CA Technologies ($CA). In this week's CWS Market Review, I'll highlight our recent Buy List earnings news, and I'll preview what's ahead next week (be sure to check out our Earnings Calendar). We have some important reports coming our way from Buy List stalwarts like AFLAC ($AFL), WEX Inc. ($WEX) and Fiserv ($FISV). Also next week, the Federal Reserve has a meeting, the government will provide its initial estimate of Q2 GDP on Wednesday and the big jobs report is on Friday. But first, let's look at Ford's blow-out earnings report.
Ford Smashes the Street—Again
In last week's newsletter, I wrote:
Of all the companies reporting next week, I'm the most optimistic about Ford Motor (F). In April, the automaker earned 41 cents per share, which was four cents more than consensus. This time around, Wall Street again expects 37 cents per share. I think Ford will easily beat that.
I was right. Ford ($F) earned 45 cents per share, which was eight cents more than Wall Street's consensus, and the stock surged as high as $17.68 per share. I'd like to say that this was due to magical predictive powers on my part. Alas, that's not the case. Truthfully, it was nothing more than simple math. Yet it's surprising how often that skill set is a major advantage in investing.
The facts are clear. Ford's business is strong, and most of it is due to truck buyers in North America. Fusion has also been a key area of strength. Let's run through some of the numbers. Ford's net earnings surged 19% last quarter to $1.2 billion. Their revenues rose 15% to $38.1 billion. This was Ford's 16th-straight profitable quarter. Furthermore, unlike some other American car companies I could name, Ford was not bailed out by Uncle Sam.
Ford made a cool $2.3 billion in North America. Sales of their F-Series trucks rose 26% to 198,643. I think this is closely tied to a lot of the emerging manufacturing rebound we've seen in some economic statistics. (By the way, the durable-goods report on Thursday was quite strong).
The problem child is still Europe. Ford had a pre-tax loss of $348 million in the Old World. Of course, a loss was expected. We know that Europe has been a drag on Ford, but they're quickly working to economize their European operations. I think we're going to see much better results in Europe in future quarters.
I was very pleased to hear that Ford offered improved guidance for the rest of the year. They now see pre-tax earnings clearing $8 billion for 2013. Before, they said they had expected to hit $8 billion. So far, they've made $4.7 billion in the first half of the year, so the new guidance seems quite reasonable. In Europe, Ford said they expect to lose $1.8 billion instead of the earlier projected $2 billion. That's ugly, but not as ugly.
Ford also had a blow-out quarter in Asia. The company makes a big deal about this, but Asia is a very small part of their business. That could change. Ford plans to introduce 15 new vehicles in China by 2015. I'd like to see Ford raise its dividend by 20% to 25%. They can easily afford it. Ford remains an excellent buy up to $18 per share.
Strong Earnings from CR Bard and CA Technologies
After the closing bell on Tuesday, CR Bard ($BCR) announced Q2 earnings of $1.42 per share for Q2 which was four cents more than expectations. The medical-equipment company saw revenues rise by 2.3% to $759.9 million, beating expectations by $9.8 million. I was impressed by the turnaround in their oncology and surgery divisions.
Bard's CEO said, "Our operating results this quarter exceeded our expectations. We continue to focus on the execution of our investment plan, which we believe will shift the mix of our portfolio to faster-growing products and geographies and contribute to long-term sustainable leadership positions in our markets."
For Q3, Bard sees earnings between $1.37 and $1.41 per share. This is a quiet, steady winner. Bard may not make the headlines, but they do deliver results. Bard remains a solid buy up to $115 per share.
After the bell on Wednesday, CA Technologies ($CA) reported Q2 earnings of 78 cents per share, which was also four cents better than Wall Street's consensus. I was really impressed by this report. CA's results are a nice improvement from the 63 cents per share they earned a year ago (technically, the June quarter is their fiscal first quarter).
CA's CEO said, "We did better than expected on the revenue line and were able to capitalize on organizational efficiencies, expense management and a tax benefit to drive earnings growth. Our cash flow from operations was down, but that was expected and we are confident in meeting our full-year outlook in all areas."
For the full year, CA expects earnings to range between $2.90 and $3.00 per share. Wall Street had been expecting $2.99 per share. On Thursday, the stock got as high as $30.30 per share, which is a new 52-week high. CA is now a 35% winner on the year for us. CA Technologies is a very good buy up to $31 per share.
More Earnings Coming Next Week
We have five more earnings reports due next week. We may have a sixth in Nicholas Financial ($NICK), but I haven't heard back from them yet. Last year, NICK's earnings report came on August 2nd, so I expect it around then this year.
NICK's last earnings report was a bit low, but I'm not at all worried. I'm expecting earnings to range somewhere between 40 and 45 cents per share. If there's any news about the buyout offer, I expect that it's been rejected. In August, NICK will hold its annual meeting, and I think there's a good chance we'll get another dividend increase. I think the board can go as high as 15 cents per share, which would most likely give the stock a nice shot in the arm. Nicholas Financial is a great buy up to $16 per share.
On Tuesday, AFLAC ($AFL), Fiserv ($FISV) and Harris ($HRS) are due to report. AFLAC has been heating up recently. The stock broke $61 per share. The last earnings report was very good. AFLAC earned $1.69 per share, which was seven cents better than estimates. The stock has rallied more than 17% since then. For Q2, AFLAC said it expect earnings to range between $1.41 and $1.56 per share. While the falling yen has cramped some of AFLAC's earnings, much of the yen's damage has receded. The company may update its full-year guidance as well. AFLAC is still going for less than 10 times this year's expected earnings. AFLAC remains a very good buy up to $63 per share.
Fiserv's ($FISV) earnings are like clockwork. In fact, the last earnings report was a big surprise because they missed expectations by a single penny per share. The stock gapped since the news was so unexpected. Nevertheless, Fiserv made up everything it lost and this week hit a new 52-week high. Fiserv's most recent full-year guidance was for EPS growth of 15% to 19%, which translates to a range between $5.84 and $6.03. FISV is a buy up to $95 per share.
Business at Harris ($HRS) has been impacted by the government sequester, but overall business is still strong. The Street expects $1.15 for Q2. In April, Harris said to expect full-year earnings between $4.60 and $4.70 per share. Harris is boring, which is why I like it. HRS is a good buy up to $53. The stock has trended above my Buy Below price recently, so don't chase it.
On Wednesday, WEX Inc. ($WEX) is due to report. Three months ago, WEX beat estimates by two cents per share, but the full-year guidance was well below the Street. The stock got clobbered for a 10% loss that day. The lower guidance caught me off guard, but not as much as what happened next—WEX went on a furious rally! Measuring from the post-earnings crush to Thursday's close, WEX has jumped more than 30%. Three months ago, the company said to expect 98 cents to $1.04 per share for Q2. Don't chase WEX. It's a good buy up to $86 per share.
On Thursday, DirecTV ($DTV) will report. The satellite-TV company had great reports for Q1 and Q4 before that, and the stock has responded very well. I'm not expecting a huge beat like before, but I think DTV can top Wall Street's current estimate of $1.33 per share. The secret here is that Latam business. DirecTV is a buy anytime you see it below $67 per share.
Before I go, I want to lower my Buy Below price on Microsoft ($MSFT) to $35 per share. I still like MSFT, but we have to face facts that last week's earnings report was a major dud. But remember how quickly high-quality stocks can bounce back. We've seen that many times with our Buy List stocks, most recently Cognizant Technology ($CTSH) and WEX Inc. ($WEX) I also think we'll see a nice dividend increase from Microsoft later this year.
That's all for now. Next week will be a very busy news week. Of course, there are still more earnings coming our way. Also, the Fed meets again, and the policy statement will come out Wednesday afternoon. That morning, the government will give us their first estimate of Q2 GDP growth. Plus, the government plans to completely revise all the historical GDP numbers. If that's not enough, Friday is the big jobs report. Expect jittery traders to be even more jittery. Be sure to keep checking the blog for daily updates. I'll have more market analysis for you in the next issue of CWS Market Review!
– Eddy
Posted by Eddy Elfenbein on July 26th, 2013 at 7:38 am
The information in this blog post represents my own opinions and does not contain a recommendation for any particular security or investment. I or my affiliates may hold positions or other interests in securities mentioned in the Blog, please see my Disclaimer page for my full disclaimer.
Archives