The Government Revises All GDP Data
Do you feel wealthier today? According to the government, the economy is about 3% larger than originally reported. The reason is that the number collectors are now looking at intangibles in the economy. The Bureau of Economic Analysis revised the entire NIPA data series today.
Here's a look at real GDP growth since 1947 (in trillions of dollars). The Old Series is based on 2005 prices. The new one is based on 2009 prices.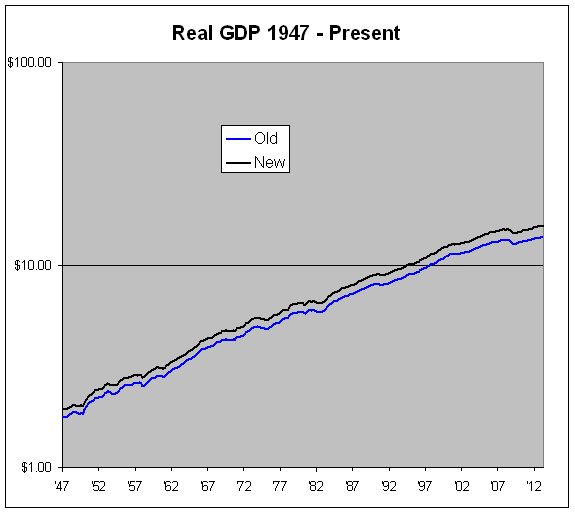 It turns out that the recent recession wasn't as severe as originally believed. From Q4 2007 to Q2 of 2009, the economy shrank by -4.26% instead of the original -4.69%. The recovery was a bit stronger as well. Interestingly, the first-quarter of 2011 previously had shown very meager growth. It turns out, the economy slightly receded.
Here's a comparison between the two data series. The increase in the adjustment has been pretty continuous over the last 65 years. Note that 2005 is used for the old series and 2009 is for the new, so the chart below is not a 1-to-1 comparison. There's a difference of about 9% due to inflation between the data series.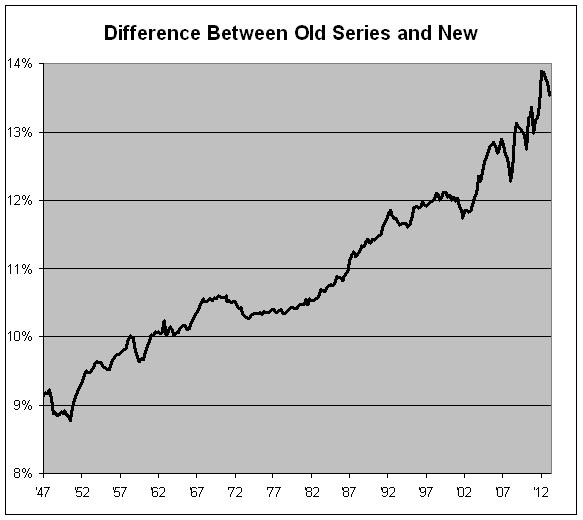 Posted by Eddy Elfenbein on July 31st, 2013 at 12:37 pm
The information in this blog post represents my own opinions and does not contain a recommendation for any particular security or investment. I or my affiliates may hold positions or other interests in securities mentioned in the Blog, please see my Disclaimer page for my full disclaimer.
Archives