CWS Market Review – January 17, 2014
"It is not the crook in modern business that we fear, but the honest
man who doesn't know what he is doing." – Owen D. Young
Earnings season is finally here. We've already had one good earnings report from Wells Fargo ($WFC). The big bank beat earnings by two cents per share, and after a delayed reaction, the shares broke out to a new 52-week high. This week, I'm raising my buy below on WFC (more on that in a bit).
Things are about to get very busy for our Buy List. Next week, we're due to have six earnings reports including heavyweights like IBM, McDonald's and Microsoft. In this week's CWS Market Review, I'll preview our upcoming earnings, and I'll break down the results from Wells Fargo.
Looking at this earnings season, the consensus on Wall Street is that earnings rose 4.9% last quarter. That's kind of blah, but going into this earnings season, there were some serious concerns. Before earnings season even started, there were 95 earnings warnings in the S&P 500, compared with just 15 good-news surprises. But most of those warnings have been about rather minor adjustments. Actually, the market seems unusually sedate. A few times this week, the Volatility Index ($VIX) dropped below 12, which brought the "Fear Index" to some of its lowest levels in the past seven years. Fortunately, the stock market continues to hold up well, and the S&P 500 reached an all-time high close on Wednesday. We edged out the previous high close of December 31 by 0.00108%.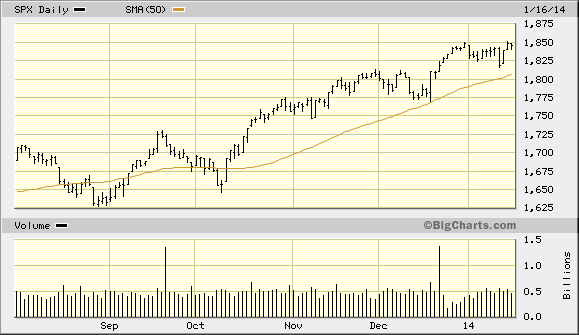 The economic news continues to be mostly positive, with a few bumps. This week, the Federal Reserve released its Beige Book report, which looks at regional economies across the country. The reports were mostly good, and I think we can expect more tapering when the Fed meets again at the end of this month. Janet Yellen officially becomes the new Fed Chairman on February 1.
This past Tuesday, the Census Bureau released the December retail-sales report, which showed an increase of 0.2%. December is obviously a huge month for retail. While the report wasn't outstanding, economists were expecting a gain of 0.1%. Also, the big increase for November was revised downward from 0.7% growth to 0.4%.
These are important numbers because consumers drive most of the economy. Also, retail stocks have been hit hard this year. I still like our Buy List retailers, Ross Stores ($ROST) and Bed Bath & Beyond ($BBBY). However, their most recent quarterly reports included sales through November, and not the holiday season. Once the dust settles in the retail sector, I expect our stocks to flourish.
Of course, it's still very early, but our Buy List is already slightly ahead of the S&P 500 this year. We've done that despite a horrible start for Bed Bath & Beyond, which is now down over 16% for the year. Ouch! The lesson here is that diversification works. I should also note that you'll often see the worst stock in your portfolio dropping more than the gain from your best stock. Stock performance tends to be asymmetrical. In plain English, the bad ones are worse than the best are good. That's a key insight, and ultimately, it's what makes value investing so effective. Now let's look at Wells Fargo.
Wells Fargo Is a Buy up to $50 per Share
On Tuesday, Wells Fargo ($WFC) reported fourth-quarter earnings of $1 per share. That beat Wall Street's consensus by two cents per share. Strangely, the shares initially dropped after the earnings report (yep, we know how melodramatic traders can be). Then on Wednesday, it was as if rationality and math suddenly dawned on everyone, and the nervous traders got squeezed out. Before the closing bell, WFC had rallied to a new 52-week high.
Lesson: Don't trust the market's first reaction. Actually, keep a wary eye on the second and third ones as well.
Now that I've had a chance to look at the earnings from Wells, I can say that I'm impressed. Net income for Q4 rose 10% over last year's Q4. For the entire year, Wells's net income rose 16% to $21.9 billion. This was their fifth-straight record year. Last year, Wells made more money than JPMorgan Chase (sorry, Jamie).
I was particularly impressed with the efforts of CEO John Stumpf and his team to trim overhead. (Notice how good companies don't wait to cut costs; they're always looking for excess fat they can cut.) Quarterly revenue dropped 6% to $20.7 billion. For banks, you want to see where their "efficiency ratio" is. That's a good measure of how well they're managing their operations. For Wells, their efficiency ratio actually ticked up a bit last quarter. That's not bad, coming in the wake of lower revenue.
Wells's mortgage-originations business got shellacked last quarter, but there wasn't much they could do about that. In that sector, you're at the mercy of the Mortgage Rate Gods. On the plus side, Wells's wealth and brokerage business did very well. One big benefit for Wells is that they don't have the legal bills that many of the other big banks have.
I like Wells Fargo a lot. The bank is going for less than 11 times this year's earnings estimate. I expect another dividend increase this spring. This week, I'm raising my Buy Below on WFC to $50 per share.
Next Week's Buy List Earnings Reports
Next Tuesday, two of our big tech stocks, IBM and CA Technologies, report earnings. I want to warn you ahead of time that IBM ($IBM) may fall below expectations. The Street expects $5.99 per share, which could be just a bit too high. I'll tell you ahead of time not to worry about a slight earnings miss. New additions to our Buy List are often dented merchandise, and Wall Street bears have been out to get IBM. They may not be done just yet. Either way, IBM is a solid value at this price. My take: IBM is a good buy anytime you see it below $195 per share.
Three months ago, CA Technologies ($CA), the shy kid, blew the doors off its earnings report. CA netted 86 cents per share for Q3, which was 13 cents more than estimates. Wall Street expects 71 cents for Q4, which is probably a wee bit too low. There's also a chance that CA might sweeten its quarterly dividend. CA Technologies remains a solid buy up to $35 per share. I have much love for CA.
Wednesday: Earnings from Stryker and eBay
On Wednesday, we get earnings reports from Stryker and eBay. If you recall, Stryker ($SYK) raised its dividend by 15% last month. The company missed earnings by two cents in its last report. That was mostly due to currency effects, and I said not to worry about SYK. Indeed, the stock just hit another 52-week high. This time around, Wall Street expects $1.22 per share in earnings, but I'm more interested in what they'll have to say about 2014. Wall Street currently expects full-year earnings of $4.56 per share for 2014. Stryker remains a very good buy up to $79 per share.
eBay ($EBAY)'s earnings tend to be very consistent. So far this year, their earnings are up 14%. If we apply a 14% increase over the Q4 earnings from 2012 (70 cents per share), that gives us 80 cents per share, which is, not surprisingly, exactly what Wall Street expects. eBay is a very good buy up to $58 per share.
Thursday: Earnings from McDonald's and Microsoft
On Thursday, we get two more blue-chip earnings reports: McDonald's and Microsoft.
Three months ago, Microsoft ($MSFT) surprised a lot of folks on Wall Street with an outstanding earnings report. The software giant earned 62 cents per share, which was eight cents more than estimates. Sales rose 16% to $18.5 billion. Microsoft generated sales that were $700 million more than expectations. I think people forget that MSFT is a very profitable company, especially with its business clientele. For the December quarter, the expectation is for MSFT to earn 68 cents per share, which is down from 76 cents the year before. That sounds about right. We should remember that in September, MSFT raised its dividend by 22%. Microsoft is very attractive below $40 per share.
Like IBM, McDonald's ($MCD) has been rather sluggish lately. This one may take some time before we see solid results. The consensus on the Street is for earnings of $1.39, which is only one penny more than last year's Q4. The burger giant is coming off a lackluster year, but you should never count Ronald and his friends out. McDonald's is a good buy up to $102 per share.
That's all for now. The stock market will be closed on Monday in honor of Dr. Martin Luther King's 85th Birthday. Next week will be all about earnings. In fact, there's not much in the way of economic reports. An important note: With these earnings reports, we want to pay attention to forward guidance as much as to the actual results. I think a lot of traders are nervous about this year, especially with the Fed's tapering plans, so any optimism from companies will go a long way. Be sure to keep checking the blog for daily updates. I'll have more market analysis for you in the next issue of CWS Market Review!
– Eddy
Posted by Eddy Elfenbein on January 17th, 2014 at 7:12 am
The information in this blog post represents my own opinions and does not contain a recommendation for any particular security or investment. I or my affiliates may hold positions or other interests in securities mentioned in the Blog, please see my Disclaimer page for my full disclaimer.
Archives