CWS Market Review – April 25, 2014
"Forecasts may tell you a great deal about the forecaster;
they tell you nothing about the future." – Warren Buffett
We're now in the heart of first-quarter earnings season. For the overall market, the earnings reports have been pretty good, but we have to remember that companies are beating much-reduced expectations.
Analysts currently project Q1 earnings growth of 0.7% and sales growth of 2.6%. Only a month ago, the consensus was for earnings growth of 1.9% and sales growth of 3%. So far, 40% of companies in the S&P 500 have reported earnings, and an impressive 76% of them have topped earnings expectations, while 53% have beaten sales expectations. That's not bad, especially considering how much havoc was wreaked in Q1 by the ugly winter weather.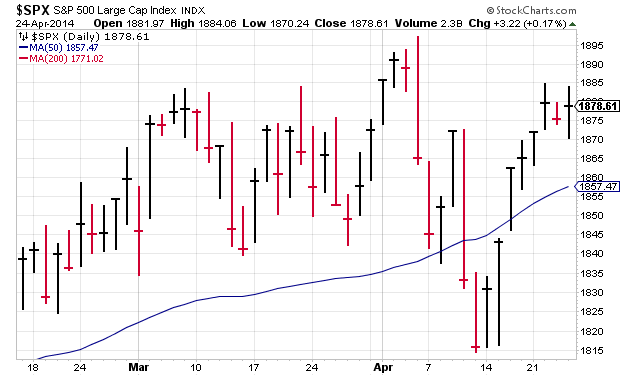 The good news is that the outlook on Wall Street is clearly improving. Thanks to brighter earnings news, the stock market has recovered from its slump earlier this month. The recent six-day rally was the longest since September. On Thursday, the S&P 500 got within 0.7% of its all-time high, and Wall Street really took notice when Apple, the most valuable company in the world, announced strong earnings and an unusual 7-for-1 stock split. (I think they're bucking to get in the Dow Jones.)
In this week's CWS Market Review, I'll review the recent earnings reports from our Buy List stocks. Microsoft, Qualcomm and CR Bard beat expectations, but Stryker and McDonald's came in below forecasts. I'll discuss them in greater detail in a bit, and I have some new Buy Below prices for you. I'll also highlight more Buy List earnings reports coming our way next week, which include favorites like AFLAC and eBay. But first, let's take a look at some recent economic news. (Trust me, it's good.)
The U.S. Economy Is Slowly Improving
The Federal Reserve meets again next week, and another taper decision is about as close as you can get to being a sure thing. While some traders may not like the idea of less bond-buying by the Fed, these taperings are a reflection of good economic news.
Next Friday is a very big day. The Labor Department will release the April jobs report, and there's a very good chance it will be a strong one. I think the April nonfarm payrolls will top 250,000 jobs which would make it one of best jobs reports in years.
Why am I so confident? Let's run down some of the good economic news:
On Thursday, the Labor Department reported that initial jobless claims rose to 329,000 last week. Despite the rise, those numbers have been very low recently. The four-week moving average of new claims is down to 316,750, which is near the lowest levels of the past seven years. The jobs market is clearly picking up, and that means more consumers.
Also on Thursday, the Commerce Department reported that orders for durable goods rose by 2.6% in March, and that comes after a 2.1% increase in February. Economists like to look at the demand for "core" capital goods, and that was up 2.2% last month. That was the biggest increase since November, and it's more evidence that the economy is ramping up from the slow start at the beginning of the year. Excluding transportation, durable-goods orders rose by 2%. That's the biggest increase in more than a year. This is important because these are "big ticket" items.
Here's an interesting economic indicator. Property tax collections are rising at their fastest clip in years. The real-estate bust hit a lot of local governments hard, but during the last three months of 2013, property taxes collected nationally rose to $182.8 billion, an all-time high. For all of 2013, property-tax collections increased by 3%, which was the fastest pace since 2009.
On Wednesday, we learned that new-home sales plunged 14.5% last month. That probably reflects some lingering effects from the cold winter, but there are many positives impacting the housing market. The number of delinquent loans continues to decline. Also, there are fewer homes with negative equity, and distressed sales are down. These signs are important because housing often has a big impact on the direction of the economy.
Since the recession, companies have done a good job of cutting costs. That's good, and profit margins have grown, but you can't do that forever. At some point, you need to get more shoppers in the doors. Companies have been stockpiling cash, and only now are they beginning to spend it. This week, we learned that Apple reduced its gigantic cash horde. I think 2014 will likely be the best year for economic growth since the recession. The IMF recently said in a report that the U.S. economy is poised to lead global growth this year and next. Now let's look at some our recent Buy List earnings.
McDonald's Disappoints, but It's a Work in Progress
Before the opening bell on Tuesday, we got a disappointing earnings report from McDonald's ($MCD). The fast-food joint earned $1.21 per share for Q1, which was three cents below estimates. Despite the miss, the stock was mostly unchanged. Perhaps that reflects that market's sour mood for MCD.
Frankly, McDonald's is in a difficult position at the moment. The restaurant has made several missteps lately, and we can see that in this earnings report. Sales rose 1.4%, but not as fast as costs, which rose 2.3% (this was due to higher beef prices). Profits dropped 5.2%.
The situation at McDonald's is very similar to that at IBM. They're both iconic brands who have slipped in recent years. The fundamental business is good, but they desperately need to revive themselves. This is what Ford did several years ago, and Microsoft did more recently.
My take: The outlook for McDonald's is brighter than at IBM because management realizes the task at hand. The issues at MCD can be resolved, and I think it can be done rather cheaply. Their business in Europe isn't that bad; it's in the U.S. that the problems are. Their menu is far too complicated. This will take time to fix. McDonald's is a good buy up to $102 per share.
CR Bard Beats by Seven Cents per Share
After the closing bell on Tuesday, CR Bard ($BCR) reported Q1 earnings of $1.91 per share. That beat estimates by seven cents per share. Previously, Bard had told us to expect earnings between $1.83 and $1.87 per share, so this is an impressive beat. Sales rose 8% to $799.3 million.
Timothy M. Ring, Bard's CEO, said, "The financial results in the first quarter reflect a positive start to the year, as we exceeded our expectations for both sales and earnings per share. The organization is focused on executing our strategic investment plan with the objective of improving the long-term growth profile of the business."
On the conference call, Bard said to expect Q2 earnings to range between $1.98 and $2.02 per share. I think they're low-balling us. That's well below the Street's consensus of $2.09 per share. On the plus side, Bard reiterated their full-year guidance of $8.20 to $8.30 per share.
The shares got dinged for a 3.2% loss on Wednesday. Despite the lower guidance, I still like this stock. Bard has increased its dividend every year since 1972, and we can expect another increase in a few months. Due to the recent drop, I'm lowering my Buy Below on CR Bard to $145 per share.
Qualcomm Beat and Raised Guidance
Qualcomm ($QCOM) came through for us. On Wednesday, the chip maker said they earned $1.31 per share for their fiscal Q2, which was nine cents better than Wall Street's consensus. Previously, the company had pegged Q1 earnings to a range of $1.15 to $1.25 per share, so they're beating their own expectations. Qualcomm also raised their full-year guidance range to $5.05 to $5.25 per share. That's an increase of five cents at both ends.
Despite the good earnings, the revenue numbers were pretty weak. QCOM posted its smallest top line increase since 2010. Revenues rose 4% to $6.37 billion, which was $100 million below forecasts. What's happening is that China Mobile is planning to launch a faster network with 4G, so that's delaying QCOM's revenue at the moment.
Qualcomm also disclosed that it received a Wells notice from the SEC, which is not a formal investigation. The notice recommends that Qualcomm take enforcement action in relation to bribery charges. For its part, Qualcomm maintains that it what it did wasn't a violation. No matter, the shares dropped 3.5% on Thursday. Don't be scared, Qualcomm remains a very good buy, but I'm lowering my Buy Below to $83 per share.
Stryker Missed but Stood by Their Full-Year Guidance
On Wednesday afternoon, Stryker ($SYK) delivered a rare earnings miss. For Q1, the medical-device company earned $1.06 per share, which was two cents below estimates. Quarterly revenue rose 5.3% to $2.31 billion.
More importantly, Stryker reiterated their full-year earnings guidance of $4.75 to $4.90 per share, which means it's going for about 16 times this year's earnings. That's not a bad valuation. The stock initially gapped up on Thursday morning. At one point, SYK hit $80.78 per share, but the stock later pulled back and finished the day down by 0.5%. I like Stryker a lot, but I'm lowering my Buy Below to $85 per share.
Remember, these Buy Below prices aren't price targets. They're guidance for current entry.
Microsoft Beats by Five Cents per Share
On Thursday, Microsoft ($MSFT) reported fiscal-Q3 earnings of 63 cents per share, which beat estimates by five cents. The software giant did surprisingly well in the cloud space. Microsoft's CEO Satya Nadella said the earnings "demonstrate the strength of our business, as well as the opportunities we see in a mobile-first, cloud-first world."
The turnaround at Microsoft still has a ways to go, but they're headed in the right direction. It's odd for me to see Nadella get so much good press when Ballmer only got negative press.
Today is an important milestone for Microsoft; they'll complete their $7.2 billion acquisition of Nokia's handset business. That should help Microsoft in the U.S. mobile market. On Thursday, the shares traded higher in the after-hours market, and the stock is close to hitting another 52-week high. For now, I'm keeping my Buy Below at $43 per share. Microsoft is clearly hitting its stride.
I'm writing this report early Friday, and both Ford ($F) and Moog ($MOG-A) are due to report earnings later today. Be sure to check the blog for updates.
Four Earnings Reports for Next Week
Next week, we have four earnings report due on Tuesday, April 29: AFLAC, eBay, Express Scripts and Fiserv.
AFLAC ($AFL) had a very good year business-wise in 2013. Unfortunately, the weak yen took a big bite out of their operating earnings. The good news is that the yen has largely stabilized in recent months between 100 and 105 to the dollar.
AFLAC said that if the yen were to stay at 97.54 to the dollar (its average for last year), then its earnings should range between $6.31 and $6.49 per share for 2014. So the stock is going for less than 10 times this year's estimate. Currently, Wall Street expects Q1 operating earnings of $1.58 per share, which is 11 cents less than what they earned in last year's Q1. AFLAC remains a good buy up to $68 per share.
eBay ($EBAY) finally ended its silly feud with Carl Icahn. The investing legend wanted them to eBay off PayPal, which they're adamantly opposed to. The good thing about eBay is that the poor winter weather had little impact on their business. In fact, it probably helped them. The current earnings consensus is for 67 cents per share. That's almost certainly too low. eBay remains a very good buy up to $62 per share.
Express Scripts ($ESRX) started out the year great for us, but it's pulled back over the last few weeks. The stock probably got lumped in during the growth-stock rotation. Nevertheless, their business outlook remains very good. For all of 2014, the pharmacy-benefits manager sees earnings ranging between $4.88 and $5 per share. Express Scripts said it is "targeting annual earnings per share growth of 10 per cent to 20 per cent for the next several years." Not many companies can confidently say that. For Q1, Wall Street expects earnings of $1.01 per share. I'm keeping my Buy Below on ESRX at $83, which is a bit high.
Fiserv ($FISV) is one of those rare stocks that churns out earnings consistently. Last year was their 28th year in a row of double-digit adjusted earnings growth. For 2014, Fiserv sees EPS ranging between $3.28 and $3.37. Wall Street expects Q1 earnings of 74 cents per share. Fiserv is a good buy up to $60 per share.
That's all for now. Next week will be a busy one. Not only do we have more earnings reports, but the Federal Reserve meets on Tuesday and Wednesday. Expect another taper. Also on Wednesday, we'll get our first look at Q1 GDP. My take: it won't be a good number, but Q2 will be much better. The April ISM comes out on Thursday, and on Friday, we'll get the big jobs report. I think this report could be a really good one. Be sure to keep checking the blog for daily updates. I'll have more market analysis for you in the next issue of CWS Market Review!
– Eddy
Posted by Eddy Elfenbein on April 25th, 2014 at 7:10 am
The information in this blog post represents my own opinions and does not contain a recommendation for any particular security or investment. I or my affiliates may hold positions or other interests in securities mentioned in the Blog, please see my Disclaimer page for my full disclaimer.
Archives