CWS Market Review – July 18, 2014
"If you are shopping for common stocks, choose them the way you would
buy groceries, not the way you would buy perfume." – Benjamin Graham
The stock market's mellow streak came to an abrupt end on Thursday as the S&P 500 lost 23.45 points, or 1.18%. Historically, that ain't much of a drop, but in the most serene market of 2014, a move like that is an attention-grabber. This was the S&P 500's first daily move greater than 1% since April 16. That's a run of 62 unruffled trading days in a row, which is the longest such streak in nearly 20 years.
That catalyst for Thursday's loss was obviously the terrible plane attack in Ukraine. On Thursday, the Volatility Index soared more than 30%. Gold jumped 2%, and Treasury bonds had some of their biggest gains this year. Could this be the start of a broad market decline? It's way too early to make a claim like that. As troubling as these events were, the big news for us has been the start of earnings season, and the early results are promising.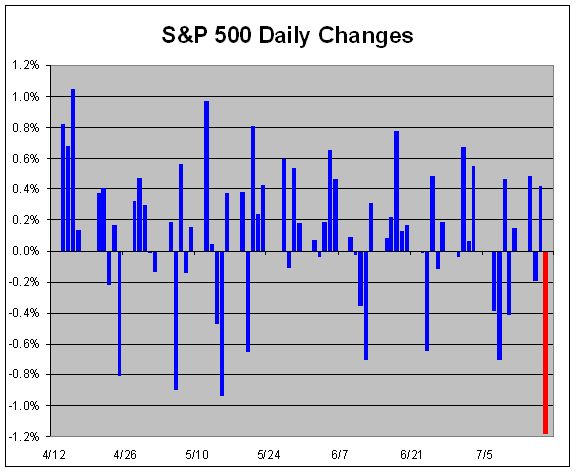 In this week's CWS Market Review, I'll focus on four recent Buy List earnings reports. Things will get much busier next week, when seven of our Buy List stocks are due to report (here's a handy earnings calendar), and I'll preview those in a bit. The first quarter was a rough one for a lot of companies, but it appears that consumers were more willing to spend in the spring, and we're seeing those results now. A Bloomberg survey found that analysts expect the S&P 500 to show an earnings gain of 4.5% for Q2. Now let's look at the earnings report from my favorite big bank, Wells Fargo.
Wells Fargo Is a Buy up to $54 per Share
Last Friday, Wells Fargo ($WFC) reported Q2 earnings of $1.01 per share, which matched Wall Street's consensus. While their net profits rose from last year's Q2, their earnings per share dropped slightly, snapping a streak of 17 straight quarters of EPS increases. The fact is clear: since the crisis broke, Wells has been the best-run large bank in America.
For Q2, Wells's revenue fell 1.5% to $21.1 billion, which was $300 million more than Wall Street's forecast. The bank released $500 million in loan-loss reserves. This year, Wells has smartly shifted away from the mortgage game. For Q2, their mortgage revenue dropped by 39%. Wells's net interest margin, which is a key metric for banks, fell a bit. On the plus side, they've been able to keep a tight leash on their expenses.
Overall, business is going well for Wells Fargo. The stock has been one of our better performers this year. Only recently has it shown some weakness; the stock has retreated on eight of the last nine trading days. On Thursday, shares of WFC fell to their lowest level in seven weeks. Don't let the downturn rattle you. Wells Fargo remains a solid buy up to $54 per share.
eBay Earned 69 Cents per Share for Q2
eBay ($EBAY) lately has been a strangely unpopular stock. From peak to trough, the shares dropped about 19% this spring, but on Wednesday, we learned that business at eBay is doing just fine. The online auction house reported Q2 earnings of 69 cents per share, which topped expectations by one penny per share. Quarterly revenue rose 13% to $4.37 billion. That's not bad at all.
For Q3, eBay said they expect earnings to range between 65 and 67 cents per share, and revenue between $4.3 billion and $4.4 billion. That's lighter than expectations; Wall Street had been expecting 70 cents per share on revenue of $4.42 billion.
The good news is that eBay reiterated its full-year EPS guidance of $2.95 to $3.00 per share, although they narrowed the top end of their revenue range from $18.5 billion to $18.3 billion. The low end stayed the same, at $18 billion.
I have to admit I'm confused by the stock's lackluster performance. I think some traders had been expecting dire news, so the shares enjoyed a relief rally on Thursday. At one point, eBay was up 2.2% for the day. I'm still looking at the big picture. eBay is a very good buy up to $55 per share.
Buybacks Propel IBM to Earnings Beat
IBM ($IBM) has found an interesting way to boost its share price, which is to buy up as many shares as possible. Thursday's earnings report revealed that for the first time in 5 years, Big Blue has less than one billion shares outstanding (only 998 million). During Q2, IBM spent an amazing $3.7 billion on buybacks. In 2010, IBM said that it would spend $50 billion on buybacks by 2015. Thanks to last quarter's buying frenzy, they've already passed the $50 billion milestone.
Now let's look at some numbers. For Q2, IBM earned $4.32 per share, which topped estimates by three cents per share. Quarterly revenue fell by 2.2% to $24.36 billion, which was $230 million more than consensus.
Make no mistake, IBM faces many challenges. Their older businesses are in decline. Revenue at their systems-and-technology division dropped nearly 10% last quarter. That sounds bad, but it's much better than the 20%+ from the last two quarters. While they're shifting to new areas, they´re not yet making up for the lost business. For now, I simply think the company is going for less than it's truly worth.
IBM is doing everything it can to hit $20 per share in earnings for next year. I think they need to dial it back on the buybacks before they damage their balance sheet. Some good news came this week, when the company reached a deal with Apple to make business apps for iPhones and iPads. Two months ago, IBM boosted its dividend by 15.8%. The new quarterly dividend is $1.10 per share, which is an increase of 15 cents per share.
For now, I'm going to keep our Buy Below price at $197 per share, which is somewhat tight. I want to see how the market reacts to Thursday's earnings report. This is a good stock, but it will require some patience.
Stryker Is a Buy up to $87 per Share
Also on Thursday, Stryker ($SYK) reported Q2 earnings of $1.08 per share, which matched expectations. Revenue for the orthopedic company rose 6.8% to $2.36 billion, which barely beat estimates of $2.35 billion.
I'm usually confident Stryker will hit its numbers. That's why I pay close attention to its guidance. Bear in mind that companies aren't required to give guidance, and few are as accurate as Stryker.
For Q3, Stryker sees earnings ranging between $1.12 and $1.16 per share. That's a little disappointing, but nothing major; Wall Street was at $1.17 per share. Stryker also lowered the high end of its full-year guidance. The previous EPS range was $4.75 to $4.90 per share. Now it's $4.75 to $4.80 per share. I think it's interesting that in July, Stryker is willing to stand by a narrow range for the entire year. That says something about the stability of their business model.
I still think Stryker may soon go for a big merger, or possibly be the target of a merger. That's the trend in healthcare at the moment. Stryker remains a good buy up to $87 per share.
Seven Buy List Earnings Reports Due Next Week
Next week is going to be a busy one for our Buy List. We have seven earnings reports due. I'll run down the list.
On Tuesday, McDonald's and Microsoft are due to report earnings. McDonald's ($MCD) has been a fairly weak performer for us. Fortunately, it's been protected by a rich dividend. The last earnings report was a bust, and the Street has low expectations this time around. The consensus on Wall Street is for earnings of $1.44 per share. Look for a good number here. MCD currently yields 3.29%.
Microsoft ($MSFT) is suddenly hot! The shares got a big lift on Thursday when the new CEO, Satya Nadella, announced 18,000 layoffs. That's painful to hear, but it's clear that Microsoft needs to streamline itself. A lot of these layoffs are with Nokia, which is a deal that Nadella never liked (and that may have been Ballmer's undoing).
It's odd for those of us who have liked Microsoft to see it get such good press lately. The shares are up 5% in the last two trading sessions. For next week's earnings, which is their fiscal Q4, Wall Street expects earnings of 60 cents per share. This week, I'm raising my Buy Below to $48 per share.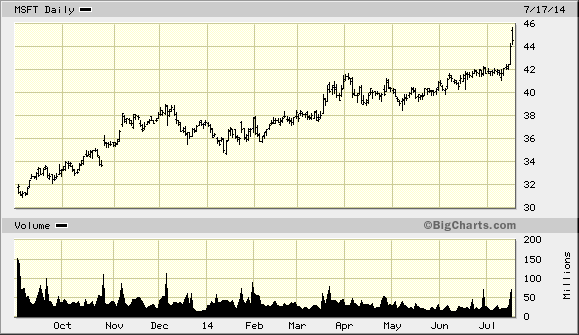 On Wednesday, two more of our tech stocks, CA Technologies and Qualcomm, are due to report. CA Technologies ($CA) has been a rough stock for us. It dropped to a fresh 52-week low last week. At least they pay a good quarterly dividend of 25 cents per share. Going by Thursday's close, CA now yields 3.52%. Wall Street expects earnings of 60 cents per share.
Qualcomm ($QCOM) started the year very well for us. The last earnings report in April was quite good; they beat and raised guidance, but the shares haven't responded as I expected. The consensus for Wednesday is for earnings of $1.22 per share. Qualcomm is a buy up to $83 per share.
On Thursday, CR Bard and Ford Motor are scheduled to report. Last month, CR Bard ($BCR) raised its quarterly dividend by one penny per share, from 21 to 22 cents per share. That increases their annual dividend increase streak, which began in 1972. For Q2, the medical-equipment company said to expect earnings between $1.98 and $2.02 per share. I've run the numbers, and I think they're low-balling us. Bard has full-year guidance of $8.20 to $8.30 per share. BCR is a buy up to $151 per share.
In the CWS Market Review from May 31, 2013, I raised my Buy Below on Ford Motor ($F) to $18 per share. The stock was $15.68 at the time, and it promptly fell to $14.30 three weeks later. Not one of my better moves. Fortunately, we held on, and we've been rewarded. On Thursday, Ford did indeed hit $18 per share. I'll warn you that Thursday's earnings report will have some weak spots, but we want to look at the overall trend, which has been very positive. I'm raising my Buy Below to $19 per share.
While the broad market has been quite placid this year, Moog ($MOG-A) has not. The company, which is due to report next Friday, has seen its stock ricochet between $57 and $75 per share this year. Moog expects full-year earnings (ending September) of $3.65 per share. Moog is a good stock, but be warned of its volatility.
One more item before I go. I'm raising my Buy Below on Bed Bath & Beyond ($BBBY) to $65 per share. The stock has rallied to make up nearly everything it lost since the last earnings report. BBBY announced this week that it had raised $1.5 billion from its bond offering. The proceeds will help fund their buyback. They've also said they're accelerating their buyback program.
That's all for now. Get ready for lots of earnings news next. The government will also report on consumer inflation. As I've pointed out, inflation has started to tick a wee bit higher recently, which is probably good news. We'll also get the June durable-goods report. I think we can expect a good GDP report for Q2. Be sure to keep checking the blog for daily updates. I'll have more market analysis for you in the next issue of CWS Market Review!
– Eddy
Posted by Eddy Elfenbein on July 18th, 2014 at 7:02 am
The information in this blog post represents my own opinions and does not contain a recommendation for any particular security or investment. I or my affiliates may hold positions or other interests in securities mentioned in the Blog, please see my Disclaimer page for my full disclaimer.
Archives