CWS Market Review – April 5, 2015
"I made my money by selling too soon." – Bernard Baruch
I'm finally back home safe and sound in Washington, DC. Although the stock market was closed for Good Friday, the government released the big March jobs report on Friday morning and it was much weaker than expected. The U.S. economy created only 126,000 net new jobs last month. That was about half of what was expected. This was the weakest jobs report in over a year, and it may change the Federal Reserve's plans for interest rates. The futures contracts for the S&P 500 dropped about 1% on Friday.
Even though the jobs report caught a lot of folks by surprise, the bond market has been rising lately. It's often interesting how the bond market is probably the only economic forecaster worth listening to. Despite the stock market being closed, the bond market was open on Friday and it rallied. The yield on the 10-year Treasury dropped to 1.85%. In the last four weeks, the yield is down 0.39%.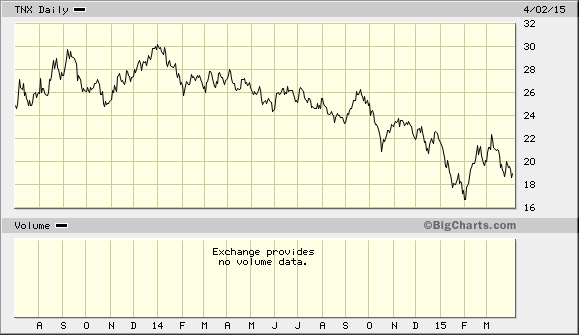 What does the weak jobs report mean for the economy and our portfolios? That's what we'll look at in this week's CWS Market Review. The short answer is, probably not much, but we still need to be vigilant. This is different from the vastly overstated hype about Cyprus or the Sequester. (Remember those?) I'll also take a look at the upcoming earnings report from Bed Bath & Beyond (BBBY). Over the last nine months, the stock has had an amazing recovery. I hope it will continue, but first, let's take a closer look at Friday's jobs report.
The March Jobs Report Was a Bust
The jobs market had been on a roll the last few months which was a nice change from the past several years. Green shoots at last! The economy had been averaging more than 250,000 net new jobs each month. That's why there was a lot of optimism going into Friday's jobs report although the wage numbers had still been soggy. That's also why the actual number, just 126,000 new jobs, was such a shocker. Wall Street's consensus had been for 245,000. The numbers for January and February were also revised downward by 69,000.
What's happening is that we're starting to see the impact of the strong dollar on the labor market. This is crucial to understand. Sectors like construction and manufacturing saw jobs losses. Mining and Logging lost 11,000 jobs while Retail increased. Shoppers love the lower gas prices. I've talked a great deal about the strong dollar and until now, its impact has mostly been felt in the financial markets, but that may be changing. For example, North Dakota, the frackingest state in America, just lost its title of having the lowest unemployment rate in the country. That title now belongs to Nebraska.
Still, I don't want to over-dramatize the jobs report. In the last year, the U.S. economy has created over three million jobs. That's not bad. Also, the unemployment rate held steady in March at 5.5%. Just four years ago, it was 9%. Average hourly earnings rose seven cents last month. That's the biggest increase since November. There was also the recent news that McDonald's (MCD) has joined the trend in raising workers' pay. The wage numbers aren't very good, but the trend appears to be slowly changing.
So where does this leave the Federal Reserve? I continue to believe that the Fed's rhetoric is far ahead of where the economy is. I don't see any need for a rate hike in the next six months. In fact, the Fed can probably sit out all of 2015 and the futures market agrees with me. In short, the strong U.S. dollar has done a tightening all by itself. The economy shouldn't have to fight both Janet Yellen and the dollar at the same time.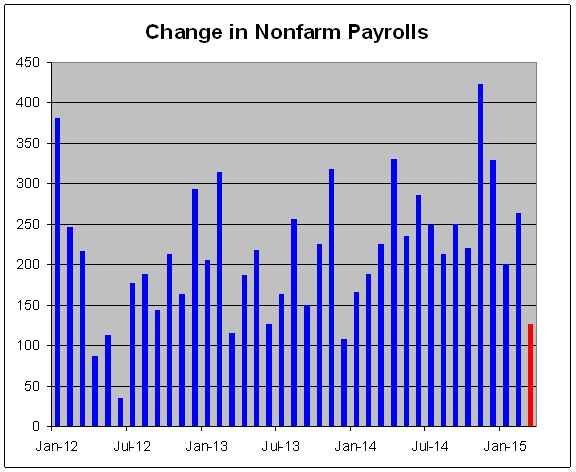 It's hard to justify raising interest rates when we just sailed through a period of deflation. After rising for a bit, gasoline prices have been trending lower again, and that's more good news for retailers. (Remember that Ross Stores will be splitting soon.) The inflation hawks could point to a recovering jobs sector but now that appears in doubt. I can't predict what the Fed will do, but pressure to act on rates is much lower than what Janet Yellen has said. To her credit, she said after the last meeting, "Just because we removed the word 'patient' from the statement doesn't mean we're going to be impatient." I hope so.
Now all eyes turn to Q1 earnings season which starts this week. Last earnings season, we heard company after company talk about the negative impact of the dollar. The generic report said "we're doing well at home, but not so well overseas." Earnings estimates have been cut back and corporate profits are expected to shrink for Q1. The pullback is expected to carry over into Q2 and Q3.
A few years ago, during the initial stages of the recovery, companies were able to grow their profits through efficiency rather than by hiring new people. It was truly a "jobless recovery." Profits soared and jobs stagnated. That probably helped spark the Occupy Wall Street protests. More efficiency is great but you can only cut overhead so much. At some point, you need to get more folks coming in the doors and that means more consumers which means more jobs. That had been happening, and that's why the jobs report was so disappointing.
I've mentioned before how Wall Street and Main Street had changed places. Main Street has been slowly recovering while the strong dollar had taken a bite out of earnings. At first, the only impact consumers saw of the strong dollar was much lower gas. Now they're seeing the impact in new hiring.
Bloomberg notes that in the options pits, "bearish puts on the S&P 500 outnumber bullish calls by the most since October 2008." But an earnings slowdown doesn't necessarily mean the economy is heading towards a recession, or that stocks are going into a bear market. We've seen earnings pauses before.
For now, I want to stress to investors not to panic but to note that that the game has slightly changed. For example, small-cap stocks have strongly led the market over the last six months. The little guys had badly lagged in the eight months prior to that. The mega-cap S&P 100 has trailed the S&P 500 almost continuously since October 2014 (and more or less in a longer trend since September 2012).
For Q1, oil companies are expected to see their profits drop by 63%. I don't have any energy stocks on the Buy List and that's the way I like it. I'm staying far away from energy and materials stocks. Some stocks on our Buy List that look especially good right now include Ford (F), Microsoft (MSFT), eBay (EBAY) and Cognizant Technology Solutions (CTSH). I'm expecting another good earnings season for our Buy List, but I suspect that many of our stocks will give cautious outlooks for Q2. Now let's look at our one remaining Buy List earnings report from Q4.
Bed Bath & Beyond Is a Buy up to $77 per Share
This coming Wednesday, April 8, Bed Bath & Beyond (BBBY) will report their fiscal Q4 earnings. That's the big holiday quarter; it covers December, January and February. Like most retailers, this holiday shopping season is vital for BBBY. The holiday quarter usually generates about one-third of BBBY's annual profit.
After hitting a rough patch, BBBY has gotten back on track. Three months ago, the home furnishings retailers reported Q3 earnings that matched Wall Street's forecast. Curiously, the company released its Q4 forecast after the Q2 earnings report in September. BBBY said they expect Q4 earnings to range between $1.78 and $1.83 per share. In January, I was pleased to see them reiterate that forecast. They had developed a poor habit of issuing overly optimistic forecasts only to lower them later on.
For the entire fiscal year, Bed Bath & Beyond expects earnings between $5.05 and $5.09 per share. That's up from $4.79 per share the year before. Frankly, I've been a bit worried about their operating margins. Some slippage is understandable, but this could become a problem.
Bed Bath & Beyond's earnings have been dramatically impacted by share buybacks. I often say that I'm not a fan of buybacks, but I'm less judgmental on companies like BBBY that actually reduce their share count. The company floated a bond last year to fund the buybacks. Standard & Poor's raised their rating on Bed Bath & Beyond from BBB+ to AAA-.
I'm not expecting blowout results. The company's guidance sounds about right. What I'm looking for is steady improvement. They'll also give us guidance for Q1. I'm expecting something in the range of 95 cents to $1 per share. This is a very good company. I currently rate Bed Bath & Beyond a buy up to $77 per share.
Buy List Updates
Shares of Express Scripts (ESRX) spiked higher this week after UnitedHealth (UNH) said it was buying Catamaran (CTRX) for $12.8 billion. Traders assume that one buyout must lead to several more. Actually, this can be the case as other players react but it doesn't happen so quickly. At one point on Tuesday, ESRX got as high as $88.55 per share. Express Scripts remains a good buy up to $89 per share.
Snap-on (SNA), one of our new buys this year, has been rallying of late. The stock touched a new 52-week high last week. The last earnings report was outstanding and I'm looking forward to another one in a few weeks. This week, I'm raising my Buy Below on Snap-on to $151 per share.
I also want to bump up our Buy Below on AFLAC (AFL). The soaring dollar story has pretty much abated vis-a-vis the Japanese yen. Over the last four months, the yen has largely stabilized around 118 to 120 to the dollar. AFLAC also offers a nice yield of 2.45%. Look for another good earnings report later this month. I'm raising my Buy Below to $65 per share.
That's all for now. Earnings season begins this week. Alcoa (AA) will be the first major company to report on Tuesday. Bed Bath & Beyond (BBBY) will also report on Tuesday but that's for the quarter that ended in February. The following the Tuesday, April 14, Wells Fargo (WFC) will be our first Buy List stock to report Q1 earnings. On Wednesday, the Federal Reserve will release the minutes from their March meeting, when they dropped "patience" from the policy statement. It will be interesting to see how much debate there was on this point. Given Friday's jobs report, the policy doves may now have the upper hands. Be sure to keep checking the blog for daily updates. I'll have more market analysis for you in the next issue of CWS Market Review!
– Eddy
Posted by Eddy Elfenbein on April 5th, 2015 at 10:31 pm
The information in this blog post represents my own opinions and does not contain a recommendation for any particular security or investment. I or my affiliates may hold positions or other interests in securities mentioned in the Blog, please see my Disclaimer page for my full disclaimer.
Archives