CWS Market Review – August 24, 2015
Today was one of the more dramatic days in recent Wall Street history. I wanted to send you an update to fill you in on today's market action.
At the opening bell, the stock market was flooded with sell orders. This is a good reminder to never place market orders at the open (here's a guide to the different types of orders). Within six minutes, the Dow was down 1,089 points. The S&P 500 got as low as 1,867.01 for a drop of 5.27%.
The prices were chaotic and confused, and many were probably incorrect. A number of ETFs widely diverged from their underlying stocks. At one point, Ford Motor (F) traded as low as $10.44 per share.
The best example of how crazy this morning was is Kroger (KR), the grocery chain. In 12 minutes, the stock dropped 20% and rallied 25%. We're talking about a grocery store! The Low Vol ETF (SPLV) was down 45%. The whole reason for this ETF is so that it has low volatility.
After hitting bottom, the S&P 500 put on a furious rally. By 1:10 pm, the index got to 1,954.09 for a gain of 4.66% off the morning's low. Several major stocks turned positive for the day.
But the fun times didn't last. Stocks turned south again, and by 3:34 pm, the S&P 500 stood at 1,879.98. That was 3.8% drop—not for the day—but merely from the post-lunch high of two hours before. These swings are big for one week, and they all happened in one day!
The S&P 500 eventually closed at 1893.21, perhaps an homage to the Panic of 1893. The index lost 3.94% on the day for its worst loss since August 18, 2011. This was the lowest close since October 17, 2014. The S&P 500 is now down 11.15% from its all-time high close reached on May 21. This breached the 10% barrier meaning this is now an official "correction" in Wall Street parlance. This is the 28th correction since 1945. In the last three days, the Nasdaq Composite has lost 9.8%. That's not too far from the 11.3% it lost on October 19, 1987.
Ryan Detrick points out that the S&P 500 has fallen 3% in the last two days. We haven't hit three in a row since 1933. In the last three days, the Dow has lost 1,477 points which is an all-time record.
There wasn't a strong sector component to today's selling. Everything was down. The Energy Sector ETF (XLE) closed at $60.13. It's lower than where it was in late 2006.
Today, our Buy List held up slightly better than the market, meaning we did a little less bad. Our Buy List lost 3.81% for the day. Wells Fargo (WFC) and AFLAC (AFL) were our biggest losers. Ford recovered from its morning debacle but is still only at $13.19. Assuming the current dividend, Ford now yields over 4.5%. Microsoft (MSFT) yields close to 3%.
I'm sure you know what I'm going to say: Don't panic. Don't sell. Take a step back and don't get caught up in this mess. The volatility will pass.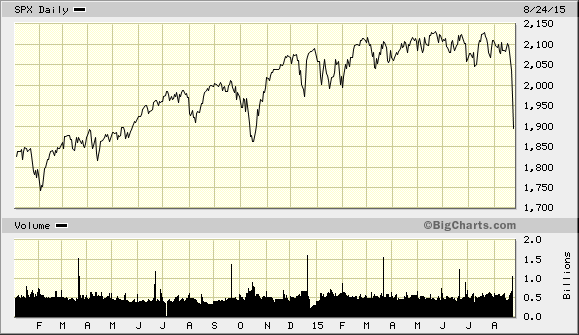 What's interesting is that there wasn't one single company-specific news item for any of our Buy List stocks today. Not one. This is purely a market event, not an economic one. The market is impacting the market. Kroger did not magically become less profitable and then more profitable within a few minutes this morning.
I'm sure many investors are asking, "What caused today's action?" This is a difficult point to make, but that question often can't be answered. At least not comprehensively. Finance isn't a science like chemistry where one event causes another. Sometimes things just happen and we really can't say why.
Sure, we can give generalized answers, like the slowdown in China and chaos in some Asian markets. The oil rout is weakening some economies, and the Fed seems determined to raise interest rates. The Canadian dollar, for example, is at an 11-year low. West Texas crude fell below $40 per barrel for the first time since 2009. China's market sank 8.5%. But that's only the background noise.
The real issue is that people got scared and they sold all at once. I don't know when the volatility will end but there are a lot of good stocks going for good prices. Make sure you have a well-diversified portfolio of stocks from our Buy List. Pay attention to our Buy Below prices and never chase stocks. I'll have more market analysis for you in the next issue of CWS Market Review!
Posted by Eddy Elfenbein on August 24th, 2015 at 5:41 pm
The information in this blog post represents my own opinions and does not contain a recommendation for any particular security or investment. I or my affiliates may hold positions or other interests in securities mentioned in the Blog, please see my Disclaimer page for my full disclaimer.
Archives