CWS Market Review – May 6, 2016
"Necessity never made a good bargain." – Charlie Munger
Going into Q1 earnings season, we knew this wasn't going to be a good one for Wall Street. Earnings have been falling, and many energy and financial stocks have been feeling the squeeze.
The good news is that 76% of companies in the S&P 500 have topped expectations. The bad news is that those expectations were severely lowered in the weeks leading up to earnings season. As we know, companies are very good at managing expectations. On the sales side, 57% of companies have beaten estimates. The S&P 500 is on track for a profit drop of 8.2% for Q1.
For the most part, the earnings results for our Buy List stock have been quite good. In this week's CWS Market Review, I'll cover two more reports, Fiserv and Cerner. I'll also update you on the big dud from Stericycle. The stock lost 21.5% last Friday, but don't lose faith.
We also got a big surprise this week when one of our Buy List stocks, Biogen, announced that it's going to spin off its hemophilia business into its own publicly traded stock. If the spinoff happens before the end of the year, the new stock will join our Buy List as the 21st member. This will be exactly like last year when PayPal was spun off from eBay.
Before we get to all that, let's look at some of the recent activity from the always-entertaining stock market.
Wall Street Has Grown Risk-Phobic
The stock market has resumed its love affair with low-volatility stocks. Beginning in late 2014, stocks that are more stable than the market as a whole started leading the indexes higher.
Low-vol stocks tend to outperform when the market goes down as investors rush for stability. Or at least for what they think is stable. You could say that the stock market has experienced a "stealth bear" over the last 18 months in that the indexes have largely been flat (with a few noticeable bumps along the way).
Then, earlier this year, low-vol got its comeuppance. It was the volatile stocks that led the way coming off the February low. Of course, this was due to a lot of beaten-down energy stocks finding their legs. It also showed that maybe investors were warming up to Janet Yellen's not-so-quiet suggestion to take on more risk. But now, low-vol is coming back. The S&P 500 Low Vol ETF (SPLV) has beaten the S&P 500 over nine of the last ten trading days, and the only loser was pretty close.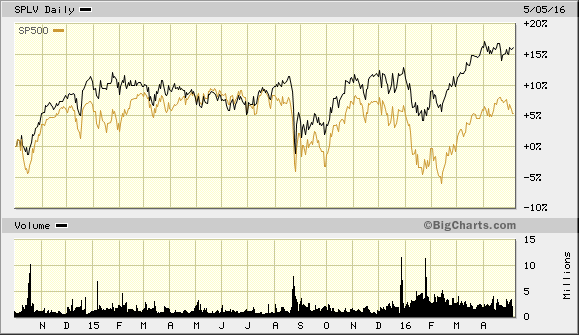 I suspect that investors are warming up to the idea that the economy isn't in great shape, and the Fed is likely to sit on its hands this year. A rate hike or two could be in the cards, but I doubt much more. The Fed has said that rates might be raised in June, but no one seems to buy that.
Let's take a step back and look at the economy. The Q1 GDP was pretty lame. Monday's ISM report was positive, but not by much. Corporate earnings are nothing to write home about. We'll get the April jobs report later today. I suspect it will be more of the same—a respectable increase in the number of jobs, but with subdued wage growth. Fifteen years ago, economists talked about the "jobless recovery." Now it appears we're experiencing the opposite: growthless full employment.
Still, I strongly doubt we're anywhere near a recession. Instead, we're stuck in a world of slow growth, and that's holding back risk-taking, and that's helping low-vol. Make no mistake, there certainly are trouble spots around the world. The mess in Puerto Rico is bad. The geopolitical outlook is nerve-wracking. In fact, defense stocks have been one of the few bright spots in recent weeks.
I think too many investors are over-thinking what's really going on. Here's how I see it: The economy is messy but not dire. The Fed is too optimistic. Wages need to rise. Consumers are willing to buy things, but they want to find bargains. Investors should continue to focus on high-quality stocks, particularly those with good dividends. Right now, stocks like Ford Motor (F), Microsoft (MSFT) and Bed Bath & Beyond (BBBY) look particularly attractive. Now let's take a look at this week's surprise announcement from Biogen.
Biogen to Spin off Hemophilia Business
Biogen (BIIB) shocked Wall Street this week when it announced that it's going to spin off its hemophilia business into a stand-alone publicly traded company. Biogen said it hopes to complete the spinoff by the end of this year, or in early 2017.
According to Buy List rules, the to-be-named company would join our Buy List as the 21st stock. This is what happened last year when eBay spun off PayPal.
Let me explain what the company is planning. Biogen has two hemophilia drugs, Eloctate and Alprolix. Together, they bring in $640 million in sales. That's only about 5% of Biogen's total sales.
The idea behind the spinoff is that it will allow Biogen to focus solely on neuroscience. A lot of folks had suspected that Biogen would sell off the hemophilia operation for cash and use the proceeds to buy other companies. Ironically, after this spinoff, Biogen itself would be an attractive buyout target.
According to Biogen, this will be a tax-free spinoff. So if you own X many shares of Biogen, you would get Y number of shares. It's actually pretty simple. Only now they have to figure out what X and Y are.
I think this is a good move. Biogen has been working to revamp itself, and I like the results so far. Now the challenge for them is to improve their pipeline. Biogen remains a buy up to $290 per share.
Earnings Reports for Fiserv and Cerner
We had two earnings reports this week, and both came after the closing bell on Thursday.
Fiserv (FISV) reported Q1 earnings of $1.06 per share, which was four cents better than Wall Street had been expecting. That's up from 89 cents per share in last year's Q1. Quarterly revenues rose 5% to $1.25 billion.
"We are pleased with our start to the year, including 7 percent internal revenue growth in the Payments segment and excellent operating performance," said Jeffery Yabuki, President and Chief Executive Officer of Fiserv. "Our business model continues to produce high-quality revenue, strong adjusted earnings per share and outstanding free cash flow."
As I've said many times, Fiserv is a very impressive company. Here are some details from the earnings report. The financial-services company was able to increase its operating margin by 80 basis points last quarter to 31.9%. That's quite good. Fiserv also grew its free cash flow by 11% to $298 million. Last quarter, Fiserv bought back 3.4 million shares for $321 million. The current authorization still has 14 million shares left. Also, Fortune magazine named Fiserv one of the "World's Most Admired Companies."
Last year was Fiserv's 30th straight year of double-digit earnings growth. The company just reiterated guidance that would make this year #31. Fiserv made $3.87 per share in 2015, and the company sees 2016 earnings coming in between $4.32 and $4.44 per share. The CEO said, "Our results in the quarter were ahead of plan, and we are well on our way to meet our 2016 financial objectives."
There's not much to add. Fiserv is an excellent company, and it's having another strong year. Fiserv remains a buy any time the shares are below $103.
Also on Thursday, Cerner (CERN) reported Q1 earnings of 53 cents per share. That matched Wall Street's estimate. The healthcare IT company had already said that earnings would range between 52 and 54 cents per share.
Revenue rose 14% to $1.14 billion. That was below the company's guidance of $1.25 billion. Cerner said the revenue shortfall was due to "a decline in low-margin technology resale revenue, which partially offset good growth in software, subscriptions and services."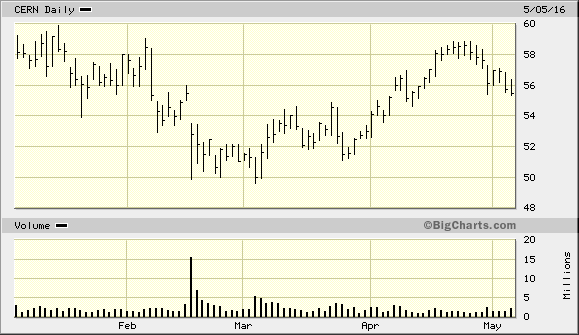 For Q2, Cerner expects revenue between $1.175 billion and $1.25 billion. For all of 2016, they see revenue ranging between $4.9 billion and $5.1 billion. On the earnings side, Cerner forecasts Q2 earnings coming between 56 and 59 cents per share. Wall Street had been expecting 58 cents per share. For the full year, Cerner's guidance is $2.30 to $2.40 per share. There's no change in that guidance.
"Our first quarter results reflect a good start to the year," said Zane Burke, Cerner president. "We continue to have great success at gaining new clients, which is a reflection of a robust replacement market and our competitiveness. We also had success at selling solutions beyond the electronic health record (EHR), with record levels of revenue cycle sales and continued success at selling our cloud-based HealtheIntent™ population health solutions both inside and outside our EHR installed base."
This is a good example of an earnings report that's just fine for long-term investors like us, but short-term traders will probably be annoyed. Shares of Cerner were down in Thursday's after-hours session, but I'm not concerned. The important thing is that their full-year guidance is unchanged. This company is doing fine. Cerner remains a buy up to $58 per share.
I have a correction to make. In last week's issue of CWS Market Review, I said that Cognizant Technology Solutions (CTSH) was due to report on Thursday, May 5. That's not right. CTSH is due to report on Friday, May 6, which is later today. My apologies for the confusion.
Cognizant said they expect Q1 to range between 78 and 80 cents per share. The IT outsourcer surprised me earlier this year when said they expected 2016 earnings to range between $3.32 and $3.44 per share. That seemed light to me, but I can't say I'm fully confident they'll raise guidance. Let's see what the earnings report says.
Stericycle Is a Buy up to $104 per Share
Last week, I updated you on Stericycle's (SRCL) earnings report. The waste-management company missed expectations by four cents per share. On the earnings call, the company said it was projecting full-year earnings between $4.90 and $5.05 per share. Wall Street had been expecting 2016 earnings of $5.22 per share. The poor guidance was due to "unfavorable impact of the timing of the Shred-It synergies, softer industrial hazardous-waste volume, and higher costs associated with our international operations."
I knew traders would react poorly, but even I was shocked. On Friday, shares of SRCL plunged 21.5%. Ouch! I apologize for the unpleasant ride, but we know stocks don't always do what we wish. Still, we're in this game for the long haul, and there's a lot I like about Stericycle. Last quarter's gross profit was up more than 31%.
Due to the stock's recent drop, I'm lowering my Buy Below prices on Stericycle to $104 per share. Don't get scared out of this one.
That's all for now. Next week will be a quiet week for economic news, and there will be a few more earnings reports to digest. The wholesale-inventories report comes out on Tuesday. On Wednesday, the Treasury reports on the budget. On Friday, we'll get the report on wholesale inflation and retail sales. Be sure to keep checking the blog for daily updates. I'll have more market analysis for you in the next issue of CWS Market Review!
– Eddy
Posted by Eddy Elfenbein on May 6th, 2016 at 7:08 am
The information in this blog post represents my own opinions and does not contain a recommendation for any particular security or investment. I or my affiliates may hold positions or other interests in securities mentioned in the Blog, please see my Disclaimer page for my full disclaimer.
Archives