CWS Market Review – April 21, 2017
"The market owes you nothing. Take full responsibility for everything that happens and your results will improve." – Dan Zanger
We're now in the high tide of earnings season. So far, 82 companies in the S&P 500 have reported earnings. Of those, 75% have beaten Wall Street's expectations. Bear in mind that expectations are expected to be beaten. If you don't beat expectations…well, that's simply not expected. In recent years, the expectations' "beat rate" has averaged 71%.
Our earnings have been very strong so far. We had five Buy List earnings reports this week, and all five topped expectations. After its earnings report, Snap-on jumped more than 5.7%, but Alliance Data Systems was our big winner. After its report, ADS rallied 8.3%. (Yes, this is the same stock recently rated "underperform" by Oppenheimer.)
We have nine more Buy List earnings reports due next week. This week's issue will be all about earnings. I'll run down the five reports from this week, and I'll preview the coming batch for next week. By the way, you can always check out our complete Earnings Calendar. Now, let's get to this week's reports!
Five Buy List Earnings This Week
On Wednesday, Signature Bank (SBNY) led off our earnings parade by reporting very strong Q1 earnings of $2.15 per share. That's 10 cents more than estimates, and it compares with $1.97 per share for last year's Q1. On a technical note, the Q1 figure doesn't include a tax benefit of $14.4 million.
Digging into the details, Signature's numbers were strong. Net interest income rose 8.4%. Total assets increased 15.4% to $40.27 billion. In the last year, total deposits are up 17.2%. The key figure for any bank is net interest margin. For Q1, that was 3.14% for Signature. The medallion loans are still a headache, but it's a manageable problem.
Signature's stock has been sliding back for the last few weeks. On Monday, shares of SBNY slipped below $136. After the earnings report, the stock gapped up, then shot back down. Traders finally decided (correctly) that it was a decent report, and SBNY closed Thursday at $139.95 per share. Don't let the volatility scare you. This week, I'm dropping our Buy Below down to $152 per share.
Thursday morning was very busy for us with four earnings reports. Let's start with Alliance Data Systems (ADS), which was the big star. ADS reported "core" EPS of $3.91 per share which beat estimates by five cents per share. Quarterly revenue rose 12.1% to $1.88 billion. That topped estimates by $70 million.
This was a very good quarter for ADS. They're standing by their full-year EPS guidance of $18.50. CEO Ed Heffernan said, "Overall, our outlook for full-year 2017 results remains consistent, and all indications continue to support our belief that a significant acceleration (or what I refer to as a 'slingshot') will occur in our core EPS growth rate as we move into the back half of 2017, and throughout 2018."
On Wednesday, the shares gained $19.99 to close at $260.63. That's a gain of 8.71%. (Last week, you may recall, Oppenheimer initiated coverage on ADS with an "underperform" rating. Nice timing, there!) This week, I'm raising our Buy Below price on Alliance Data Systems to $266 per share.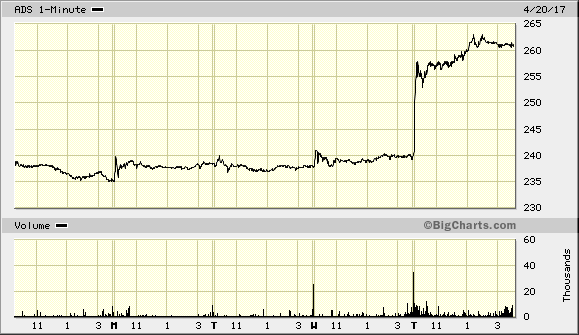 Moving on to Danaher (DHR), the company reported Q1 earnings of 85 cents per share. That beat estimates by a penny. Previously, the company said they expected Q1 earnings to range between 82 and 85 cents per share. Quarterly revenues rose 7% to $4.2 billion, and core revenue grew by 2.5%.
Danaher said they expect Q2 earnings between 95 and 98 cents per share. Wall Street had been expecting 99 cents. The company reiterated their full-year guidance of $3.85 to $3.95 per share.
As I look at Danaher's report, there's literally not one figure that should surprise anyone. This is what I expected. CEO Thomas Joyce said, "We are off to a good start in 2017." Still, the shares dropped 4.1% after the earnings report. Danaher remains a buy up to $90 per share.
Sherwin-Williams (SHW) also had a very strong quarter. The paint people earned $2.27 per share for Q1. That was well ahead of Wall Street's estimates of $2.05 per share. Previously, the company told us to expect a range between $2.03 and $2.12 per share. Sherwin saw particular strength in their Paint Stores Group.
For Q2, Sherwin expects earnings to range between $4.40 and $4.60 per share (that doesn't include an adjustment of 25 cents per share for acquisition costs). Wall Street had been expecting $4.43 per share. For the whole year, the company now expects $14.05 to $14.25 per share (40 cents for acquisition costs). Wall Street had been expecting $13.71 per share. Sherwin's previous range was $13.60 to $13.80 per share. This is very good news.
SHW jumped 4% on Thursday. It's now one of our three 20% winners on the year. This week, I'm lifting my Buy Below on Sherwin-Williams to $331 per share.
Last is Snap-on (SNA) which had a visit from President Trump earlier this week. The president spoke in front of an American flag made of Snap-on wrenches.
For Q1, Snap-on reported earnings of $2.39 per share. That was three cents better than estimates, and it compares with $2.16 per share one year ago. Quarterly revenue grew 6.3% to $887.1 million which beat estimates of $876.9 million.
The stock jumped 5.7% in Thursday's trading. That's a nice change from three months ago when SNA dropped sharply after its earnings report. Snap-on remains a solid buy up to $161 per share.
Nine Earnings Reports Coming Next Week
Next week will be a very busy one for us with nine Buy List earnings reports. Express Scripts (ESRX) leads off on Monday. The stock has gotten a lot of political attention recently as some people like to blame them for high drug prices. More specifically, drug companies like to blame them for high drug prices. Shares of ESRX recently dropped to a three-year low.
For Q1, Express said it expects earnings between $1.30 and $1.34 per share. Wall Street chose the middle and expects $1.32 per share. For the whole year, Express sees EPS ranging between $6.82 and $7.02 per share. Right now, Express is a good value.
On Tuesday, Stryker (SYK) and Wabtec (WAB) are scheduled to report. For Q1, Stryker expects earnings to range between $1.40 and $1.45 per share. For all of 2017, they see earnings between $6.35 and $6.45 per share. For Q1, Wall Street expects $1.43 per share. SYK came very close to a new all-time high this week.
Wabtec had a terrible Q4 earnings report. From February 15 to March 27, the stock dropped 15%. It's come back a little since then. Wabtec expects full-year 2017 earnings to range between $3.95 and $4.15 per share. For Q1, Wall Street is looking for 82 cents per share. Don't bail on WAB just yet!
On Wednesday, Axalta Coating Systems (AXTA), CR Bard (BCR) and Fiserv (FISV) are up. Axalta has been a strong performer for us this year. They just bought Valspar's Industrial Wood Coatings unit for $420 million. Wall Street is looking for earnings of 24 cents per share. They should beat that.
CR Bard continues to be a home run stock for us. We added BCR to our Buy List in 2012 at $85.50. The stock closed Thursday at $254.77 per share. (Quick lesson for investors: Many of our biggest home runs didn't become massive winners until three or four years in.) For Q1, Bard expects EPS between $2.60 and $2.66, and between $11.45 and $11.75 for the whole year.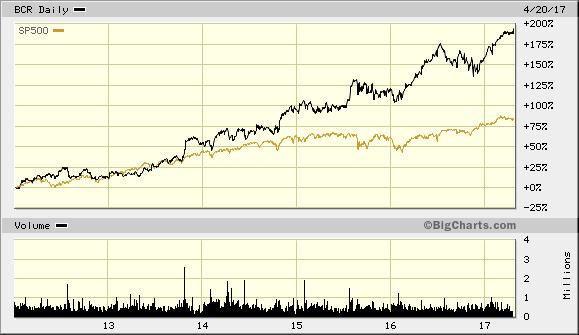 Fiserv is one of those companies like Danaher. I'm not terribly concerned with their quarterly earnings. They may beat or miss by a penny or two, but the larger trend is more important. Fiserv is a very solid company. Wall Street is looking for earnings of $1.19 per share.
Then on Thursday, it's time for AFLAC (AFL), Cerner (CERN) and Microsoft (MSFT). Shares of AFLAC have come to life recently. On Thursday, the duck stock came within a penny per share of its all-time high. AFLAC has said that if the yen stays at ¥108.70 to the dollar, then they expect to make between $6.40 and $6.65 per share this year. For Q1, Wall Street expects $1.62 per share.
Cerner is our best-performing stock this year. Last year, it was one of our worst. The company said they expect Q1 earnings between 57 and 59 cents per share. Frankly, that's lower than I hoped for. Wall Street is also subdued on Cerner. The consensus is for 57 cents per share. For the year, Cerner expects earnings between $2.44 and $2.56 per share. I'm a little cautious on Cerner right now.
Microsoft has been making so many good moves lately. The earnings have been very strong for the last few quarters and I'm expecting more of the same. Wall Street expects quarterly earnings of 70 cents per share.
HEICO Splits 5-for-4
This week, shares of HEICO (HEI) split 5-for-4. This means that shareholders now have 25% more shares. Our Buy Below price dropped from $90 to $72 per share.
For track record purposes, I assume the Buy List starts the year as a $1 million portfolio that's equally divided among the 25 stocks. For HEICO, that meant a position of 518.4705 shares at a starting price of $77.15 per share. With the split, that becomes 648.0881 shares starting at $61.72 per share. HEICO won't report earnings for another month.
That's all for now. Next week will be jam-packed with earnings reports. The big economic news next week will come on Friday when the government releases its first estimate for Q1 GDP. It probably won't be good. The Atlanta Fed's GDPNow currently predicts Q1 growth of 0.5%. That may put off any rate hike plans for the Federal Reserve. Be sure to keep checking the blog for daily updates. I'll have more market analysis for you in the next issue of CWS Market Review!
– Eddy
Posted by Eddy Elfenbein on April 21st, 2017 at 7:08 am
The information in this blog post represents my own opinions and does not contain a recommendation for any particular security or investment. I or my affiliates may hold positions or other interests in securities mentioned in the Blog, please see my Disclaimer page for my full disclaimer.
Archives