CWS Market Review – October 13, 2017
"In business, competition is never as healthy as total domination." – Peter Lynch
This Thursday will mark the 30th anniversary of the 1987 stock market crash, or "Meltdown Monday" as it's come to be known. On October 19, 1987, the Dow plunged 508 points. In percentage terms, this was a loss of 22.61%. In today's terms, that would be like a loss of more than 5,000 points!
Three decades later, the 1987 crash still ranks as the biggest one-day percentage loss in history. It's nearly double the second-biggest loss, which came in October 1929. With the modern "circuit breakers," this record may never be broken. If the S&P 500 falls by 20% nowadays, the exchanges shut down for the day.
I often hear stock market "experts" predicting that another 1987 is about to come our way. I always think to myself, "oh, so you're predicting another 1,000% return over the next 30 years." Yes, that's what the Wilshire 5000 did measuring from the market close on the day of the crash. And if we include dividends, then the index is up more than 2,000%. The fact is that the 1987 panic was a great time to buy.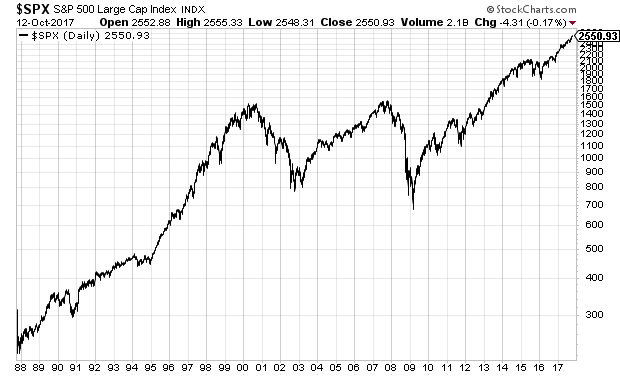 That's an interesting lesson to ponder as we start the third-quarter earnings season. Over the next few weeks, a large majority of our Buy List stocks will tell us how business was during the summer. I'm expecting good results for our stocks. In this week's CWS Market Review, I'll highlight our first earnings reports coming next week. I'll also bring you up to speed on the latest news on our Buy List stocks. Later on, I'll share with you some names I'm considering for next year's Buy List.
Three Buy List Earnings Reports Next Week
There's an interesting twist to this earnings season. Companies that generate most of their revenue from outside the U.S. are expected to see earnings growth of 7.9%. Yet firms that get most of their revenue inside the U.S. are expected to see earnings fall by 0.1%.
The big winner of this earnings season is expected to be the energy sector, but that's really because the comparisons with a year ago were so poor. The market is quietly changing before our eyes. For example, intra-market correlations are the lowest they've been since the financial crisis. In simpler terms, the different market sectors have lately been doing their own thing. Normally, they tend to move together. This probably means that investors are willing to shoulder more risk.
Another example of this can be seen in the junk bond market. It's amazing how much things have changed since the financial crisis. Earlier this week, junk bond yields in Europe dropped to 2.29%. That's an all-time low. Eight years ago, junk bonds in Europe were yielding close to 26%.
Here in America, a Federal Reserve interest rate hike in December now seems like a certainty. The release this week of the minutes from the Fed's last meeting showed that the central bank is dedicated to raising rates. Still, the Fed members seem puzzled why inflation is still so low.
Now let's take a look at an earnings calendar for the third quarter. Let me caution that I haven't heard back from all the companies about when they'll report. (Some companies are better at this than others.) I've also listed Wall Street's consensus for each stock. Bear in mind, these can change.
| | | | |
| --- | --- | --- | --- |
| Company | Ticker | Date | Estimate |
| Alliance Data Systems | ADS | 19-Oct | $5.02 |
| Danaher | DHR | 19-Oct | $0.95 |
| Snap-On | SNA | 19-Oct | $2.43 |
| Sherwin-Williams | SHW | 24-Oct | $4.70 |
| Wabtec | WAB | 24-Oct | $0.84 |
| Aflac | AFL | 25-Oct | $1.63 |
| Express Scripts | ESRX | 25-Oct | $1.90 |
| Axalta Coating Systems | AXTA | 26-Oct | $0.32 |
| Cerner | CERN | 26-Oct | $0.62 |
| Microsoft | MSFT | 26-Oct | $0.72 |
| Stryker | SYK | 26-Oct | $1.50 |
| Fiserv | FISV | 31-Oct | $1.30 |
| Cognizant Technology Sol | CTSH | 1-Nov | $0.95 |
| Ingredion | INGR | 1-Nov | $2.02 |
| Becton, Dickinson | BDX | 2-Nov | $2.37 |
| Intercontinental Exchange | ICE | 2-Nov | $0.70 |
| Moody's | MCO | 3-Nov | $1.37 |
| CR Bard | BCR | NA | $2.94 |
| Cinemark | CNK | TBA | $0.35 |
| Continental Building Products | CBPX | TBA | $0.30 |
| Signature Bank | SBNY | TBA | $2.20 |
I've included Becton, Dickinson on the earnings calendar since the CR Bard acquisition will be completed this quarter.
We have three earnings reports next Thursday. Leading off will be Danaher (DHR), the diversified manufacturer. DHR's last report was just fine in my eyes, but the shares took a dive. A few days later, DHR made a U-turn and rallied to a new high. Once again, there's a lesson in a little patience.
Danaher told us to expect Q3 earnings to range between 92 and 96 cents per share. That was a tad light, but it's nothing to be concerned about. In July, the company raised its full-year guidance range to $3.85 to $3.95 per share. There's a decent chance they'll revise that higher next week. Danaher is an 11.8% winner YTD for us.
Alliance Data Systems (ADS) has not been the easiest stock to own. Shares of the loyalty-rewards stock were crushed in 2016, and they started to recover. That is, until this past summer. In July, ADS reported better-than-expected Q2 earnings, but the company lowered its full-year guidance by 40 cents to $18.10 per share. The company said their brand-loyalty business "produced soft results." At the same time, ADS increased its revenue guidance from $7.7 billion to $7.8 billion.
ADS also said it's "comfortable" in giving initial 2018 guidance of $21.50 per share in core earnings. The consensus on Wall Street was for earnings of $21.42 per share. Still, that wasn't enough to appease the market gods. ADS dropped nearly 10% after the Q2 report. For Q3, Wall Street expects earnings of $5.02 per share. I think we'll see that ADS is back on track.
Snap-on (SNA) was another one of our stocks that got dinged after reporting better-than-expected results. The CEO mentioned "headwinds" in their tool group. The good news is that the shares seem to have found a base two months ago, and the stock has been creeping higher lately. I'm looking for more good results. The consensus on Wall Street is for Q3 earnings of $2.43 per share.
Let me also add a quick word on Signature Bank (SBNY). The bank hasn't said yet when they'll report Q3 earnings. However, going by previous quarters, I assume it will be close to the 19th, so I'll include it here. I also want to highlight SBNY because the stock is a very good bargain at the moment.
In July, SBNY met Wall Street's earnings expectations of $2.21 per share. However, that excluded the bank's write-down for the bath they took on their medallion loans. Frankly, they got creamed in that business. Outside that, Signature's business is moving along. For Q2, their net interest margin was 3.11%. That's pretty good.
The shares have drifted from $150 in June to below $125 recently. It's very reasonable for Signature to earn $10 per share this year. I'm sticking with SBNY.
Some Candidates for Next Year's Buy List
The rules of the Buy List stipulate that all 25 stocks are held for the entire calendar year. I can't make any changes until the end of the year. However, I've been looking at some candidates for possible inclusion on the 2018 Buy List. I wanted to share some of these names with you.
Let me make it clear that this is by no means a guarantee that a stock listed here will be on next year's Buy List. I still have two months to finalize my decisions, but I wanted you to know what I'm looking at.
Church & Dwight (CHD)
Check Point Software (CHKP)
Colgate-Palmolive (CL)
Torchmark (TMK)
FactSet Research (FDS)
Kellogg (K)
Atrion (ATRI)
ADP (ADP)
Clorox (CLX)
Broadridge Financial Solutions (BR)
Mesa Labs (MLAB)
If you've been with us for a long time, these stocks ought to resemble for you the kinds of stocks we normally favor (strong businesses, solid financials). My plan was to give you seven names, and I just listed 11. That tells you how difficult it is for me to narrow down my selections.
Making changes once a year is tough, but it's probably for the best.
Buy List Updates
Here are some brief updates on some of our Buy List stocks.
Express Scripts (ESRX) said they're buying EviCore Healthcare for $3.6 billion. ESRX reports again on October 25.
Cinemark (CNK) dropped this week after reports that the new Blade Runner isn't such a hit at the box office. The selling hit all the movie chains.
On Monday, Axalta Coating Systems (AXTA) updated its Q3 guidance in light of the hurricanes. The company now sees Q3 and full-year EBITDA in the range of $205-$215 million and $870-$900 million, respectively. Sales for Q3 should be between $1.08-$1.10 billion while full-year sales are to expected to grow between 6% and 7%. The stock dropped 3.8% on Monday. Earnings are due out on October 26.
Barron's ran a nice feature on Cognizant Technology Solutions (CTSH). They noted that the firm is making inroads in digital consulting.
That's all for now. Next week will be dominated by earnings reports, but there will be some key economic reports as well. On Tuesday, the industrial production report comes out. Then on Wednesday, the housing starts report comes out as well as the Beige Book. On Friday, Janet Yellen will be speaking, plus the existing homes report comes out. Be sure to keep checking the blog for daily updates. I'll have more market analysis for you in the next issue of CWS Market Review!
– Eddy
Posted by Eddy Elfenbein on October 13th, 2017 at 7:08 am
The information in this blog post represents my own opinions and does not contain a recommendation for any particular security or investment. I or my affiliates may hold positions or other interests in securities mentioned in the Blog, please see my Disclaimer page for my full disclaimer.
Archives