CWS Market Review – October 6, 2017
"A bull market is like sex. It feels best just before it ends." – Barton Biggs
It feels like I'm running out of ways to describe how calm and steady this market has been. This is truly one of the most remarkable markets in history.
Consider just a few stats. Since the election, the Dow has made 83 record closes. The S&P 500 has now risen for eight days in a row, and 16 times in the last 19 sessions. The index has gone 22-straight days without a daily fall of more than 0.3%. Historically, those days happen about 30% of the time, and we haven't seen one in 22 days. The S&P has also run 17-straight days of closing, up or down, by no more than 0.5%. Thursday was the index's sixth-straight all-time high.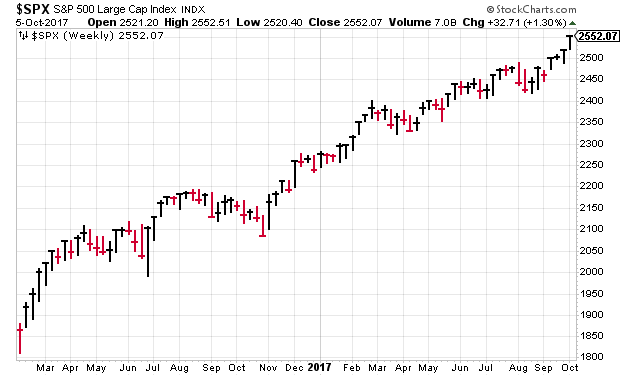 Not only are we at all-time highs, but volatility has nearly melted away. On Thursday, the Volatility Index, otherwise known as the VIX, closed at an all-time low of 9.19. It's been lower on an intra-day basis, but Thursday was the lowest close ever. This is just amazing.
In this week's CWS Market Review, we'll take a closer look at the baby-step rally and what it means for us. I'll also cover the recent earnings report from RPM International. They beat expectations and gave investors their 44th-consecutive annual dividend increase. Not many stocks have done that. I'll also have some updates on our Buy List stocks. But first, let's look at the calm, cool and record-high stock market.
Doing Nothing Is the Smartest Thing to Do
I was invited on CNBC's Trading Nation on Thursday. We usually do three segments, one of which is live on the air; the other two go up on the Internet. In one of the taped segments, the host, Eric Chemi, asked me about the market's volatility and what investors ought to do about it.
I was stumped for a moment because you're expected to give some insightful perspective on whatever the subject is. In this instance, the answer is simple: keep doing what you're doing. Just stay with your stocks and don't get scared out of anything. I told the host that investors shouldn't "overthink" this market. Just lie back and think of capital gains.
I apologize if this advice isn't terribly interesting or earth-shattering, but nothing is what you should be doing right now. Go do it. Luckily, we have many good positions on our Buy List, and the market has definitely swung our way in recent weeks. Since August 24, our Buy List is up 5.98% while the S&P 500 is up 4.64%. As I said, this won't last forever.
This is a broad generality, but awful markets don't spring directly on the heels of good markets. Rather, the market's biggest plunges have typically come when stocks are already sliding. The market performs much better than average when it's already at an all-time high. Also, volatility tends to be much lower. Bad markets create volatility, not the other way around.
Stock market be all pic.twitter.com/IWowiol3o7

— Eddy Elfenbein (@EddyElfenbein) October 5, 2017
I want to highlight a few currents running just beneath the surface of this market. For example, financial stocks have done quite well over the last month (we also talked about this on CNBC). For example, Bank of America just touched its highest price since 2008 (it's still less than half its 2007 high).
Obviously, the changing perception of what the Fed will do in December is a major factor helping bank stocks. Also, a lot of the big banks haven't done so well since the start of the year, so they're playing catch up. This week we saw cycle-high yields for both the one- and two-year Treasuries. This is typically the area of the yield curve that's most sensitive to interest rates. The one-year yield is up to 1.35%. Three years ago, it was at 0.10%.
Even better than the big banks are the regional banks. My favorite in this area continues to be Signature Bank (SBNY). The New York-based institution got a modest rebound recently, but it's still below $130 per share. I think it's possible for SBNY to earn $10 per share next year.
For the most part, this has been a balanced rally lately. Of course, many big energy stocks are a long way from their new highs. The key sectors in recent weeks have been Materials, Tech, Industrials and Financials. Healthcare has also been doing well.
The big standout has been the small-cap arena. The Russell 2000 has roared to life over the last several weeks. This rally is part of a trend that started last year. In less than 20 months, the Russell 2000 is up close to 60%. The even smaller small-caps, the micro-caps, have been en fuego. Charlie Bilello points out that the Micro-cap ETF (IWC) has been down only three times in the last 33 days. At one point, IWC was up 18 days in a row.
One of the weak areas of this market has been Consumer Staples. In fact, Staples have lagged since early 2016, right at the same time small-caps started to soar. Part of this is clearly a shunning of defensive areas in favor of a little more risk. Defensive names usually shine when things are rough. After all, when the economy drops, folks don't really cut back on their purchases of Campbell Soup. Instead, they don't buy cars or homes or go on vacations.
Here's the small-cap Russell 2000 (black), the large-cap S&P 500 (gold) and the Consumer Staples ETF (blue):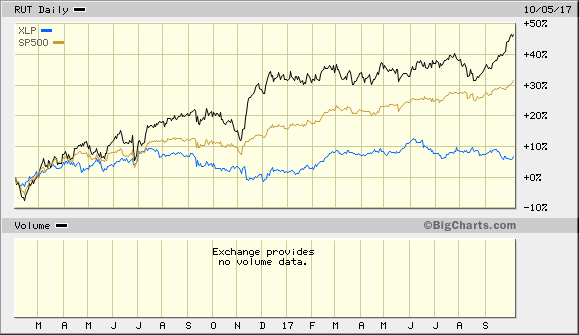 I like Consumer Staples for the steadiness of their business, but I have to concede that this is a bad part of the cycle for them. Stocks like Hormel Foods (HRL) and Smucker (SJM) are near the bottom of our Buy List this year. It's tough to do well when you're a quality player but your sector is not in favor. I still like these stocks, but we won't see any improvement until the cycle turns, and that's usually when things start looking bad for the economy.
Some Buy List stocks that look particularly good right now include Signature Bank (SBNY), Danaher (DHR), Alliance Data Systems (ADS) and Stryker (SYK). Remember to pay attention to our Buy Below prices. Now let's look at our first Buy List earnings report in several weeks.
RPM International Raises Dividend for the 44th Year in a Row
On Wednesday, RPM International (RPM) reported fiscal Q1 earnings of 86 cents per share. That was two cents above expectations.
"We derived significant benefits from the nine acquisitions made in fiscal 2017, along with our selling, general and administrative (SG&A) cost-reduction actions taken last year. Rising raw-material costs negatively impacted gross profit margins. As a result, we instituted price increases, which began to take effect late in the quarter. After three years of foreign-currency headwinds attributable to the strengthening U.S. dollar, currency translation was essentially neutral this quarter," stated Frank C. Sullivan, RPM chairman and chief executive officer.
This was for their fiscal Q1, which ended in July. Previously, RPM said they were expecting Q1 earnings ranging between 83 and 85 cents per share, so the company is doing a bit better than expectations.
When RPM originally made that forecast, it disappointed investors. Wall Street had been expecting 89 cents per share for Q1. So in retrospect, the company wasn't only three cents short of the original forecast.
In July, RPM said they expected earnings for the fiscal year between $2.85 and $2.95 per share. That was below Wall Street's expectation of $3 per share. RPM reiterated their $2.80 to $2.95 range this week.
On Thursday, RPM announced a 6.7% dividend increase. In last week's issue, I said I was expecting a modest increase, but this one is pretty decent. The quarterly dividend will rise from 30 to 32 cents per share. This is RPM's 44th annual dividend in a row. That's quite a streak.
Shares of RPM pulled back a bit after the earnings report. At one point on Friday, RPM got to $50.29 per share, although it recovered some lost ground. Going by Thursday's close, the new dividend yields 2.48%. Using the mid-point of the company's earnings forecast, the shares are going for 17.8 times this fiscal year's earnings.
I'm keeping my Buy Below at $55 per share. RPM is a good stock, but it will take some time to shine.
Buy List Updates
There hasn't been much news on Buy List, but I wanted to make a few adjustments. In last week's issue, I mentioned the recent rally in shares of Ross Stores (ROST). The deep discounter usually reports fiscal Q3 earnings just before Thanksgiving. This week, I'm going to raise my Buy Below on Ross to $68 per share. I expect to see good numbers from Ross this holiday season.
One of our surprising winners lately has been Cinemark (CNK). I say surprising because the stock collapsed during August, but it has roared back lately. Cinemark got a boost this week when an analyst at Morgan Stanley upgraded the movie chain. He said that fears of a box-office slowdown are overblown. I'm lifting my Buy Below on Cinemark to $41 per share.
I also want to raise my Buy Below on Moody's (MCO). In July, Moody's crushed expectations by 17 cents per share. They also raised their full-year guidance range to $5.35 to $5.50 per share. That was an increase of 20 cents per share at both ends. MCO is now a 50% winner for us this year.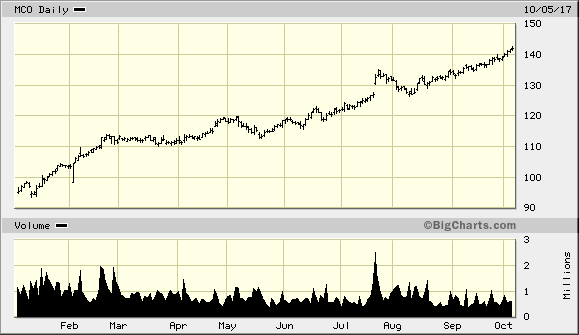 When the last earnings report came out, I raised my Buy Below to $141 per share. Moody's just broke that this week. I'm now lifting my Buy Below on Moody's to $151 per share.
That's all for now. While many government offices will be closed on Monday in honor of Columbus Day, the stock market will be open. Some of the early earnings reports will be coming next week as well. On Wednesday, we'll get a look at the minutes from the last Fed meeting. On Friday, we'll get a look at the retail-sales report and consumer inflation last month. I'll be curious to see if we're anywhere close to the Fed's 2% target. Be sure to keep checking the blog for daily updates. I'll have more market analysis for you in the next issue of CWS Market Review!
– Eddy
Posted by Eddy Elfenbein on October 6th, 2017 at 7:08 am
The information in this blog post represents my own opinions and does not contain a recommendation for any particular security or investment. I or my affiliates may hold positions or other interests in securities mentioned in the Blog, please see my Disclaimer page for my full disclaimer.
Archives