CWS Market Review – November 17, 2017
"I'm always fully invested. It's a great feeling to be caught with your pants up."
– Peter Lynch
Wall Street has been in a slightly sour mood lately. Of course, I mean this in a relative sense. Volatility is still low—very low, in fact.
Until last week, the S&P 500 had climbed for eight weeks in a row. So within that context, four daily drops in five days does seem to stand out. The damage was a little over 1%. Again, that's barely a speck, but it seems like more when compared to the serene market we've had since late August. This week, the S&P 500 snaps a streak of 54 days in a row of closing within 1% of its all-time high. That was the longest such streak in half a century. That's what investing is like in 2017.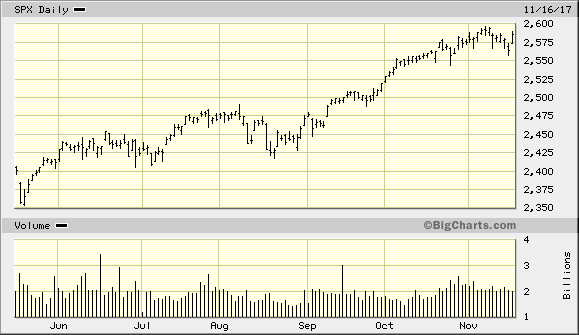 More good news for our Buy List this week. We had a very good earnings report from Smucker. The jelly stock jumped nearly 10% on Thursday. We also had a very good earnings beat from Ross Stores. I don't know yet how the shares opened on Friday, but ROST was up more than 7% in Thursday's after-hours market.
I'll run through both reports in just a bit, plus I'll preview next week's earnings report from Hormel Foods. The Spam stock has been hot lately (up 9.2% since October 30). I'll also have some updates on our Buy List. But first, let's look at some recent news on the economy.
Wall Street Wraps up Another Good Earnings Season
Overall, the third-quarter earnings season was a good one for Wall Street. This was the 23rd consecutive quarter that exceeded expectations. This earnings season was especially good for the tech sector. The Financial Times noted that four mega-cap tech stocks were responsible for half of the earnings beat for Q3. The big four are Apple, Alphabet, Facebook and our very own Microsoft. The tech sector has been such a big winner (+37% YTD) that it's more than doubled the second-place sector (healthcare +18%).
The Federal Reserve will almost certainly raise interest rates next month, but what about after that? As I've said before, I'm not terribly worried about the first few rate increases, but I do think the Fed has less room to work with than they may realize. The futures market currently thinks another hike will happen by June (and possibly by March).
There continues to be little to worry about on the inflation front. This week, we learned that inflation was calm last month. The CPI rose by just 0.1%, and the "core rate," which excludes food and energy prices, also rose by 0.1%. In the last year, core inflation is running at 1.8%. That's still below the Fed's target of 2%. Bottom line: I just don't see what the Fed is so worried about. The jobs market is humming and prices are steady.
But here's what worries me. The spread between the two- and 10-year Treasuries narrowed to just 65 basis points this week. The spread hasn't been that narrow in ten years. I would expect to see the spread tighten after the rate increases. Historically, when the 2/10 spread gets to 0%, economic weakness isn't far behind.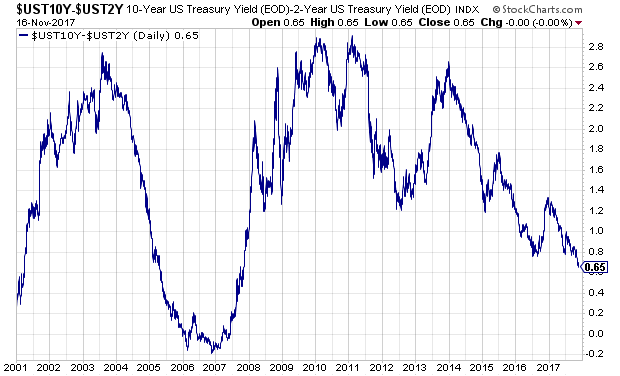 So any trouble is off in the distance, but it's there. The overall market and economy are doing fairly well. For example, this week we learned that retail sales rose 0.2% in October. In the last year, they're up 4.6%. Taking out gasoline, retail sales rose by 0.4% in last month. The industrial production report showed an increase of 0.9% for October. Economists had been expecting a rise of 0.5%.
I expect a calm market for the rest of the year. This is a good time for investors to make sure they're well-diversified and that they hold high-quality stocks. As always, our Buy List is a great place to start. As a whole, our Buy List has been leading the market since late summer (we lagged during Q2 earnings season). Now let's turn to this week's strong earnings reports from our Buy List.
Smucker Soars 10% on Strong Earnings
On Thursday morning, JM Smucker (SJM) released a very positive earnings report. The jelly folks beat Wall Street's consensus thanks to higher prices for several of their product lines. For their fiscal Q2, the company earned $2.02 per share last quarter, beating estimates by 12 cents per share.
"We are pleased with our second-quarter results, primarily driven by our pet-food business and the strong performance of a number of key brands across all our businesses," said Mark Smucker, Chief Executive Officer. "This included double-digit sales increases for Nature's Recipe® dog food, Dunkin' Donuts® coffee, and Jif®peanut butter. We also experienced continued strong growth of our brands in e-commerce, as sales in this channel doubled in the quarter for our U.S. retail segments. We are confident in the ability of our brands to win in the rapidly changing retail environment. In addition, we remain focused on achieving sustainable cost reductions that both support the bottom line and fuel investments in future growth."
SJM's coffee business is still struggling, but that's not news. They raised coffee prices earlier this year, and that blew up in their face. What is new is the way the other divisions have picked up the slack. Smucker's net income rose 10% to $194.6 million. I was pleased to see operating margins come in at 17.2%, compared with 15.8% last year.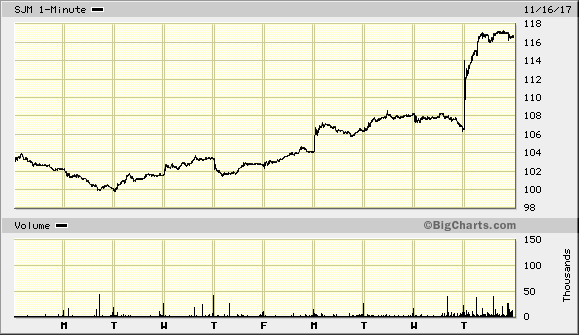 This is a welcome earnings report because Smucker had been in a jam (Heh). They bombed their last earnings report, missing consensus by ten cents per share. This time, Smucker lowered the upper end of their full-year guidance by five cents per share. The company now expects full-year earnings of $7.75 to $7.90 per share. Smucker said that reflects higher anticipated freight cost for the rest of the fiscal year.
In Thursday trading, shares of SJM jumped 9.5% to close at $116.65 per share. The stock is still trying to make up for a lot of lost ground. Going on a simple valuation basis, the stock is trading for about 15 times earnings. JM Smucker remains a buy up to $118 per share.
Ross Stores Earns 72 Cents per Share
After the close on Thursday, Ross Stores (ROST) reported Q3 earnings of 72 cents per share. Previously, they gave us a range of 64 to 67 cents per share. Ross made 62 cents per share for Q3 last year.
Looking at the numbers, this was a solid quarter for Ross. Net sales rose 8% to $3.3 billion. Comparable-store sales rose 4%. That's a key metric for retailers. Operating margins were 13.3%. That's good for a retailer, especially for a deep discounter.
Barbara Rentler, Chief Executive Officer, commented, "Our third-quarter sales and earnings outperformed our expectations despite being up against our toughest prior-year comparisons and two major hurricanes during the quarter. We are pleased with these strong results, which reflect our continued market-share gains in a challenging retail environment. Operating margin of 13.3% was better than expected, mainly due to a combination of higher merchandise margin and leverage on above-plan sales."
Now for guidance. A small note. Like other retailers, Ross uses 13-week quarters. That means, every so often, they'll have a 14-week quarter and a 53-week fiscal year. Q4 happens to be a 14-weeker. For fiscal Q4, which ends on February 3, Ross expects earnings of 88 to 92 cents per share. That's up from 77 cents for last year's Q4, which was a 13-weeker. Ross estimates that the extra week for this quarter adds about eight cents per share. So even adjusting for that, Ross is growing nicely. Adding it all up, Ross expects to make between $3.24 and $3.28 per share for this fiscal year.
This was an excellent quarter for Ross. These numbers are especially good to see because ROST has had a tough time this year. From its December 2016 peak to its July 2017 trough, shares of ROST lost 24% even though nothing about the business changed. Folks are just scared of anything in retail not named Amazon. This week, I'm raising my Buy Below on Ross Stores to $73 per share.
Earnings Preview from Hormel Foods
Hormel Foods (HRL) is another stock that hasn't joined in on the fun this year. In fact, though it's been up lately, HRL is still down 5.4% this year. Consumer-staple stocks have been lagging the market badly since February 2016. These are classic defensive stocks which means they do well when things aren't going well. The downside is that they lag when things are going well, like now.
It's best to avoid trying to guess when these cycles change. Instead, investors should understand that every so often, good stocks fall out of style. The crowd always loves to follow the next big thing. Sometimes you're surprised to find out that you already own it!
Hormel will report their fiscal Q4 earnings on Tuesday, November 21. Like Smucker, Hormel's last earnings report wasn't a great one. They made 34 cents per share which missed by three cents. So what caused the miss? The problem is that there's been a surge in demand for bacon. Normally, that's a good thing, but Hormel hasn't been able to catch up with the cost change. Their CEO said that since April, pork-belly prices have doubled. Hormel said they probably will not be able to raise prices until October. As a result, the company's profit margins got squeezed hard.
That's not all. Hormel also had a poor quarter from their Muscle Milk unit which they've spent heavily on. Plus, their turkey unit continues to see poor sales. The silver lining is that Hormel's grocery-store biz, with brands like Skippy Peanut Butter, is doing well. (By the way, Smucker owns Jif, so we have maximum peanut-butter exposure in our Buy List.)
In August, Hormel lowered its full-year guidance range to $1.54 to $1.58 per share from the previous range of $1.65 to $1.71 per share. For the first three quarters, Hormel made $1.17 per share, so their guidance means a Q4 range of 37 to 41 cents per share. Wall Street expects 40 cents per share.
Buy List Updates
In last week's issue, I mentioned the good earnings report from Continental Building Products (CBPX). The stock reacted well to the earnings news (as we know, that doesn't always happen). I'm lifting our Buy Below on CBPX to $29 per share.
Shares of Ingredion (INGR) got a big lift on Wednesday. The shares touched a new high of $134.03 after the stock was upgraded by some Wall Street firms. The company also gave a business overview. Ingredion got clobbered earlier this year, but it's gradually fought its way back and is now a 6.4% gainer for us YTD.
That's all for now. There will be no newsletter next week. I'm taking my traditional Thanksgiving break. The U.S. stock market will be closed on Thursday for Thanksgiving, and it will close at 1 pm on Friday, November 24. There's not much in the way of economic news next week. We'll get the existing-home sales report on Tuesday and durable goods on Wednesday. Be sure to keep checking the blog for daily updates. I'll have more market analysis for you in the next issue of CWS Market Review!
– Eddy
Posted by Eddy Elfenbein on November 17th, 2017 at 7:08 am
The information in this blog post represents my own opinions and does not contain a recommendation for any particular security or investment. I or my affiliates may hold positions or other interests in securities mentioned in the Blog, please see my Disclaimer page for my full disclaimer.
Archives