CWS Market Review – January 25, 2013
"Most investors want to do today what they should have done yesterday."
– Larry Summers
In the CWS Market Review from two months ago, I wrote: "But with the election behind us, the clouds have cleared, and I see a strong year-end rally ahead of us. In fact, I think the S&P 500 can break 1,500 by the early part of 2013." Well, it took the index just 24 days into 2013 to vindicate our prediction.
On Thursday, the S&P 500 indeed broke through the 1,500 barrier for the first time since December 12, 2007. The index has now risen for seven days in a row, which is its longest winning streak since 2006. The Dow is off to its best start in more than a quarter of a century.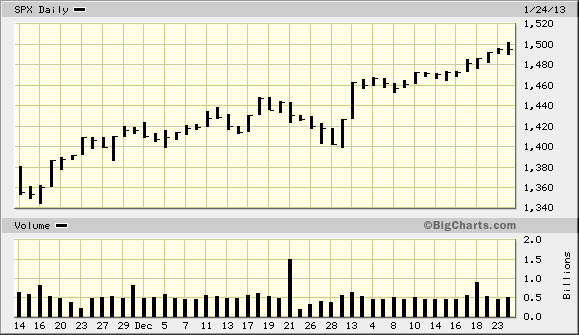 In this week's CWS Market Review, I want to focus on the Q4 earnings parade which continues to help our Buy List beat the market. Through Thursday, we're up 6.62% for the year, which is 1.81% ahead of the S&P 500. All 20 of our stocks are up for the year, and five have already logged double-digit gains.
But I have to warn you: I think the market's rally is starting to look a bit tired in the near-term. I don't see any major problems on the horizon, but I don't want investors thinking the last few weeks are "normal." They're not. There's still a lot of trouble out there for stocks that can't deliver. An example would be Apple's $250 plunge since September. Our Buy List is doing well, and it's not due to luck: it's due to quality.
Buy CA Technologies up to $27 per Share
Last week, I said that CA Technologies ($CA) should be able to beat Wall Street's earnings forecast, and that's exactly what happened. On Tuesday, CA reported fiscal Q3 earnings of 63 cents per share, which was two cents better than Wall Street's forecast. Quarterly revenue came in at $1.2 billion, which was also ahead of the Street at $1.17 billion.
This is considered to be a rather dull company, and some people think it's behind the times. But I see a good value. The day after the earnings report, the shares responded by rallying as high as $25.57 before pulling back some. If you recall from last week's issue, I raised the Buy Below price from $24 to $27. This is a solid stock, and it pays a generous dividend, but I don't want you chasing it if it continues to rally. I'm keeping my Buy Below price where it is. CA Technologies remains a good buy up to $27 per share.
We got more good news on Tuesday when Wells Fargo ($WFC) announced that it's increasing its dividend by 14% (I also saw this coming). The bank is raising the quarterly payout from 22 cents to 25 cents per share. Bear in mind that the Federal Reserve still has many of these banks on double-secret probation, so any dividend increase must be approved by Bernanke and Friends. Earlier this month, Wells reported record quarterly earnings, and it beat Wall Street's forecast. Wells Fargo currently yields 2.84% and is a solid buy up to $37.
Stryker ($SYK), the orthopedic implant maker, reported very good quarterly earnings on Wednesday. To be fair, the company had already told us to expect good news, yet the market continues to reward shares of SYK. With a 15.74% YTD gain, it's the #1-performing stock on our Buy List. Consider this fact: Shares of Stryker have lost ground only twice in the last 17 trading days.
For Q4, Stryker earned $1.14 per share, which was two cents more than Wall Street's estimate. For all of 2012, the company made $4.06 per share, which is a healthy increase over the $3.72 per share from 2011. That's very good growth for a sluggish economy.
I was particularly impressed that Stryker reiterated its full-year forecast for earnings to range between $4.25 and $4.40 per share. Frankly, that's probably too conservative, but it's smart to play it safe so early on in the year. Don't be surprised to see higher guidance from Stryker later this year.
Two weeks ago, I raised my Buy Below on Stryker to $62 per share. Even though the stock has run beyond that, I'm going to hold my Buy Below here. Again, I don't want investors to chase after good stocks. As always, our investment strategy involves discipline.
Microsoft Isn't the Disaster Everyone Thinks
After the closing bell on Thursday, Microsoft ($MSFT) reported fiscal Q2 earnings of 76 cents per share, which was a penny ahead of expectations. I think these results were decent despite widespread claims that Windows 8 has been a bust.
For the quarter, Microsoft's profits dropped by 4% compared with last year. Quarterly revenue rose 3% to $21.46 billion, which was just shy of Wall Street's forecast of $21.53 billion. The Windows division makes up about one-quarter of Microsoft's overall business, and sales there rose by 11%. However, the company is getting slammed in its entertainment and office divisions.
To be sure, Microsoft has its share of problems. The online division is a financial black hole, and Xbox revenue is falling rapidly. On the plus side, Microsoft is doing better with business customers. That's often been a tough nut for MSFT to crack. They were able to sign up more customers to long-term contracts, which bodes well for future business.
The problems Microsoft is having are plaguing the entire PC sector, and that's one of the reasons why the company has joined a possible deal to take Dell ($DELL) private. I think one analyst summed it up well when he said, "Microsoft is evolving really into an enterprise software company."
The bottom line is that Microsoft is a company with a lot of problems. But the share price is well beneath the fair value. The stock is currently going for less than 10 times this fiscal year's earnings. Microsoft remains a good buy up to $30.
More Buy List Earnings Next Week
We had some more good news this week from other Buy List stocks. I was pleased to see Bed Bath & Beyond ($BBBY) get a 4.4% lift on Thursday thanks to an upgrade from Oppenheimer. BBBY is still a good buy up to $60 per share.
Ross Stores ($ROST) got a 3.5% boost on Thursday after it was upgraded to outperform by Credit Suisse. They raised their price target on ROST from $60 to $68. Ross Stores is an excellent buy up to $62.
I'm writing this early Friday, and later today Moog ($MOG-A) will report earnings. In the CWS Market Review from November 16, when Moog was going for $34, I said it could "be a $45 stock within a year." Try within ten weeks. Moog just broke $45, but don't chase it if it crosses $46.
Next week, we get earnings reports from Ford ($F), Harris ($HRS) and CR Bard ($BCR). I'm especially looking forward to strong results from Ford. The consensus on Wall Street is for earnings of 26 cents per share, and Ford should beat that by a lot. I haven't heard details yet from Nicholas Financial ($NICK), but it's very likely they'll also report next week.
That's all for now. Earnings season continues next week. The government will also give us a first look at Q4 GDP report. Next Friday will be the important jobs report. The jobless claims reports have been quite good recently, so that may be a harbinger of a strong jobs number. Be sure to keep checking the blog for daily updates. I'll have more market analysis for you in the next issue of CWS Market Review!
– Eddy
Posted by Eddy Elfenbein on January 25th, 2013 at 8:18 am
The information in this blog post represents my own opinions and does not contain a recommendation for any particular security or investment. I or my affiliates may hold positions or other interests in securities mentioned in the Blog, please see my Disclaimer page for my full disclaimer.
Archives