CWS Market Review – February 1, 2013
"There are two times in a man's life when he shouldn't speculate:
when he can afford to and when he can't." – Mark Twain
Remember the panic about the Fiscal Cliff? And the Debt Ceiling? And the Sequester? And about a dozen other things the financial media told us—insisted—that we simply had to worry about?
Well, here we are a few weeks later. The Dow Jones Industrial Average just closed out its best January in 19 years. The Wilshire 5000, the broadest measure of the U.S. stock market, is just below its all-time high.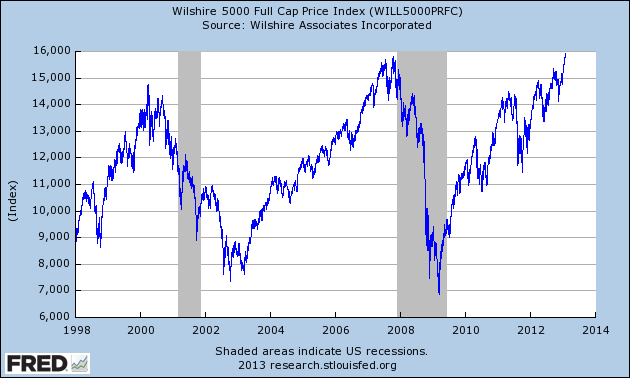 Fortunately, we stuck by our strategy and ignored the noise-making scaremongers on TV. What's perhaps more impressive is how low the market's volatility has been. Consider this: On Wednesday, the S&P 500 had a rather minor loss of just 0.39%, and that was its worst loss of the year! Between January 9th and January 25th, the S&P 500 rallied 12 times in 13 sessions, and the only downer was a miniscule 0.09% drop.
But I have to be frank. The rally is beginning to look a little tired. For example, the S&P 500 tried to break 1,510 a few times this week and wasn't able to bust through. That's not a good sign. I think it's very possible the bears may take back control of Wall Street in February. Nothing too serious, mind you, but just enough to scare the bulls away.
This was a mixed week for our Buy List stocks. The earnings reports were quite good, but some of our stocks, like Ford Motor ($F) and Harris ($HRS), didn't respond well. That's frustrating, but as you know, we're in this game for the long haul.
We also had a negative GDP report for Q4, and that spooked a lot of folks. As odd as it may sound, the negative report really wasn't that bad. When you look past the plunging military spending, the economy is better than it looks, and we're poised for decent growth in 2013. The other big news this past week was the Fed meeting. We learned that Bernanke & Co. are firmly committed to keeping the money spigots going for a while longer. Some folks misread the December minutes, believing that the Fed was going to pull back soon. Sorry, not a chance.
Now let's take a look at some of our recent Buy List earnings reports.
Ford Is a Buy up to $15 per Share
In last week's CWS Market Review, I told you to expect a big earnings beat from Ford Motor ($F). Technically, I was correct. The company earned 31 cents per share, which was 24% higher than the 25 cents per share that Wall Street was expecting.
Despite the earnings beat, Ford warned that its losses in Europe this year would be worse than it had anticipated. Traders overreacted (of course, or they wouldn't be traders) and brought the stock back below $13 per share. Let me be clear that Ford's business is doing very well, especially in North America. Their pre-tax earnings in North America soared 110% from Q4 of 2011.
The New York Times described Q4 as a "microcosm of Ford's recent overall performance." In other words, strong America, weak Europe. But Ford's strength in North America didn't come about quickly. It was part of a painful restructuring process that's only now paying dividends (literally, as Ford doubled its payout three weeks ago). Ford is employing that same turnaround strategy in Europe today, and the good news is that they're far ahead of General Motors.
Don't worry about the pullback in Ford. If you don't already own it, the stock is a very good deal, especially if you can get it below $13. Thanks to the higher dividend, Ford currently yields 3.1%. I rate Ford a solid buy up to $15 per share.
Lower Guidance from Moog and Harris
On Tuesday, Harris ($HRS), the communications equipment company, reported earnings of $1.25 per share for the December quarter, which is the company's fiscal Q2. This was five cents ahead of Wall Street's consensus. Quarterly revenue dropped from $1.31 billion to $1.29 billion.
While Harris's results were good, the news that has me concerned is that the company lowered its full-year guidance. I find that I often tell investors not to worry about this, or don't worry about that. But lower guidance is indeed something to worry about. (By the way, I'm very glad we ditched JoS. A Bank from this year's Buy List. The stock got pounded for a 15% loss on Monday after it gave an ugly earnings warning.)
Previously, Harris saw full-year earnings ranging between $5.10 and $5.30 per share. The company lowered that range by 10 cents per share at both ends. Harris now sees earnings ranging between $5.00 and $5.20 per share. So really, the guidance isn't that much lower. We have to put this in context of a stock that closed the day on Thursday at $46.20, which is about nine times earnings.
Harris now sees 2013 revenue dropping by 2% to 4%. The previous range was flat to negative 2%. The company blamed the lower guidance on "slower government spending resulting from growing budget uncertainty." It's still early in the year, so I'm not giving up on Harris, but I want to see some improvement later this year. Harris remains a good buy up to $53.
Moog ($MOG-A) also joined the lower-guidance club, and like Harris, the news is disappointing but hardly dire. Last Friday, Moog lowered its full-year guidance from a range of $3.50 to $3.70 per share to $3.50 to $3.60 per share.
John Scannell, Moog's CEO, noted that the company is off to a slow start this year, "The weakness in the major economies around the world is affecting our industrial business. On the other hand, the aircraft market is strong. We have moderated our forecast for the year slightly, but we are still projecting growth in both sales and earnings in 2013, despite the headwinds in our industrial markets." Interestingly, Scannell's comment reflects the same news about lower defense spending that we saw in the GDP report.
Moog's quarterly revenues were up 3% to $621 million. Net earnings dropped 6% to $34 million. On a per-share basis, Moog made 75 cents last quarter. Since no one follows them, I can't say if that beat or missed expectations. The stock still looks good for the long-term. Moog is a good buy up to $46 per share.
Profit Machine at Nicholas Financial Continues to Hum
On Wednesday, Nicholas Financial ($NICK), our favorite used-car loan company, reported quarterly earnings of 37 cents per share. But the results were distorted by taxes on their ginormous dividend late last year. Not including that, Nicholas earned 43.6 cents per share. Frankly, that's a bit lower than I was expecting (around 45 cents per share), but not by much. I'm not a fan of NICK's escalating operating costs, and I hope that doesn't become a problem.
Our larger thesis for NICK still holds: that the company can rather easily churn out 45 cents per share every quarter. As long as rates are low and the economy is improving, NICK will do well. The math is pretty straightforward. Any company that's pulling in, say, $1.80 per share per year should be going for at least $15, and possibly closer to $17. I think investors see NICK as a shaky subprime play. It's not. In fact, NICK has gotten more conservative over the past few years. Like Ford, NICK pulled back below $13. Again, don't be alarmed. NICK is a solid buy up to $15.
One more late earnings report. After the close on Thursday, CR Bard ($BCR), the medical technology firm, reported earnings of $1.70 per share, which beat consensus by three cents per share. Bard made $6.57 per share for all of 2012, which is up from $6.40 per share in 2011. I like that kind of growth. The downside is that Bard warned that 2013 will be rough, but they see extra-strong growth coming in 2014 and beyond. For now, I'm lowering my Buy Price on Bard to $102.
More Buy List Earnings Next Week
We're now heading into the back end of earnings season, and the results have been good so far. The latest numbers show that of 237 companies in the S&P 500 that have reported, 74% have beaten earnings expectations, and 66% have beaten sales expectations.
Next week, we have four more Buy List earnings reports due: AFLAC ($AFL), Cognizant Technology Solutions ($CTSH), Fiserv ($FISV) and WEX Inc. ($WXS). I'm curious to hear what AFLAC has to say. Three months ago, they told us that Q4 earnings will range between $1.46 and $1.51 per share. That means full-year 2012 earnings between $6.58 and $6.63 per share. The problem is that AFLAC's bottom line has probably been squeezed by the low yen. The question how is, how much? AFLAC has said to expect 2013 earnings to rise by 4% to 7%, but that's on a currency-neutral basis. I like AFL up to $57.
Cognizant publicly said they expect earnings of 91 cents per share, and their forecast is usually very close. For this year, I think they can make $4 per share. I'm looking to see what kind of guidance they provide for 2013. CTSH remains a good buy up to $83.
Two weeks ago, Fiserv guided lower for Q4 but higher for all of 2013. I think this stock has some room to run. Fiserv is a good buy up to $88. Before I go, I wanted to highlight Microsoft ($MSFT). The shares are an especially good buy if you can get them below $28.
That's all for now. Stay tuned for more earnings reports next week. We'll also get important reports on factory orders and productivity. Be sure to keep checking the blog for daily updates. I'll have more market analysis for you in the next issue of CWS Market Review!
– Eddy
P.S. Our old friend Russell Wasendorf, Sr. was just sentenced to 50 years in prison for massive fraud. Here's our post from this summer on ol' Russ, and tips for how you can spot financial fraud.
Posted by Eddy Elfenbein on February 1st, 2013 at 7:20 am
The information in this blog post represents my own opinions and does not contain a recommendation for any particular security or investment. I or my affiliates may hold positions or other interests in securities mentioned in the Blog, please see my Disclaimer page for my full disclaimer.
Archives