CWS Market Review – April 12, 2013
"The main purpose of the stock market is to make
fools of as many men as possible." – Bernard Baruch
That's so true, Bernie. The market's been making fools of lots of folks this year. Despite the lousy jobs report from last week, the stock market continues to march ever higher.
The market has easily jumped over every hurdle the bears have thrown its way. Fiscal Cliff? No problem. Debt ceiling? Not a chance. Cyprus? Trader, please.
Even the fabled Great Rotation turned out to be a dud. Investors seem to be buying both stocks and bonds while they're leaving commodities behind. On Thursday, the S&P 500 jumped as high as 1,597.35. Dear lord, we're nearly at 1,600, and I thought I was being bold last year when I predicted the index would break 1,500 sometime early in 2013. Since the last major low shortly after the election, the S&P 500 has added more than 18%. The index has been above its 50-day moving average every day so far this year.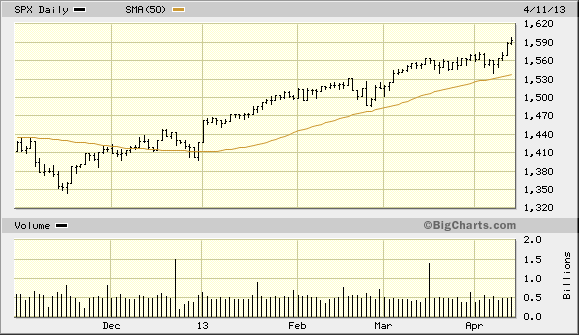 Let's enjoy the good times, but always be mindful that the market gods are a fickle bunch. I urge all investors to be conservative and focus on top-quality stocks such as the ones you can find on our Buy List.
In this week's CWS Market Review, we'll look at the good earnings report from Bed Bath & Beyond ($BBBY). The home furnisher beat earnings by a penny, and the shares gapped up on Thursday morning…and then back down on Thursday afternoon. Also on Thursday, Ross Stores ($ROST) jumped nearly 6% after the deep discounter said that earnings would come in above expectations. I really like Ross Stores right now. Later on, I'll highlight the upcoming earnings reports from Microsoft ($MSFT). But first let's look at the good news from Bed Bath & Beyond.
Buy Bed Bath & Beyond up to $68 per Share
After the close on Wednesday, Bed Bath & Beyond ($BBBY) reported fourth-quarter earnings of $1.68 per share. This was for the months of December, January and February quarter, so it included the important holiday season. Comparable-store sales rose by a healthy 2.5%. For the entire year, the company earned $4.56 per share. One small note: BBBY's 2012 fiscal year was 53 weeks long, so that slightly distorts some of the comparisons. I like BBBY a lot, and this earnings report confirms my view that it's a well-run outfit.
Now that BBBY's fiscal year is over, this is a good time to go back to last June and remind ourselves of how irrational traders can be. On June 21st, BBBY got slammed for a 17% loss after the company gave an earnings warning that ultimately amounted to 1.5%. At the time, Wall Street had been expecting full-year earnings of $4.63 per share which represented 14% growth over 2011. Instead, BBBY said that earnings growth would be in "the high single digits to low double digits." Disaster, right? You would have thought so from listening to panicked investors. But as I mentioned before, BBBY earned $4.56 per share for 2012, which was up 12% for the year, and only 1.5% below Wall Street's original forecast. Yet that was the news that caused a 17% riot in June.
In December, BBBY told us that Q4 earnings would range between $1.60 and $1.67 per share. The market also didn't take that news well, since Wall Street's consensus had been for $1.75 per share. So the good news for this earnings report was that BBBY exceeded its own range for Q4. Since the market greatly overreacted to BBBY's lower guidance, the upshot for us is that the shares have rebounded impressively, and BBBY is currently the fifth-best-performing stock on our Buy List.
For Q1, Bed Bath & Beyond sees earnings coming in between 88 cents and 94 cents per share. Notice how much lower the profit is in Q1 compared with Q4. Retailers live and die by the holidays. Wall Street had been expecting 95 cents per share, and frankly I had been expecting a little more as well. For the full year, the company sees earnings rising "by a mid single to a low double digit percentage range." If we assume that means 4% to 11%, that gives us a range of $4.74 to $5.06 per share, and Wall Street had been expecting $5.06 per share. That's decent growth.
On Thursday, BBBY jumped up to a 4.3% gain in the morning but gradually retreated the rest of the day. The stock eventually closed at $64 for a 2.3% loss. Despite the intra-day wobbles, I really like what I'm seeing at BBBY. The company has zero debt, tons of cash and a share-purchase program that actually reduces the number of shares outstanding. Don't let the volatility rattle you. I'm raising my Buy Below price to $68 per share.
Ross Stores Says It Will Exceed Guidance
Three weeks ago, Ross Stores ($ROST) reported very good results for their fiscal fourth quarter, and the shares rallied. This wasn't a big surprise to anyone who follows the company. Ross is a solid business, and it has a great track record of delivering strong earnings. On the Q4 conference call, Ross said that Q1 earnings should come in between $1 and $1.04 per share. That's up from 93 cents per share for Q1 of 2012.
Well, it looks like business at Ross is going better than expected. On Thursday, they said that April comparable-store sales rose by 2%. Internally, they were expecting a decrease between 1% and 2%. Thanks to the good sales numbers, Ross said they should exceed the upper limit of their previous guidance.
Traders loved that news. At one point on Thursday, shares of ROST touched $65. At the closing bell, the shares settled at $63.80 for a 5.9% gain. Earnings for Q1 won't come out until the middle of next month, but I don't want folks left behind. I'm raising my Buy Below on Ross to $70 per share.
Upcoming Earnings Reports
Many other Buy List stocks are doing well. I was pleased to see Ford Motor ($F) break out to a two-month high. The company reported excellent sales for March. Our healthcare stocks have been doing especially well. Both Medtronic ($MDT) and Stryker ($SYK) just hit new 52-week highs. Stryker is our top-performing stock on the year, with a 21.9% YTD gain, and Medtronic comes in at #4 with a 16.3% gain. Healthcare stocks have done well as the market has taken on an increasingly defensive posture, which is unusual for such a robust rally. Outside of healthcare, Fiserv ($FISV), the financial-services tech firm, also hit a new 52-week high. I was also happy to see quiet little Moog ($MOG-A) come oh so close to making a new 52-week high.
I'm writing this week's newsletter early on Friday morning. Later today our two big banking stocks, JPMorgan ($JPM) and Wells Fargo ($WFC), are due to report earnings, and the results are probably out by the time you're reading this. Nevertheless, I continue to expect great things from JPM and WFC. Over the last decade, JPM has traded for an average of two times its tangible book value. Right now, it's only at 1.3 times. Wells has beaten earnings for the last five quarters in a row.
We're coming up to a slow patch in the middle of a very busy earnings season. The only earnings report on tap for next week will be from Microsoft ($MSFT). However, the week after next will be jammed packed with Buy List earnings reports. Let me add that this is going on the info I have right now. Earnings reporting dates often change, and many companies aren't very forthcoming with that information.
Next Thursday, April 18th, Microsoft will release its earnings for the first three months of the year. That is the third quarter of their fiscal year. The last earnings report, which was in January, beat estimates by one penny per share. This time around, the consensus is that Microsoft will earn 76 cents per share. That's a 26.7% increase over last year's fiscal Q3. I think there's a very good chance Microsoft will beat earnings again.
Shares of Microsoft had been rallying recently, but that upturn abruptly ended on Thursday when the bears skinned MSFT for a 4.4% loss. The catalyst was a report that PC sales have been dismal lately. Goldman downgraded the stock to "Sell." The good news was that the shares bounced off the 200-day moving average, so the stock has defenders out there. The stock is going for just over nine times next year's earnings. I'm expecting a big dividend increase in September. Microsoft remains a buy up to $30.
Washington's Sequester Nails Harris
After the closing bell on Thursday, Harris Corp. ($HRS) dropped a bomb on investors. The company said that purchase delays due to the federal government's sequester will take a bite out of their fiscal Q3 earnings (January, February and March). Harris's CEO said, "Operating under a continuing resolution followed by sequestration and the related indecision surrounding how sequestration budget cuts will be implemented has delayed U.S. Government procurement decisions and reduced spending." Ugh.
Harris said they're expecting to earn $1.12 per share for fiscal Q3 which is 14 cents below the Street's consensus. They previously had said that full-year earnings would range between $5.00 and $5.20 per share. But due to the delays, Harris now expects $4.60 to $4.70 per share. The CEO also said, "The uncertainty is unprecedented, and the political budgetary process is progressing slowly. As a result, we are not anticipating a return to typical procurement processes before the end of our fiscal year." Full-year revenue is expected to fall by 6% to 7%.
Harris said that they'll take a charge in the fourth quarter so they can streamline operations, consolidate facilities and pay down debt. That's a smart move. The stock got dinged for a 7% loss in after-hours trading. This is very frustrating news for Harris, especially since it doesn't reflect poor execution on their part. The company will report earnings on April 30th. For now, I want to take a wait-and-see approach. I'm lowering my Buy Below to $45 per share.
That's all for now. Stay tuned for more earnings next week. Microsoft reports on Thursday. Don't forget that on Monday, WEX Inc. will change its ticker symbol to WEX. The old symbol was WXS. On Tuesday, the government will release important reports on inflation and industrial production. Be sure to keep checking the blog for daily updates. I'll have more market analysis for you in the next issue of CWS Market Review!
– Eddy
Posted by Eddy Elfenbein on April 12th, 2013 at 7:04 am
The information in this blog post represents my own opinions and does not contain a recommendation for any particular security or investment. I or my affiliates may hold positions or other interests in securities mentioned in the Blog, please see my Disclaimer page for my full disclaimer.
Archives