CWS Market Review – July 5, 2013
"Do you know the only thing that gives me pleasure?
It's to see my dividends coming in." – John D. Rockefeller
This will be an abbreviated issue of CWS Market Review. Trading this week was shortened due to Independence Day, and most of the fat-cat Wall Streeters are relaxing at their cribs in the Hamptons.
Don't fear, my friends. My vigilant team and I are still on the watch, protecting you from whatever mayhem comes our way. The good news is that our Buy List continues to do very well. Through Wednesday, our Buy List is up 16.18% for the year compared with 13.27% for the S&P 500. That's our widest lead all year.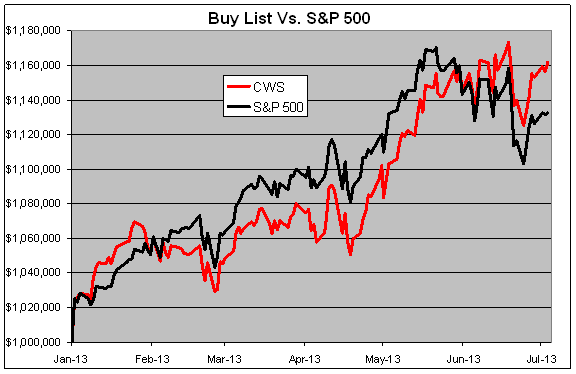 In this week's CWS Market Review, I'll discuss the recent good news from Moog and Ford. Both stocks have been big winners for us lately. I'll also talk about the upcoming Q2 earnings season. JPMorgan Chase and Wells Fargo will be our first stocks to report on Thursday, July 11th. But first, let's look at why Ford just broke out to a new two-year high.
Good News for Ford and Moog
On Wednesday, shares of Ford ($F) closed at $16.43, which is the automaker's highest close in 29 months. The catalyst for the move was a very strong sales report for June. Ford reported that sales were up 13% last month. The best news was that sales of F-150 pickups, which are a key moneymaker for Ford, jumped 24%. Ford said that sales in China are up 44% from last year. In May, China sales were up 45%. Ford has been busy playing catch up to GM in China.
Ford is due to report Q2 in a few weeks. The current estimate on Wall Street is for earnings of 36 cents per share, which would be a 20% increase over last year's Q2. I should add that Ford has been creaming its estimates lately. I like this stock a lot. Ford remains a very solid buy up to $18 per share.
In last week's CWS Market Review, I raised our Buy Below on Moog ($MOG-A) to $55 per share. That was pretty good timing! This week, Moog said that it's looking at strategic options for its medical-devices division. That's Wall Street-ese for "we're looking to sell it." I like when companies sell off units, and usually, so do investors. The stock broke $54 on the news, which is an all-time high.
The medical devices unit comprises just 5.7% of Moog's overall business, but sales were down last year. As much as the market responds to the financial benefits of the divestiture, I think the market appreciates management's willingness to shake things up. The company is due to report earnings at the end of the month. Wall Street currently expects earnings of 89 cents per share. Moog remains a good buy up to $55 per share.
Second-Quarter Earnings Season Begins Next Week
We've heard a lot of talk of how well companies should be doing, but beginning next week, we'll finally see hard evidence of how well companies have performed. Earnings season is Judgment Day for Wall Street, and we'll soon learn who's been pulling their weight and who hasn't. Fifteen of the 20 stocks on our Buy List ended their quarter on June 30th. This means that three-fourths of our portfolio will report earnings over the next month.
Wall Street is clearly nervous going into this earnings season. The analyst community currently expects index-adjusted earnings of $26.40 for the S&P 500. In the past year, that estimate has been revised downward by $2.50, including more than $1 in the last three months. Citigroup recently noted that negative pre-announcements have been outrunning positive ones by a ratio of 6.5 to 1. That's the worst ratio since 2009, back when the world was falling apart.
I actually think the pessimists have gotten ahead of themselves here. While earnings expectations did need to come down, I suspect that growth is ramping up in several sectors. I especially think the damage from Europe won't be as bad as is feared. The big trend recently has been share buybacks. For Q1, buybacks were up 17% from the year before. I think that will continue to be a major theme this year.
Our first two Buy List stocks to report this earnings season will be both of our big banks, JPMorgan Chase ($JPM) and Wells Fargo ($WFC). This is fortuitous for several reasons. First, both are excellent stocks. They're also good bellwethers for the rest of the financial sector. Also, both banks made a decision recently to go all in on the mortgage business, which has been a huge winner for them. Both stocks are 20% winners for us this year.
JPMorgan had an insanely good first quarter. As much as Jamie Dimon annoys me, I have to admit that the bank still gets it done. Q1 earnings came in at $1.59 per share, which was 20 cents more than the Street's consensus. There was some pushback from traders' saying that the earnings beat was solely due to a tax benefit and some accounting adjustments.
But don't let the bears scare you. JPM is doing very well. Wall Street expects Q2 earnings of $1.43 per share, and I think they'll have little trouble beating that. Thanks to a pullback from the May high of $55.90, JPM is going for just 9.2 times this year's earnings estimate. Jamie also recently raised the dividend by 26.7% to 38 cents per share. JPM currently yields 2.88%. The stock is an excellent buy up to $56 per share.
The business at Wells Fargo tends to be more stable than what we see at JPMorgan, and by extension, it tends to be more predictable. For Q1, Wells saw its earnings rise 22%, and they beat expectations by four cents per share. Their community banking division has been especially strong. Wells rewarded shareholders with a 20% dividend boost. Interestingly, the current yield is 2.91%, which is nearly the same as JPM.
For Q2, the Street expects 92 cents per share for Wells. That sounds about right, maybe a penny or two too low. The important thing for us to see is that business is continuing to improve. I also like that Wells and JPM took advantage of low rates to raise tons of cash from investors. Wells Fargo is a good buy up to $46 per share.
New Buy Belows for WEX and BBBY
I'm again going to raise my Buy Below on WEX Inc. ($WEX). The stock has taunted us long enough! WEX did dip below our $75 Buy Below recently, and it's started to run up again. I'm raising our Buy Below to $80 per share.
I'm also raising Bed Bath & Beyond ($BBBY) to $75 per share. The stock has responded well to its recent earnings report, and I don't want it to run away from us. BBBY remains a very good buy.
That's all for now. I told you this would be a short one. Don't forget: earnings season kicks off next week. The stock and bond markets are still recuperating from the last Fed meeting. On Wednesday, we'll finally get a look at the minutes from that meeting. I suspect that these minutes will confirm the view that the Fed is in no rush to shut off the money spigots. Be sure to keep checking the blog for daily updates. I'll have more market analysis for you in the next issue of CWS Market Review!
– Eddy
Posted by Eddy Elfenbein on July 5th, 2013 at 8:08 am
The information in this blog post represents my own opinions and does not contain a recommendation for any particular security or investment. I or my affiliates may hold positions or other interests in securities mentioned in the Blog, please see my Disclaimer page for my full disclaimer.
Archives