CWS Market Review – July 25, 2014
"People always call it luck when you've acted more sensibly than they have."
– Anne Tyler
Like the honey badger, this stock market just doesn't care. Was it going to be tripped up by Ukraine? Nope. Gaza? Nope. Fed tapering? Not a chance. The stock market keeps chugging higher. On Thursday, the S&P 500 finished the day at 1,987.98 for its 27th record close this year. Not that long ago, 2,000 for the S&P 500 was a distant hope. Now, it looks like we'll hit it any day now.
This week has been all about earnings, earnings and more earnings. So far, the earnings have been pretty good. According to the latest numbers from Bloomberg, 77% of the S&P 500 companies that have reported so far have topped Wall Street's expectations. Also, 64% have beaten their sales expectations. The S&P 500 is currently on track to deliver Q2 earnings growth of 6.2% and sales growth of 3.3%.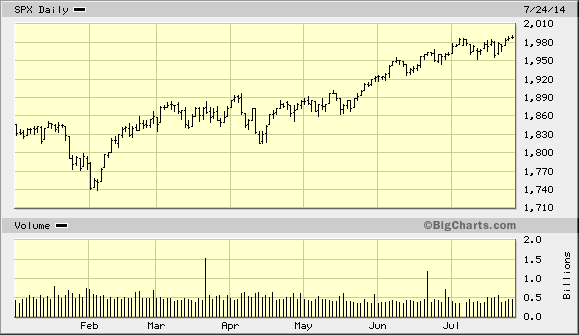 Our Buy List has been very busy this week; we had seven earnings reports. Thanks to good earnings, Ford Motor jumped out to a new 52-week high. Even boring CA Technologies rallied 4.5% after a strong earnings report. I'll review all of our recent earnings in a just a moment. I'll also highlight four Buy List earnings reports coming next week. I should mention that weekly jobless claims just dropped to an eight-year low, which bodes well for next week's jobs report. But first, let's take a closer look at our mass of earnings reports.
Surveying the Earnings Parade
We have a lot to go through, so let's start with Tuesday's earnings report from McDonald's and Microsoft. Unfortunately, the McDonald's ($MCD) news wasn't very good. The fast-food joint earned $1.40 for Q2, which was four cents shy of Wall Street's consensus. In the U.S., same-store sales dropped by 1.5%.
It's no secret that MCD has made a lot of missteps. This is particularly painful when we see the outstanding results from Chipotle ($CMG), a company MCD used to own. Simply put, McDonald's ($MCD) is not in a good way right now. As an investor, I like when companies hit rough patches since there's a good opportunity to find a bargain. The catch, of course, is that the company has to right itself.
I think the folks at MCD understand the position they're in, although I think the reforms may take a while to impact the business. For now, MCD is indeed a cheap stock. The shares got hit by a bunch of downgrades after the earnings report. Going by Thursday's close, MCD yields 3.4%. Not many blue chips pay that well. The restaurant said that it's planning to reform itself over the next 18 months. They'd better get cracking. I'm lowering my Buy Below on McDonald's to $101 per share.
Except for Nokia, Microsoft Is Looking Good
Microsoft's ($MSFT) earnings report was a bit confusing, but after giving it a read, traders decided they like it. After the bell on Tuesday, the software giant reported fiscal Q4 earnings of 55 cents per share. That was five cents below consensus. The shares quickly plunged in the after-hours market.
Then more details came out, and it turned out that the results weren't that bad at all. Microsoft's quarterly revenue rose a healthy 18% to $23.4 billion. The company also pleased investors last week when they announced big job cuts. It's not that the market is happy about folks losing their jobs, but they're pleased to see that MSFT is working to streamline operations. Most of those jobs are from Nokia.
The big problem for Microsoft is that Nokia's handset business is a money loser. The division could turn into a winner in the long term, but the outlook is rather iffy at the moment. The good news for Microsoft is that their cloud business is going very well. Microsoft remains a good buy up to $48 per share.
Earnings from CA Technologies and Qualcomm
On Wednesday, two of our tech stocks reported results, CA Technologies and Qualcomm. I have to admit that I've become quite frustrated with CA Technologies ($CA). However, the company earned itself a temporary respite from my doghouse by reporting decent results. For their fiscal Q1, CA earned 65 cents per share, which was five cents better than estimates. Quarterly revenue dropped 2% to $1.069 billion. This was the ninth quarter in a row of falling revenue.
But the important news was guidance. For fiscal 2015, which ends next March, CA sees revenues falling by 1% to 2%. They also said they expect to see earnings range between $2.42 and $2.49 per share. Apparently this relieved a lot of investors. The shares jumped 4.5% on Thursday to close at $29.64. Even with that rally, we're still down nearly 12% on the year with CA. The big positive continues to be the 25-cent quarterly dividend. The stock yield now works out to 3.4%. CA remains a buy up to $31 per share.
Technically, Qualcomm ($QCOM) reported amazing earnings for their fiscal third quarter. The company earned $1.44 per share, which crushed estimates by 22 cents per share. In April, they said they were expecting Q3 earnings to range between $1.15 and $1.25 per share. Well, I guess they beat that!
The good news and bad news for Qualcomm is China. The country continues to be a great customer, but several companies there "are not fully complying with their contractual obligations." As a result, the company had weak guidance for the current quarter. For fiscal Q4, Qualcomm sees earnings ranging between $1.20 and $1.35, which is below Wall Street's consensus of $1.39 per share.
Thanks to the blow-out earnings Q3 report, Qualcomm raised their full-year EPS range to $5.21 – $5.36, from the earlier range of $5.05 – $5.25. Note that QCOM's earnings beat was larger than the lower guidance. Nevertheless, traders didn't like the China news and the shares fell by more than 6% on Thursday. Qualcomm is a buy up to $83 per share.
Ford Motor Is a Buy up to $19 per Share
On Thursday, Ford Motor ($F) reported another strong quarter. This is their first one under their new CEO, Mark Fields. I really like what I'm seeing at Ford. Alan Mulally and his team deserve a lot of credit. The company made 40 cents per share for Q2, which beat consensus by four cents per share. This was Ford's 20th profitable quarter in a row.
I was also pleased to see Ford stand by its forecast for this year of $7 billion to $8 billion in pre-tax profit. The really good news is that Ford managed to eke out a teeny tiny profit in Europe of $14 million. Of course, $14 million may sound like a lot, but in ROE terms, to an outfit like Ford, it's peanuts. Still, no one was expecting they'd be at peanuts in Europe this early. Ford is clearly moving in the right direction.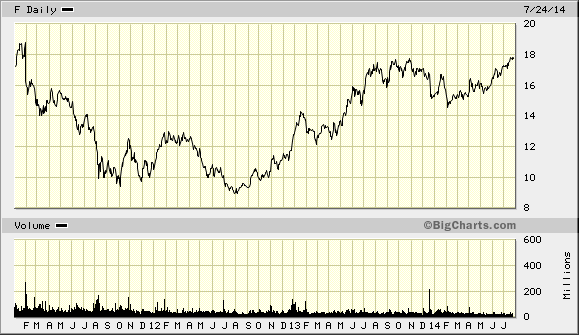 This is a key moment for Ford. They're introducing a bunch of new vehicles, and that requires a lot of up-front money. Overall, the company is holding the line on costs. One weak spot was South America, where they lost $300 million. Ford earned $2.4 billion in operating profit in North America. That's a company record. The new Mustang and aluminum F-150 are due later this year, and that could give a nice boost to sales.
On Thursday, the shares jumped as high as $18.12, which is a three-year high (see above). Ford is a solid buy up to $19 per share.
CR Bard Beats Low-Balled Expectations
In April, CR Bard ($BCR) told us to expect Q2 earnings to range between $1.98 and $2.02 per share. Last week, I said I thought they were low-balling us, and sure enough, on Thursday, Bard reported Q2 earnings of $2.06 per share.
I know companies like to lower the bar on earnings and then try to impress us by topping phony expectations. I don't blame Bard for playing the game, but I'll let you know it when I see it.
Overall, they had a decent quarter. Quarterly sales rose 9% to $827.1 million. Bard's chairman and CEO, Timothy M. Ring, said, "Once again we exceeded our expectations for revenue growth this quarter. We continue to believe that executing our investment plan will accelerate the sustainable growth rate of the overall portfolio and put us in a position to provide revenue growth in the mid-to-high single digits with attractive returns for shareholders."
Now let's turn to guidance. For Q3, Bard expects earnings to range between $2.07 and $2.11 per share. They shouldn't have trouble hitting that. Bard also increased their full-year range by five cents at each end. The new range is $8.25 to $8.35 per share.
If you recall, Bard raised their quarterly dividend last month from 21 to 22 cents per share. They've raised their dividend every year since 1972. I rate CR Bard as a buy up to $151 per share.
Upcoming Buy List Earnings
We have four earnings reports coming next week. Three of our stocks, AFLAC, Express Scripts and Fiserv, report on Tuesday, July 29. Then DirecTV reports on Thursday, July 31. (Also, earnings from Moog are due out later today. Be sure to check the blog for the latest.)
Shares of AFLAC ($AFL) have improved recently. The supplemental-insurance company has worked to diversify its investment portfolio. The yen/dollar ratio has been fairly stable since February. The company has performed well, but foreign exchange has taken a big chunk out of earnings. Three months ago, AFLAC said to expect Q2 operating earnings between $1.54 and $1.68 per share. Their full-year guidance was $6.06 to $6.40 per share. Both forecasts are based on a yen/dollar exchange rate between 100 and 105. AFLAC is a buy up to $68 per share.
In April, Express Scripts ($ESRX) beat earnings by two cents per share, but they lowered their full-year guidance to $4.82 to $4.94. That was a decrease of six cents per share at each end. Express Scripts remains a buy up to $74 per share. That's a high Buy Below price. I may lower it after the earnings report.
Fiserv ($FISV) hit another 52-week high this week. This stock has climbed almost non-stop for the last three years. Wall Street expects Q2 earnings of 80 cents per share. Fiserv is a buy up to $64 per share. I may have to raise that soon.
DirecTV ($DTV) is still our big winner on the year, with a 25% gain. There's not much to say about DTV since the $95 buyout deal with AT&T. DTV's volatility has nearly evaporated, and the stock is trading like a zero-coupon bond that matures at $95 at some point. The stock is now almost exactly 10% below its merger price.
That's all for now. More earnings to come next week. Wall Street will also have an intense 48 hours between Wednesday and Friday. On Wednesday morning, the government will release its first estimate of Q2 GDP. The Fed also meets, and later that day, the FOMC will release its latest policy statement. Friday is Jobs Day, and we'll also get a look at the ISM report for July. Be sure to keep checking the blog for daily updates. I'll have more market analysis for you in the next issue of CWS Market Review!
– Eddy
Posted by Eddy Elfenbein on July 25th, 2014 at 7:05 am
The information in this blog post represents my own opinions and does not contain a recommendation for any particular security or investment. I or my affiliates may hold positions or other interests in securities mentioned in the Blog, please see my Disclaimer page for my full disclaimer.
Archives