CWS Market Review – November 14, 2014
"Things are almost never clear on Wall Street, or when they
are, then it's too late to profit from them." – Peter Lynch
Consider this fact: In the last four weeks, the value of the global stock market has increased by a staggering $3.4 trillion. For some reason, we were terrible investors in September and early-October, but we've been brilliant investors ever since.
Or…perhaps, the mood of investors turned on a dime. It's hard to believe that only a few days ago, investors were scared out of their wits about impeding elections, a deteriorating economy in Europe and truly scary news about the Ebola virus. How times have changed!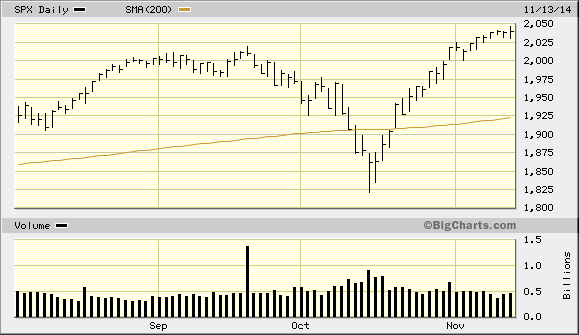 Investors shook these fears off and the stock market rallied to new highs again this week. Through Tuesday, the S&P 500 hit record closing highs for five straight days. The index has now made 40 record highs this year. That compares with 45 record highs last year. The S&P 500 has closed higher 16 times in the last 21 trading days, and three of those five declines were pretty measly (less than 0.2%). In the last month, we've experienced only one meaningful daily decline. This has been a golden time for investors, although trading volume has been very low (some chart watchers say that's a bad sign).
In this week's CWS Market Review, we'll take a closer look at what's driving this market. The simple explanation is that what's been happening is still happening, only more so. Don't worry; I'll explain what it all means in a bit. I'll also review this past earnings season. Except for a few duds, this was a solid earnings season for our Buy List. I'll also preview two Buy List reports coming our way next week. Yes, the October reporting cycle is already upon us. We also had another good jobs report last week. But first, let's look at what's driving this market.
What's Driving this Market
This has been a fascinating rally of late because we can see several factors at work. The most important factor continues to be the strength of the U.S. dollar. I'm afraid I might sound like I'm discussing the same phenomenon each week, but the dollar's impact is crucial to what's impacting our portfolios.
Since the economy in Europe and Japan are still quite weak, the governments there are purposely trying to weaken their currencies. It's not so much that the dollar is truly strong; it's that the greenback is the tallest Munchkin in Munchkin Land. Of course with forex, that's all that matters. The yen just dropped to a seven-year low against the dollar. It looks like the government is about to call snap elections there. The British pound recently fell to a 14-month low against the dollar.
One impact of the rising dollar is that it puts the squeeze on commodity prices. The price of gold recently fell to a four-year low. Gold has been in a near non-stop plunge over the last three years. Since its 2011 peak, gold has lost close to $800 per ounce. That's not all. Crude oil has been falling as well. On Thursday, oil fell below $75 per barrel. For the first time since 2010, prices at the pump are below $3 per gallon.
One of the reasons for the drop in oil is that Saudi Arabia has stepped up production. Normally, the Saudis would try to curtail their output in an attempt to prop up prices. This is probably evidence of OPEC's declining influence. We can also see that Energy stocks have been quite weak (see the chart below). Many of the large oil stocks have mostly sat out this rally. The Energy Sector ETF ($XLE) is down slightly for the year, while most other sectors have done quite well. We currently don't have any Energy stocks on the Buy List so that's been a big help. I don't see a broad rally for the Energy sector starting anytime soon.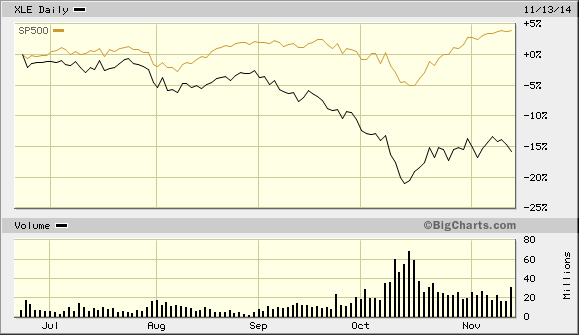 Lower gas prices have been a welcome relief for many consumers. Despite the growth in payrolls, workers haven't seen any real improvement in their wages. Since 2007, median income is down by 5%. About 10% of retail sales goes towards gasoline so lower prices at the pump frees up more money for other items. On Thursday, Walmart ($WMT) impressed Wall Street by reporting earnings that topped the consensus figure by three cents per share. The stock jumped 4.7% on the day. Business has been going well for WMT lately. Next year, Walmart has a good chance of clearing $500 billion in annual revenue.
Walmart's strength has been good news for our favorite retailers. Shares of Bed Bath & Beyond ($BBBY) breached $71 this week. The stock hasn't been that high since January. Our other big retailer, Ross Stores ($ROST), is due to report its fiscal Q3 earnings on Thursday, November 20. This is for the quarter that ended in October. Like BBBY, Ross has been rallying strongly lately. The shares topped $83 on Thursday for a fresh 52-week high. It was only four months ago that Ross was languishing at $62 per share.
For ROST's last earnings report in August, the deep discounter beat estimates by six cents per share. The stock jumped more than 7% the next day, and it has continued to rally. For Q3, Ross said it expects earnings to range between 83 and 87 cents per share. Oh, please. That's almost certainly too low. (Ross tends to be conservative with its estimates.)
For Q4 (November, December and January), Ross expects to see earnings between $1.05 and $1.09 per share. Naturally, the holiday season is very important for any retailer. For this year, Ross sees earnings coming in between $4.18 and $4.26 per share. Ross is getting pricier but it's far from outrageous. For now, I'm keeping our Buy Below tight, at $83 per share. If the results are good, I'll raise the Buy Below. Ross Stores continues to be a solid stock. Our patience has paid off.
Finance and Healthcare Have Been the Leaders
The two sectors of the market that have taken the lead for the Strong Dollar Trade are Healthcare and Finance, although Healthcare's big run has preceded the emergence of the Strong Dollar Trade. The Healthcare Sector ETF ($XLV) has been a steady winner since February 2011. The recent election results also gave a boost to many Healthcare names.
The Healthcare stocks on our Buy List have also been doing quite well. Stryker ($SYK), Medtronic ($MDT) and CR Bard ($BCR) all hit new 52-week highs on Thursday. All three stocks are also handily beating the market this year. The Buy List is overweighted with Healthcare and that's been good for us this year.
Medtronic is due to report earnings on Tuesday, November 18. This will be for their fiscal second quarter. Three months ago, the medical device stock topped earnings by a penny per share. For Q1, revenue rose 4.7% to $4.27 billion, which was $20 million better than expectations. Medtronic had its strongest growth for U.S. medical devices in five years.
The best news for Medtronic recently was the result of last week's election. While I caution investors not to let their politics interfere with their investments, it appears that Congress will try to repeal the medical devices tax. I can't say if this will happen, but it's interesting to note that shares of MDT bounced nicely the day after the election.
Medtronic has stood by its intended acquisition of Covidien ($COV). The company plans to rework the specifics so it can clear any new regulations concerning tax inversions. This week, the company also offered concessions to please EU regulators. Medtronic will restructure the financing for the $43 billion deal which will allow the American company to reincorporate in Ireland and thereby lower its tax bill.
Medtronic has said they see full-year earnings (ending in April) ranging between $4.00 and $4.15 per share. Wall Street currently expects Q2 earnings of 96 cents per share. I don't expect a big earnings beat from Medtronic. Rather, I expect to see more steady growth. This is an ideal stock for conservative investors. Medtronic is a buy up to $70 per share. Again, I'll raise the Buy Below if earnings are strong, but I caution you not to chase it. Disciplined investors wait for good stocks to come to them.
Financial stocks have been more of a direct beneficiary of the Strong Dollar Trade. The Financial sector has led the market since August 20, although many financials got dinged hard in early October.
Our big banking stock is Wells Fargo ($WFC), and that's ridden the recent wave quite nicely. Shares of WFC touched a new high a few days ago. The bank's earnings have been very good lately, and they've navigated a difficult time for the industry. Wells is by far the best-run big bank in the country. (By the way, I'm so happy we got rid of JPMorgan this year.) Wells Fargo is a buy up to $54 per share.
Survey of Q3 Earnings Season
Earnings season is just about done, so let's look at where we stand. Of the 445 companies in the S&P 500 that have reported so far, 332 beat expectations, 73 missed and 40 met.
For Q3, the S&P 500 is on track to report operating earnings of $29.83 per share. That's an index-adjusted number, and it represents an increase of 10.8% over last year's Q3. (These numbers are from S&P and they sometimes differ from other news sources.) At the start of the year, Wall Street had been expecting $30.89 for Q3. The estimates gradually fell as the year wore on. I should add that estimates generally start out too high, and it's common to see them fall as earnings day approaches.
Over the last four quarters, the S&P 500 has earned $114.74 per share, so the index is going for 17.8 times that. Wall Street currently expects Q4 earnings to come in at $31.13 per share. That would be an increase of 10.2% over last year's Q4. I like to see these steady 10% to 12% increases.
Interestingly, the estimates for Q4 had been fairly stable for much of the year. At the beginning of 2014, Wall Street was expecting $32.17 for Q4. On September 30, the estimate had increased by a tiny bit to $32.24. Only recently have the numbers come down.
If the current Q4 estimate is accurate, it would bring full-year earnings to $117.62. That would be an increase of 9.6% over last year. I'm fine with that. Going by Thursday's close, the S&P 500 is now up 10.33% this year. In other words, the S&P 500 has largely kept pace with earnings this year. Despite some careless talk of bubbles, valuations haven't changed. I should add that dividend growth has mostly tracked share prices as well.
In other words, there's no bubble. The threat to the market isn't excess valuations. Rather, it's the potential for lack of growth. I don't see difficulties in the immediate horizon, but that could change. As long as rates stay low, and the economy expands, stocks are the place to be.
Buy List Updates
This week, for the first time since September, shares of Ford ($F) topped $15 per share. The company finally started production on its aluminum-based F-150 trucks. This could be a game changer for the industry. (I hate that cliché so forgive me, but it's true in this case.) Ford is currently going for less than 10 times next year's earnings. The automaker just reported very good sales growth in Europe, especially in Britain and Italy. Ford remains a good buy up to $17 per share.
Earlier I mentioned that Stryker ($SYK) reached a new 52-week high. I also expect to see Stryker increase its dividend soon. Last year's increase came on December 4. The company currently pays 30.5 cents per share. I think that will go up to 33 to 34 cents per share. Stryker is a buy up to $90 per share.
That's all for now. Next week, we'll get important reports on Industrial Production and Capacity Utilization. On Wednesday, the Fed will release the minutes from the last FOMC meeting. That's when the Fed decided to end Quantitative Easing. On Thursday, we'll get the latest report on Consumer Inflation. I expect to see more evidence that the strong dollar is holding back prices. We'll also get earnings reports from Medtronic and Ross Stores. Be sure to keep checking the blog for daily updates. I'll have more market analysis for you in the next issue of CWS Market Review!
– Eddy
Posted by Eddy Elfenbein on November 14th, 2014 at 7:17 am
The information in this blog post represents my own opinions and does not contain a recommendation for any particular security or investment. I or my affiliates may hold positions or other interests in securities mentioned in the Blog, please see my Disclaimer page for my full disclaimer.
Archives