CWS Market Review – November 21, 2014
"Become more humble as the market goes your way." – Bernard Baruch
Before I get into this week's CWS Market Review, I have two announcements. The first is that there will be no newsletter next week. It's Thanksgiving, and I'm taking a little break. The second is that I'll be unveiling next year's Buy List in the CWS Market Review on December 19, 2014, which is four weeks from today.
As always, I'll be adding five stocks and deleting five stocks. The 2015 Buy List won't take effect until the start of trading in January. I like to announce the names a few days ahead of time so no one can claim the positions are somehow manipulated. Later on in today's newsletter, I'll give you a list of some stocks I'm thinking about adding or deleting.
Now…about this lethargic stock market. The recent market hasn't merely been slow; it's been one of the sleepiest markets in history. Every day, it seems, the indexes climb higher, but only microscopically. The S&P 500 just closed out a five-day run where it didn't close higher or lower by more than 0.1%. That hasn't happened in 50 years.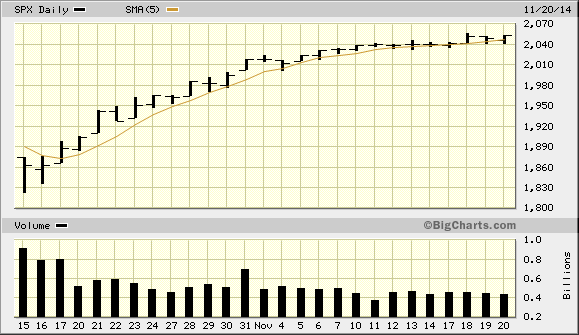 The S&P 500 hasn't had a meaningful down day in nearly a month. The last time the index dropped by more than 0.3% (which isn't that much) was on October 22. The S&P 500 has closed higher 19 times in the last 26 sessions, but most of those were very small increases. The index has now closed above its five-day moving average for an amazing 25 straight days. That's the longest streak since 1986. On Thursday, the market closed at yet another all-time high.
I'm pleased to note that our Buy List continues to do well. We had two very good earnings reports this week. Medtronic jumped nearly 5% on Tuesday after it reported good earnings. Then on Thursday, Ross Stores handily beat Wall Street's earnings consensus, and the shares are poised to move much higher. I'll give the details on those in just a bit, but first let's look at some ideas I'm considering for the 2015 Crossing Wall Street Buy List.
Potential Changes for Next Year's Buy List
According to the rules of our Buy List, I select 20 stocks each year. The portfolio is then locked and sealed, and I can't make any changes for the next 12 months. (This set-and-forget rule has probably helped me more than I realize, since it's prevented me from dumping good names at the first sign of trouble.) Each year, I swap out five names, which means my annual portfolio turnover is just 25%.
Right now, the five names I'm considering for deletion are CA Technologies ($CA), DirecTV ($DTV), IBM ($IBM), McDonald's ($MCD) and Medtronic ($MDT). This is just a preliminary list: there's no guarantee that these will be the ones to be cut when I make the big announcement next month.
Let me run through some thoughts on each of the names.
We did very well with DirecTV ($DTV), and I was happy to have it on our Buy List. But now it's time to say goodbye. If all goes according to plan, the company will soon be bought out by AT&T. I like AT&T, but I'd rather not have it on our Buy List.
Medtronic ($MDT) is in a similar position. The medical-device stock has done very well for us, and particularly well lately (I'll discuss this week's earnings report in a bit). But Medtronic is about to become a very different company from the one we originally bought. The Covidien deal is a gigantic undertaking. They're basically doubling in size, and there will need to be a lot of cost-cutting. If all goes well, Medtronic will soon take the name Medtronic PLC and will be incorporated in Ireland.
IBM ($IBM) and McDonald's ($MCD) are also problematic. I simply made a mistake with both stocks. I thought both stocks were turning around, but the problems are more serious than I imagined. I think the prospects for McDonald's could improve, but it's too early to say. Their sales are flat, while competitors like Chipotle are cranking same-store-sales growth of 20%. IBM made a series of errors, and I think there need to be some changes at the top. Frankly, I think the two companies share a trait: they aren't sure what kind of business they want to be.
CA Technologies ($CA) may be the weakest of the bunch. Their sales are in a tailspin. I should have pulled the plug a long time ago. As an investor, I always need to be frank about my mistakes, and I missed how serious the problems were at CA.
Ten Possible Additions for Next Year's Buy List
Here are ten stocks I'm strongly considering for next year's Buy List:
Alliance Data Systems ($ADS)
Babcock & Wilcox ($BWC)
Cardtronics ($CATM)
Colgate-Palmolive ($CL)
FactSet Research Systems ($FDS)
Howard Hughes Corporation ($HHC)
SEI Investments ($SEIC)
Signature Bank ($SBNY)
Tupperware Brands ($TUP)
Westinghouse Air Brake Technologies ($WAB)
I reserve the right to change my mind over the next four weeks, but I can say that these ten stocks are under serious consideration for next year's Buy List. I don't want to go into more detail, though, until I've made my final decision. Now let's look at some recent earnings news.
Medtronic Is a Buy up to $76 per Share
In last week's CWS Market Review, I said that I didn't expect a big earnings beat from Medtronic ($MDT), and I was right. On Tuesday, the medical-device maker reported fiscal Q2 earnings of 96 cents per share. That met expectations right on the nose. For comparison, the company earned 91 cents per share for last year's Q2.
The important news is that Medtronic continues to do well. The company also took the opportunity to reiterate that the Covidien ($COV) deal is on track. They hope to close the deal by the beginning of next year. At that time, Medtronic will reincorporate in Ireland, and its new name will be Medtronic PLC. The deal is up for a shareholder vote on January 6. I think it will pass easily.
For Q2, quarterly sales came in at $4.37 billion, which was a shade more than the consensus of $4.36 billion. Medtronic also reiterated its full-year earnings outlook of $4.00 to $4.10 per share. Their fiscal year ends in April, and Medtronic has already made $1.89 for the first two quarters of this year. That means they see earnings ranging between $2.11 and $2.21 per share for the last six months of this fiscal year. Medtronic earned $2.03 for the back-half of FY 2014.
Omar Ishrak, Medtronic's CEO, said, "Revenue growth was at the upper end of our full-year revenue outlook and within our mid-single digit baseline goal, reflecting the strong execution of our global organization."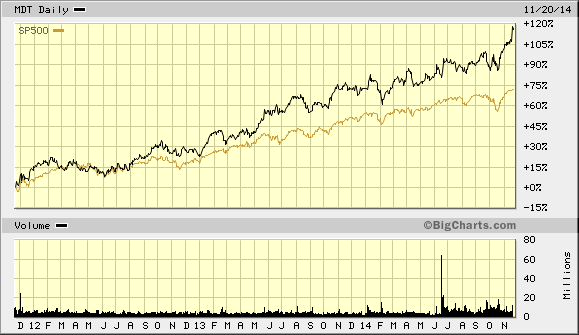 The shares popped 4.7% on Tuesday and reached a new all-time high price. In the last three years, Medtronic has gained more than 116% for us, compared with 72% for the S&P 500. As I said before, there's a good chance that Medtronic won't be on next year's Buy List, but that's due to the deal, and not to any business failure. This week, I'm raising my Buy Below on Medtronic to $76 per share.
Ross Stores Beat Earnings
In last week's CWS Market Review, I wrote, "For Q3, Ross said it expects earnings to range between 83 and 87 cents per share. Oh, please. That's almost certainly too low." I was right again. The deep discounter earned 93 cents per share for its fiscal third quarter.
I wish I could say this was due to my supernatural powers to divine the future. I'm sad to say that I was simply looking at the numbers, and the math said Ross is doing just fine. Quarterly sales rose 8% to $2.599 billion. Same-store sales, which is the key number for retailers, were up by 4%. Ross continues to deliver.
The CEO said, "We are pleased with the better-than-expected sales and earnings we achieved in the third quarter. These results were driven by our ongoing ability to deliver compelling bargains to our customers, which drove above-plan sales gains and strong merchandise gross margins. Operating margin for the quarter grew 55 basis points due to a 40-basis-point improvement in cost of goods sold and a 15-basis-point decline in selling, general and administrative expenses."
Now let's look at their guidance. For Q4, which is the all-important holiday shopping season, Ross forecasts earnings between $1.05 and $1.09 per share. Ross earned $1.02 for last year's Q4. For the entire year, Ross sees earnings ranging between $4.28 and $4.32 per share. That's an increase of 10% to 11% over last year.
Ross Stores is an excellent example of our style of investing. The stock had a miserable first half of 2014. By July, shares of ROST had dropped below $62. The shares were down more than 17% on the year. But the numbers still looked good, and we held on. ROST has rallied strongly ever since. The shares are now up more than 11% for the year, which is just ahead of the S&P 500.
The stock looks to open higher on Friday morning. This week, I'm raising our Buy Below on Ross Stores to $91 per share.
That's all for now. The stock market will be closed next Thursday for Thanksgiving. The market will close at 1 pm on Friday. This is usually the slowest trading day of the year. There's not much reason for the market to be open, but the NYSE hates to have the exchange closed four days in a row. The only interesting economic report will come on Tuesday when we get the first revision to Q3 GDP. The initial report said that the economy grew by 3.5% for Q3. Be sure to keep checking the blog for daily updates. I'll have more market analysis for you in the next issue of CWS Market Review!
– Eddy
Posted by Eddy Elfenbein on November 21st, 2014 at 7:08 am
The information in this blog post represents my own opinions and does not contain a recommendation for any particular security or investment. I or my affiliates may hold positions or other interests in securities mentioned in the Blog, please see my Disclaimer page for my full disclaimer.
Archives