Live from the Senate Banking Committee
I'm here LIVE at the Senate Banking Committee ready to watch Benny B. testify. OK, I'm not LIVE live—I'm actually at a nearby Starbucks, but my scone and I are about to step inside. I probably won't be able to get a good connection this morning, but don't despair. I'll have a complete report later today.
Here's the deal: In 1978, Congress passed the Humphrey-Hawkins Full Employment Act which requires the Fed chairman to climb out of his cave twice a year, bang his club and appear before Congress. Much jargon follows. The first day is before the Senate Banking Committee, and the following day is in front of the House Financial Services Committee. That's right, two committees, same job, different names.
I live blogged the hearings from this past summer. It got up to 89 degrees that day. Last night, we got a dusting of snow, and the city is totally paralyzed. If America's enemies only knew how easily D.C. could fall. The Red Army, that we can handle. Three-quarters of an inch of snow, not so much.
Today is kind of a big deal because the Congressional Democrats are probably under Wall Street's spotlight more than Big Ben. The current monetary policy seems pretty well understood on Planet Wall Street. But now Congress is being run by these hippy freak liberals, and they're probably eager to show that they're not so hippy or freaky.
The hearing begins with senators giving their opening remarks. The chairman is Chris Dodd of Connecticut, who's also running for president. I'm guessing he'll drone on. There aren't a lot of Big Name senators on this committee. I guess Liddy Dole, maybe Chuck Schumer. But it's mostly the Tim Johnsons, Robert Bennetts and Evan Bayhs-types. If you kinda recognize their name, but you couldn't place the face, they're probably on Senate Banking.
The one guy I'm excited to see is Senator Jim Bunning of Kentucky. He's a retired baseball pitcher, and Hall of Famer. Bunning hates Bernanke. I mean, he HATES him. It's not personal. He hates all monetary policy that's not giving away free money. He's also – how should I say — not the brightest member of the committee. Bernanke, by contrast, has some sort of super-atomic computer brain. Anyway, it makes for great TV.
After the senators give their opening statements, then it's Bernanke's turn. His speech is usually posted beforehand on the Fed's Web site so Wall Street already has an idea what he's going to say. This speech gets a lot of attention. When Bernanke spoke in July, the market jumped 212 points. After Ben is through, the senators get to ask questions.
If you're watching on TV, I'll try to get a seat right behind Benny. The first few rows are reserved, but I'll do what I can. I'm wearing a blue shirt with a gold tie. (And the gold tie isn't a political statement, it's just one of my few clean ones.) Here's a clue to my vast readership. Whenever Ben says "net capital inflows," I'll cough really loud. So listen for me, ok. Ben is probably good for three or four of those. That cough is me (or maybe Bunning).
Here's my take on how this will play out. I think the big story will be, "Barnanke Warns Inflation Threat Remains." That's an easy story, and it almost writes itself. (Update: Score one for CWS! FT: Battle against inflation not quite won, warns Bernanke.) In July, he stunned me, and everybody else, by saying that the Fed's model sees core inflation cooling off later this year. That was a darn good call, and I think Bernanke tremendously increased his cred. The Fed had raised rates for the 17th straight time only three weeks before he spoke, plus oil prices peaked just five days before, but we didn't know that at the time.
The 12-month rolling rate of core inflation peaked in September, and has gradually ticked down since. I think it will be natural for Bernanke to say that the war isn't over just yet.
Also, if you see any other "Bernanke Warns" headlines, please send them my way.
Here's how I see it:
#1
Barnanke Warns Inflation Threat Remains
High Probability:
Bernanke Warns on Deficits
Bernanke Warns on Economy
Could Happen:
Bernanke Warns on Trade
Bernanke Warns on Income Gap
Long Shot:
Bernanke Warns on Raven-Haired Reporters
Bernanke Warns on Spiders
9:42: OK, I made it. Great seats, right behind Ben. It's interesting how few people are actually here. All I see are a few aides mingling around, and a TV crew. That's it. Here's a picture.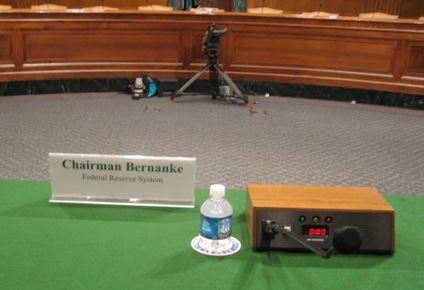 So Bernanke drinks Deer Park. Another scoop for blogs! Greenspan used to do shots of Jagermeister. God, I miss him.
9:51: No senators are here yet. I dunno…last-minute make-up? By the way, I think the real fireworks will be tomorrow when Barney Frank takes the stage.
10:08: Bernanke just walked in. Geez, the photographers are going crazy. Here's another shot: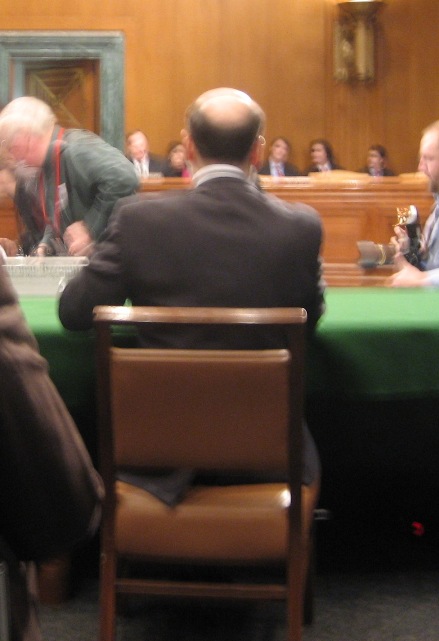 Sorry for the blurriness, but this is how close I am. I could touch his beard. (I won't.) But still!
10:12: Dodd is speaking. He's being very generous to Ben. Right now, he's going on about health care costs, real median family income, blah, blah, blah.
10:20: Senator Bayh said that he's not going to have an opening statement. Well, that's one way not to stick your foot in your mouth.
10:27: Bunning is being surprisingly nice to Bernanke. He said that he was afraid that Bernanke was going to be a "carbon copy" of his predecessor. Although he said that he wasn't going to let him off that easy, "even though it's Valentine's Day." Thankfully, most of the senators' statements are fairly brief.
10:34: Now Bernanke is speaking. Here's his statement from the Fed's Web site. This is the money paragraph:
The projections of the members of the Board of Governors and the presidents of the Federal Reserve Banks are for inflation to continue to ebb over this year and next. In particular, the central tendency of those forecasts is for core inflation–as measured by the price index for personal consumption expenditures excluding food and energy–to be 2 to 2-1/4 percent this year and to edge lower, to 1-3/4 to 2 percent, next year. But as I noted earlier, the FOMC has continued to view the risk that inflation will not moderate as expected as the predominant policy concern.
That's good news. I see that the market has a nice bump up this morning. Bed Bath & Beyond (BBBY) is up to a new high. So is FactSet Research Systems (FDS).
I count twelve senators; Tester, Casey, Brown, Menendez, Bayh, Reed, Shelby, Bennett, Hagel, Bunning, Sununu and Martinez. No Dole or Schumer, although the latter was around earlier.
Here a few quick comments on Bernanke's statement. Most of his comments are descriptive, not projections, but he did give some very general forecasts. I'm glad to see that the Fed sees inflation continuing to ebb this year and next. That's the big news of the day. I also thought it was interesting that the Fed is slightly lowering its GDP growth expectations for this year (2.5% to 3%, down from 2.75% to 3%).
Something that caught my ear was Bernanke's emphasis on inflationary expectations. Here's what he said:
Another significant factor influencing medium-term trends in inflation is the public's expectations of inflation. These expectations have an important bearing on whether transitory influences on prices, such as those created by changes in energy costs, become embedded in wage and price decisions and so leave a lasting imprint on the rate of inflation. It is encouraging that inflation expectations appear to have remained contained.
Posted by Eddy Elfenbein on February 14th, 2007 at 12:57 pm
The information in this blog post represents my own opinions and does not contain a recommendation for any particular security or investment. I or my affiliates may hold positions or other interests in securities mentioned in the Blog, please see my Disclaimer page for my full disclaimer.
Archives