The Dow By Each Day of the Week
Here's how the Dow Industrials have performed by each day of the week going back to 1896.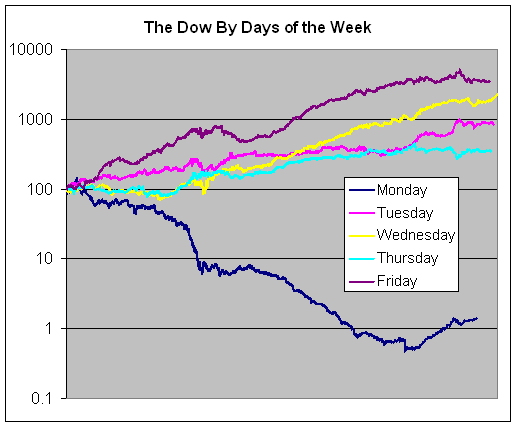 Note that the lines aren't exactly lined up because there aren't the same number of trading days for each day.
Yuck, that Monday line is horrible. In fact, the Dow is down 58% for Monday, Tuesday and Thursday combined. So much Efficient Market Theory! To be fair, Monday has recovered a lot since 1987.
The big winner is Friday, but Wednesday has slowly closed the gap over the past few decades. And as I've written before, Wednesday has been the big winner of the past few years. In fact, all of the market's gain has come on Wednesday.
Here are the average returns for each day:
Monday…………..-0.0784%
Tuesday…………..0.0379%
Wednesday………0.0550%
Thursday………….0.0220%
Friday………………0.0634%
Here are the standard deviations:
Monday…………..1.3849%
Tuesday…………..1.0616%
Wednesday………1.1106%
Thursday………….1.0350%
Friday………………1.0536%
Posted by Eddy Elfenbein on September 26th, 2007 at 9:31 am
The information in this blog post represents my own opinions and does not contain a recommendation for any particular security or investment. I or my affiliates may hold positions or other interests in securities mentioned in the Blog, please see my Disclaimer page for my full disclaimer.
Archives