CWS Market Review – April 27, 2012
This has turned out to be a very good earnings season, and it might be strong enough to help the market break out of its April slump. The S&P 500 just wrapped up its best three-day run since February. On Thursday, the index broke 1,400 for the first time in three weeks, and the Dow is within striking distance of a new bull market high.
For Q1, earnings for the S&P 500 now look to grow by 3.3%. That's not great, but going into earnings season, analysts had been expecting measly growth of just 0.8%. According to the latest numbers from Bloomberg, 267 stocks in the S&P 500 have reported first-quarter earnings. Of that, 190 have topped estimates while 32 have reported inline and 45 have fallen short. That "beat rate" is the highest in at least ten years.
Some folks will say that the only reason the beat rate is so high is that estimates were dramatically cut back in the months leading up to earnings season. That's true, but it ignores the important fact that the damage from Europe hasn't been nearly as bad as what many investors expected. Remember how Greece was going to bring everyone down? Or how the Double Dip was upon us? Well, that ain't gonna happen. In fact, more companies are raising their earnings guidance. The S&P 500 is on track to earn more than $105 this year.
In this week's CWS Market Review, we'll take a look at the recent earnings report from our Buy List stocks. Dude, how about AFLAC? The insurance company shocked Wall Street this week (but not us) by reporting very solid numbers. The stock jumped nearly 8% on Wednesday.
We also have a slew of earnings reports coming next week including Fiserv ($FISV), Harris ($FISV) and Wright Express ($WXS). By the way, Wright staged a nice rally this past week. I think investors correctly suspect another good earnings report is on its way. I'm also expecting another strong report from Nicholas Financial ($NICK).
Bard Beats Estimates by Four Cents Per Share
But first, let's review some of the earnings reports from this past week. In last week's CWS Market Review, I said that CR Bard's ($BCR) Q1 guidance of $1.53 to $1.57, "sounds about right." I'm happy to say that I was wrong. On Tuesday, the company reported earnings of $1.61 per share which was four cents higher than Wall Street's consensus. The earnings report noted that the medical equipment company is doing especially well outside the United States.
For Q2, Bard sees earnings ranging between $1.61 and $1.65 per share. For the full year, they're sticking with their previous forecast of 3% to 4% growth. Bard earned $6.40 per share in 2011 so that translates to 2012 earnings of $6.59 to $6.66 per share. My view: That's probably too low, but it makes sense to be conservative early on in the year. Bard is a very strong buy any time you see shares below $102.
Reynolds American ($RAI) was our first earnings dud this season, and I suspect it will be the last. The company earned 63 cents per share which was two cents shy of estimates. The shares took a hit and briefly dropped below $40. As I said in last week's CWS Market Review, I'm not at all concerned if Reynolds beats or misses by a small amount. The key is their full-year guidance and the company just made it clear—they're sticking with it. Reynolds sees earnings this year ranging between $2.91 and $3.01 per share. If you're an investor seeking income, you may want to take advantage of this pull-back in Reynolds. The shares currently yield 5.52% which is equivalent to roughly 730 points on the Dow. Reynolds is a very good stock.
On Tuesday, Hudson City ($HCBK) announced first-quarter earnings of 15 cents per share, which was inline with estimates. The good news is that the bank continues to recover. For last year's first quarter, the bank got hammered for a loss of $1.13 per share. The problem for Hudson City is that as rates remain low, so will their profit margins. Still, the bank is healthy and the stock is very underpriced. Hudson City now yields 4.53%. The shares are a good buy up to $7.50.
AFLAC Crushes Wall Street's Estimate
Now for the best news of the week which was AFLAC's ($AFL) blow-out earnings. Last week, I said that Wall Street's earnings forecast of $1.65 was "almost certainly too low." I was right—the company earned $1.74 per share. One of the reasons for the earnings surprise was the yen/dollar exchange rate which added four cents per share to the bottom line. AFLAC also revised its sales growth forecast for AFLAC Japan to +10%. Previously, they had been expecting a sales decline.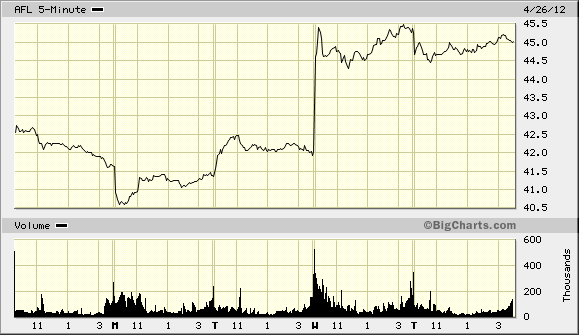 This next part gets a little technical so please bear with me. Because of some accounting changes, AFLAC's earnings for last year will be restated slightly lower. However, AFLAC says that its 2012 earnings-per-share target of $6.46 to $6.65 is still on. Previously, AFLAC had said that it sees earnings growing by 2% to 5% for this year. With the restatement, that now becomes 3% to 6%.
But here's the key: AFLAC has said that earnings growth in 2013 will be better than 2012, and they reiterated that again this week. So let's say that AFLAC earns $6.60 per share this year. Considering they just beat earnings by a lot, I think it's reasonable to assume they'll be at the high end of their range. That translates to 5% growth for this year. If AFLAC accelerated to, say, 6% growth next year, that comes to earnings of $7 per share. In other words, the stock is probably going for a little more than six times next year's earnings.
I like AFLAC a lot. The stock had been trending lower ever since the last earnings report which was a miss by four cents per share. But Tuesday's strong earnings report led to a 7.8% surge on Wednesday. I expect a continued rally from AFLAC. The stock is a strong buy up to $53.
One quick word on Johnson & Johnson's ($JNJ) dividend. In the CWS Market Review from two weeks ago, I said that Johnson & Johnson will soon raise its dividend for the 50th year in a row. My expectation was that J&J would raise the dividend from 57 cents to 60 cents per share. I was right about the dividend increase but I was off on how much by one penny. J&J raised their quarterly dividend to 61 cents per share. Going by Thursday's close, Johnson & Johnson now yields 3.77%. That's nearly twice a 10-year Treasury. Plus, J&J's debt is rated AAA while Uncle Sam's is not. I rate Johnson & Johnson a strong buy up to $70 per share.
Look for an Earnings Surprise from Wright Express
We have more Buy List earnings ahead. This Tuesday, May 1st, Fiserv and Harris report earnings. Then on Wednesday, Wright Express reports. I'll touch on a few of these stocks briefly.
Fiserv ($FISV) is an excellent stock. The company previously said it sees earnings this year coming in between $5.04 and $5.20 per share which means the stock is going for less than 14 times earnings. That's a good deal. However, my concern is that Wall Street's forecast for Q1 is $1.15 which may be slightly too high.
If Fiserv misses, the stock will take a beating. If you're looking to start a position here or add to a current one, wait until after the earnings report. The stock may be a lot cheaper. Make no mistake—the long-term outlook for Fiserv is excellent. The stock is a good buy up to $75.
Wright Express ($WXS) is our best candidate for an earnings beat next week. Three months ago, Wright said to expect Q1 earnings between 87 and 93 cents per share. The company has made it a habit to beat their forecast by a good margin. For all of 2012, Wright expects earnings between $4.10 and $4.30 per share. Look for more good news here. I'm raising my buy price from $65 to $68 per share. (By the way, Investor's Business Daily had a good article, "Wright Express Invests Creatively In Its Staff.")
I don't know when Nicholas Financial ($NICK) will report its earnings but I suspect it will be on Thursday, May 3rd. The used car financier is hugely undervalued. Here are some numbers: This earnings report will be for NICK's fiscal fourth quarter. For the first three quarters, the company made $1.35 per share. Assuming they make 45 cents per share for fiscal Q4, that will bring earnings for the year to $1.80 per share. This means NICK is going for 7.3 times earnings. They can easily raise their 10-cent quarterly dividend by 50%. At the very least, NICK should be a $17 stock.
I don't have much to say about quiet little Harris Corp. ($HRS) except that it continues to perform. Harris already boosted its dividend by 18% this year. The company sees fiscal-year earnings (ending in June) ranging between $5.10 and $5.30 per share which makes the stock very inexpensive. Harris is a solid buy up to $45.
I'm writing this on Friday morning, so the earnings for Ford ($F) and Moog ($MOG-A) are already out by the time you're reading this. I'll have more to say about them on the blog, but I will highlight the fact that Ford is an exceptional bargain right now. I doubt the stock will stay under $12 much longer.
That's all for now. Stay tuned for more earnings reports next week. We're also going to get the April jobs report next Friday. Be sure to keep checking the blog for daily updates. I'll have more market analysis for you in the next issue of CWS Market Review!
– Eddy
Posted by Eddy Elfenbein on April 27th, 2012 at 6:27 am
The information in this blog post represents my own opinions and does not contain a recommendation for any particular security or investment. I or my affiliates may hold positions or other interests in securities mentioned in the Blog, please see my Disclaimer page for my full disclaimer.
Archives