What If the Stock Market Turned Out to Be Lower in 2042 than It Is Today?
What if I told you that the stock market would be lower 30 years from today? It's sounds implausible but that's what happened 100 years ago.
The Dow Jones had been rallying during the summer of 1912. The Olympics had just been held in Stockholm, and the Democrats were preparing to retake the White House for the first time in 20 years.
The Dow Jones Industrial Average peaked at 94.15 on September 30, 1912. That was the highest point the market had been in two-and-a-half years. It was also to be the highest point the market would be for another three years. The onset of World War I was not good for stocks.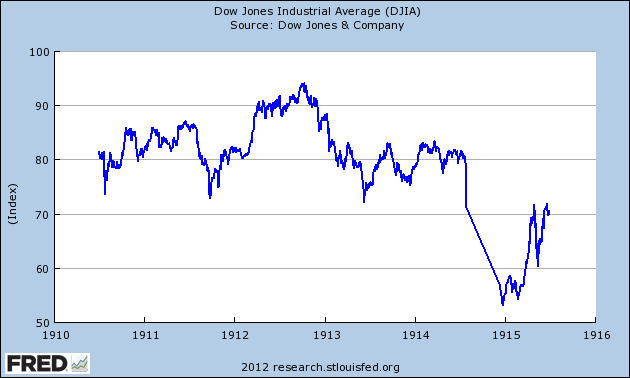 But what I find most interesting, and most frightening, is a fact that all investors need to understand: The Dow didn't finally shake its 1912 high until 1942. That's right, thirty years later. On April 28, 1942, the Dow bottomed out at 92.92.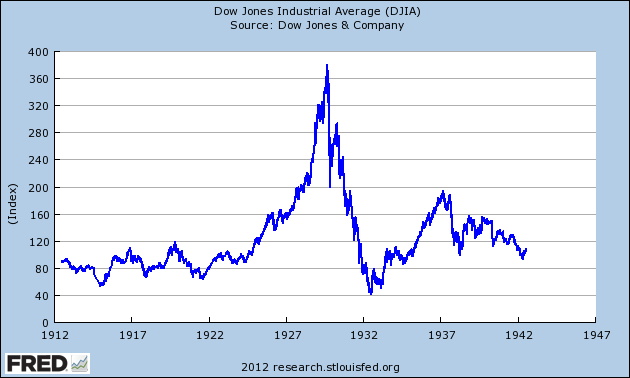 Dividends, of course, helped out a lot. But remember that the "stocks for the long run" thesis is based on several decades worth of data.
Posted by Eddy Elfenbein on August 20th, 2012 at 11:10 am
The information in this blog post represents my own opinions and does not contain a recommendation for any particular security or investment. I or my affiliates may hold positions or other interests in securities mentioned in the Blog, please see my Disclaimer page for my full disclaimer.
Archives