Microsoft Looks Inexpensive Here
A year ago, I asked if Microsoft ($MSFT) was a value stock, and I think the answer was yes. This, of course, would have been a big shock to any investor 15 years ago. But times have changed. Unfortunately, the company has made many mistakes over the years and younger rivals are doing to them what they once did to IBM ($IBM).
One such example would be…IBM.
But as shrewd investors, we need to look past some blemishes to find true value. Oftentimes, good stocks to buy come with dents on them. The questions are, how serious are they and at what price?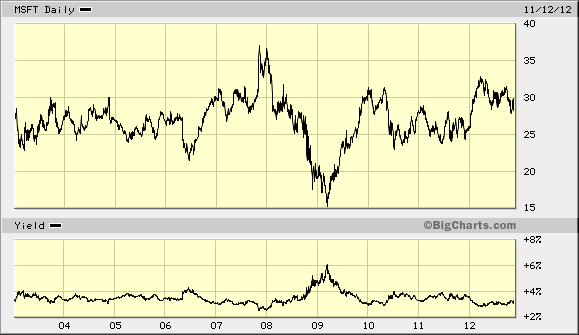 Shares of MSFT are taking a small hit today on the news that the head of Windows is out. Microsoft also had a poor earnings report a few weeks ago. The stock is currently at $27.09.
Let's look at some numbers. Microsoft is expected to earn $3.21 per share for next year's calendar year. Microsoft's fiscal year ends in June, but I'm using the calendar year for easier comparisons. This means that Microsoft is going for just 8.4 times earnings while the S&P 500 is going for 12.2 times next year's earnings. That's a steep discount.
Meanwhile, Microsoft continues to generate strong cash flow. I really like that they bumped up their quarterly dividend by 15% (from 20 to 23 cents per share) a few weeks ago. That brings the yield up to 3.4%. Going by my simple valuation formula, Microsoft has a fair value of $40.
I can't say that Microsoft will hit its fair value. That's just a rough guess. The stock, of course, can keep going down. But if investors collect a diversified portfolio of several stocks going for good prices, over time, they should do well.
Posted by Eddy Elfenbein on November 13th, 2012 at 11:10 am
The information in this blog post represents my own opinions and does not contain a recommendation for any particular security or investment. I or my affiliates may hold positions or other interests in securities mentioned in the Blog, please see my Disclaimer page for my full disclaimer.
Archives