CWS Market Review – August 9, 2013
"I made my money by selling too soon." – Bernard Baruch
As I expected, this was a quiet week on Wall Street. Consider this: Tuesday was the S&P 500's worst day since June 24th, but the more arresting fact is that that terrible, awful plunge was a loss of a mere -0.57%. Yes, that was our worst loss in a span of 30 trading days! Sheesh, going by recent history, -0.57% doesn't even scratch the paint. In 2008, the S&P 500 lost more than -0.57% in a single day 38% of the time. How times have changed.
Much of the calmness is certainly due to the wrapping up of Q2 earnings season. I'm happy to say that this earnings season was a good one. So far, 443 stocks in the S&P 500 have reported earnings; 72% have beaten earnings expectations, and 55% have beaten their sales expectations. We had two very good earnings reports this past week. Cognizant Technology Solutions ($CTSH) smashed analysts' estimates by 10 cents per share, and they guided higher for the year. Also, Nicholas Financial ($NICK) churned out another stellar quarter. I'll have more on these two in a bit, plus higher Buy Below prices.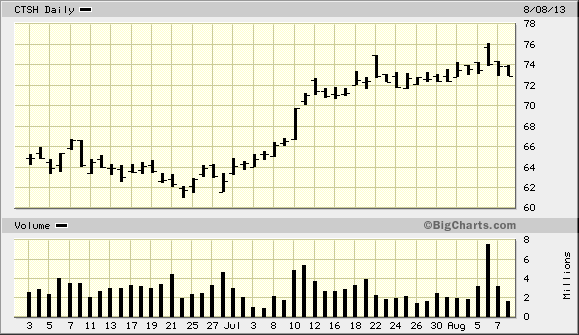 I was pleased to see a strong trade report this week. Exports are at a record high, and the U.S. trade deficit is the narrowest it's been since 2009. The trade report will probably cause the number crunchers to revise the Q2 GDP report higher by 0.5% to 1.0%. That's also more in line with the earnings reports we've seen from the private sector. Also, the ISM Non-Manufacturing Index from earlier this week was particularly strong.
In this week's CWS Market Review, I want to bring you up to speed on several of our Buy List stocks. It turns out that Ford ($F) is having trouble keeping up with demand. The automaker literally can't build its cars fast enough! But first, let's look at the outstanding earnings report from Cognizant Technology.
Cognizant Technology Is a Buy up to $78 Per Share
In April, shares of Cognizant Technology Solutions ($CTSH) got treated to a first-class beat-down. The stock, which had cracked $81 in March, was wallowing below $62 by late April. Of course, one of the benefits of our set-and-forget Buy List is that we don't get scared out of plunging stocks. We stand firm and watch the storm clouds pass us by.
What freaked out the market was poor earnings by Cognizant's competitors. There were also concerns that Congress's pending immigration legislation would be bad for the outsourcing business. The good news came in May, when Cognizant beat earnings by eight cents per share and delivered positive guidance for Q2.
Despite the impressive outlook, the stock didn't do much. I knew it was time to strike. In the June 28th issue of CWS Market Review, I highlighted Cognizant as being "particularly attractive at the moment." Sure enough, the stock started to rally in July, and it soon broke $74 per share.
This past Tuesday, we got another solid earnings report from Cognizant, plus strong guidance. For Q2, CTSH earned $1.07 per share, which was ten cents better than estimates. Quarterly revenue rose 20.4% to $2.16 billion, which was $30 million better than expectations.
Cognizant now sees full-year earnings of at least $4.32 per share on revenue of $8.74 billion. That's revenue growth of 19%. For Q3, CTSH sees earnings of $1.09 per share. Wall Street had been expecting $1.03 per share. The stock gapped up over $76 on Tuesday, although it later gave back much of those gains. Don't think you're too late to party. I'm raising Cognizant's Buy Below to $78. CTSH remains a very good buy.
I'm Raising NICK's Buy Below to $17 Per Share
Also on Tuesday, Nicholas Financial ($NICK) reported fiscal first-quarter earnings of 46 cents per share. That's basically in line with what I was expecting. As things stand now, the used-car lender can keep churning out profits of 40 to 45 cents per share for a long time. The economy continues to improve, and this means their loan portfolio is getting stronger. We also have the Fed's commitment to keep short-term rates low for an extended time. That's good for NICK.
Looking at the numbers, it appears that NICK benefited from about four cents per share after taxes, thanks to the interest-rate-swap agreement. I can't find the details yet, because it looks like there's been an accounting change which adds about $3 million to quarterly revenues. NICK's stock didn't react strongly to the earnings news, which is fine by me. With smaller-cap stocks, there's often a delayed reaction of a few days after a good earnings report.
One thing I'd like to see NICK do is raise its quarterly dividend. The current dividend is 12 cents per share, or 48 cents for the year. At Thursday's closing price, that works out to 3.1%. I think NICK can raise its dividend as high as 15 cents per share. The company has previously announced its dividend after the conclusion of the shareholder meeting, which is usually in August. This year, the meeting will be held in December. I'm going to raise my Buy Below on NICK to $17 per share. Nicholas Financial is an excellent buy.
Updates on Our Buy List Stocks
I want to add a few updates on some Buy List stocks.
After its great earnings report, Fiserv ($FISV) keeps on rallying. The shares got as high as $101.85 on Thursday. The company just announced a new share-repurchase authorization for 10 million shares, which is about 8% of their outstanding shares. This is a very strong company.
Our healthcare stocks like Stryker ($SYK), Medtronic ($MDT) and CR Bard ($BCR) have been doing quite well lately. MDT nearly got to $56 this week. A judge just ordered Zimmer Holdings to pay Stryker $228 million to settle a patent suit. That's nice to hear. CR Bard seems to go up every day. The stock just hit another 52-week high. BCR is up nearly 20% since April 24th.
Ted Reed at TheStreet.com had an interesting article on Ford ($F). It turns out that Ford is actually having trouble making its cars fast enough to meet demand. Ford's inventory is running dangerously low. Reed says, "Ford's Fusion supply is down to 30 days, about half the industry average, while the Escape supply is around 40 days." The good news is that Ford is expanding to meet demand.
JPMorgan ($JPM) revealed this week that the bank faces civil and criminal charges over sales of its mortgage-backed securities between 2005 and 2007. The stock slumped a bit on the news. For now, I don't want to comment on the potential impact of this, since it's too early to say. I don't have any reason to believe it will impact the long-term profitability of JPM. But now is a good time to reiterate my belief that Jamie Dimon should step aside.
We're now done with earnings reports for Buy List stocks that have a June reporting period. We have two Buy List stocks, Ross Stores ($ROST) and Medtronic ($MDT), that ended their quarters in July. Those two should be reporting their earnings in two weeks.
Through Thursday, our Buy List is up 24.13% for the year, compared with 19.02% for the S&P 500 (not including dividends). That's our biggest lead of the year. If all goes well, this will be our seventh straight year of beating the S&P 500.
That's all for now. Next week, we'll get some important economic reports. On Tuesday, the Census Bureau reports on retail sales. This will give us a look at how strong the consumer is. Then on Thursday, we'll get the inflation report for July. Also on Thursday, the Federal Reserve reports on Industrial Production. Be sure to keep checking the blog for daily updates. I'll have more market analysis for you in the next issue of CWS Market Review!
– Eddy
Posted by Eddy Elfenbein on August 9th, 2013 at 7:28 am
The information in this blog post represents my own opinions and does not contain a recommendation for any particular security or investment. I or my affiliates may hold positions or other interests in securities mentioned in the Blog, please see my Disclaimer page for my full disclaimer.
Archives